Who's watching who? Netflix and your data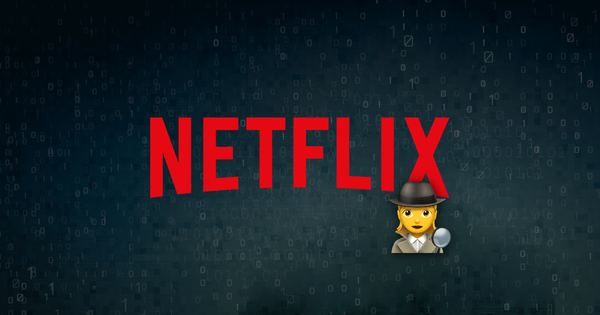 Today, Netflix is used by more than 167 million people around the globe. That's countless hours of content streamed each day across multiple platforms and devices. As our lives become increasingly reliant on technology, we're more at risk than ever of our data being hacked or breached. In the first 6 months of 2019, more than 4.1 billion personal records were breached through data hacks. This number is only expected to rise as cybercrimes become more advanced, whilst cybersecurity teams play catch-up as they attempt to protect users.
According to Business of Apps, in the UK, the average 18-34 year-old watches over an hour of Netflix every day, showing just how often we're allowing such companies access to our devices and data. We wanted to shed light on how this entertainment giant stores our data and the different points they track on us.
To achieve this, we extracted the Netflix data from 5 millennials who are all avid users of the streaming service, in order to discover exactly what sort of data Netflix tracks on users. To gather the data, iPhone Backup Extractor was used to pull out raw data stored by the Netflix app on each user's mobile device.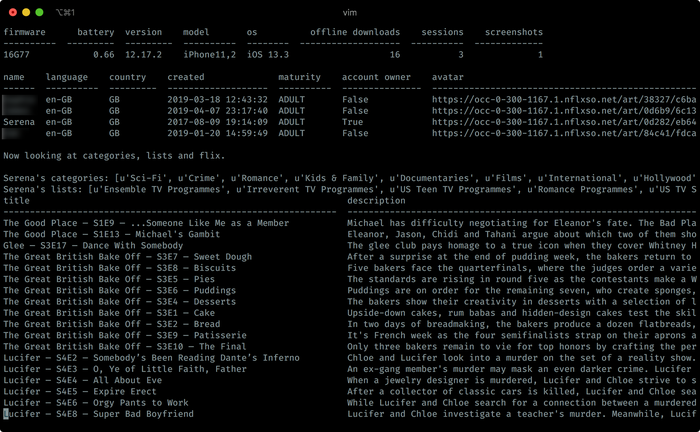 The Reincubate team processed the raw data for each user, which provided insight into the ways Netflix may be able to build up a picture of each individual user. Using only the data stored by Netflix, the following information about one user, Serena was discovered:
Serena's favourite genre is Sci-Fi.
At the same time, it appears that Serena also likes Glee. She has watched 62 episodes in total: 57 of which were watched all the way through, and 5 were not finished.
Serena has also watched 34 episodes of Good Witch, 50 episodes of The Good Place and 51 episodes of The Great British Bake Off.
Serena has watched 181.76 hours of Netflix on her iPhone. That's over 7 and a half days.
She has 16 offline downloads and watches Netflix on 3 different devices.
Serena is likely to watch something to completion 76% of the time.
She typically makes 88% progress on average each session, and has watched 220 flix* through to completion.
*flix: a television program or film available on Netflix
After being shown these findings, Serena, 21, commented: "I was surprised I spent so much time on Netflix — I had no idea that I spent over 181 hours of watching Netflix. I was a little reluctant to give over my data, but the more I thought about it, the more it made sense. All these companies have my data, so why can't I? I've never been a person who reads the privacy policy, I just always click accept, but I know I will definitely pay a lot more attention just so I know exactly what data points they are keeping on me."
This data was extracted using iPhone Backup Extractor. Any iPhone user can examine the contents of a backup from their phone to gain access to the information that companies store about their personal details and habits, recover deleted text messages, and more.
Our experiment shows that Netflix keeps a number of data points on users and in-app behaviour that users might not consider; from the average time spent watching to whether users saw a movie or episode to completion.
We found Netflix keeps track of the following user data
Most-watched categories
Most-watched lists
Total number of hours spent watching Netflix
Number of minutes spent watching each flix
The title, episode, description, and type of content (movie or episode) watched
Date last viewed
Flix completed and unfinished
Whether the user is the Netflix account owner
Whether the flix was watched on a mobile
So, looking at the different data we were able to extract, how does this match up to what Netflix outlines in their privacy policy? The Netflix privacy policy is around nine pages long, so it's easy to see why people simply click accept without reading it through. The table below compares the differences between the data we can extract from Netflix and what they outline in their privacy policy:
| Data point | Netflix privacy policy | Data Extracted |
| --- | --- | --- |
| Personal details (e.g. name, address, account owner) | ✅ | ✅ |
| Payment method | ✅ | ❌ |
| In certain countries, we collect a government identification number | ✅ | ❌ |
| Title selections and watched shows | ✅ | ✅ |
| Search queries | ✅ | ✅ |
| Your interactions with our [Netflix] emails,texts and customer service | ✅ | ❌ |
| Resettable device identifiers (also known as advertising identifiers), such as those on mobile devices, tablets, and streaming media devices | ✅ | ❌ |
| Device and software characteristics (such as type and configuration), connection information, statistics on page views, referring source (for example, referral URLs), IP address (which may tell us your general location), browser and standard web server log information | ✅ | ✅ |
| Information collected via the use of cookies, web beacons and other technologies | ✅ | ❌ |
| Other companies with whom you have a relationship ("Partners") | ✅ | ❌ |
| Search queries and commands applicable to Netflix that you make through Partner devices or voice assistant platforms | ✅ | ❌ |
| Amount of battery remaining on the mobile device | ❌ | ✅ |
| Device operating system | ✅ | ✅ |
| Categories | ✅ | ✅ |
| Hours watched | ✅ | ✅ |
| Flix completed / incomplete | ✅ | ✅ |
| Date and time viewed | ✅ | ✅ |
| Percentage of progress | ✅ | ✅ |
| Whether you watched the movie/episode on your device | ✅ | ✅ |
After noting the data points, we looked at the raw data in more detail. Our research revealed that, on average, we finish 77% of content we start with only 6% of what we watch being movies compared to the 94% which are episodes. From the data we could see also that "US TV Programmes", "Documentaries" and "Action & Adventure" are the top 3 most viewed categories across all the devices we examined.
Although Netflix has stated that they will limit the number of times its subscribers can share their passwords with friends and family, the study found that all of the users shared their account with at least one other person, and 4 of the 5 users shared their account with 4 or more users.
When it comes to time spent on the app, we found that, on average, users spend 58 hours watching Netflix on smartphones or other devices.
When I founded Reincubate in 2008, I wanted to help users gain access to data stored about them and their devices by various companies. As technology becomes increasingly sophisticated, the value in safeguarding one's data also increases. With over 160 million streaming subscribers, Netflix finds themselves in a unique position. They're able to create a detailed profile on their subscribers by using data to discover customer behaviour and their buying patterns. Netflix explains that streaming in HD uses up to 3GB per hour: that's a lot of data, and there's a lot of opportunity within that for data collection. Do users understand that so much data is tracked?
The fact that a user binge-watches Gossip Girl isn't all that exciting, but when, where, and how they watch it is, as this has a direct correlation to the streaming service's success. Netflix's recommendation system accounts for over 80% of the content streamed on the platform, and feeding that system with behavioural data is critical to their ability to retain and grow users. Netflix also uses data and analytics tools to give the go-ahead for original content. Users always need to be cautious when it comes to signing T&Cs, and at Reincubate we recommend always reading the privacy policy to ensure you know what you're agreeing to. We hope this project gives insight into how companies can use these agreements to gather user data.