Introducing Camo 1.7: Overlay editing & templates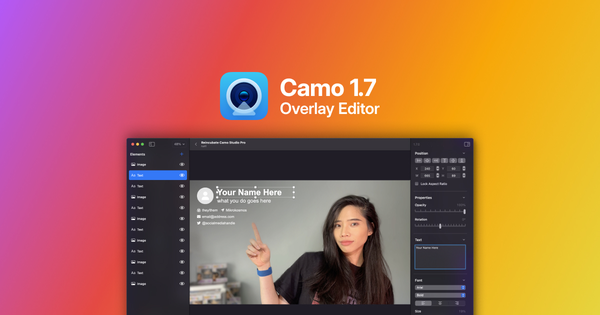 With Camo, we're on a mission to empower users with remarkable capabilities to control how they present themselves online. An important part of that is overlays: the ability to take information about one's company, product, stream or channels, and to add an overlay, lower third or watermark to a video feed.
Since launching Camo's overlay gallery last year, we've wanted to go deeper, providing users with easy to use but powerful tools for creating, customising, and sharing overlays. Today we're making that a reality with the release of Camo Studio 1.7.
Camo Studio 1.7 for macOS introduces a series of easy-to-use, customisable overlay features. These include a drag and drop overlay editor, a gallery of editable templates, a preview tool and hotkeys for fast-switching between overlays.
These new overlay features allow Camo users, including sales professionals, educators and video producers, even more ways to appear super professional on video calls, presentations, recordings and streams.
Camo's overlays provide you with video superpowers, allowing you to:
Jump in with 17 pre-built templates, covering a range of different business cards, social channel tags and side-bar presentation overlays

Examples of overlay templates

Edit templates or start from scratch, to show your name, job title, pronouns and company or social channel colours with editable text, image and shape boxes

The Overlay Editor in action

Edit directly from Camo without the need for additional design software such as Photoshop

Drag and drop elements to tailor perfect overlays
Switch between multiple overlays with keyboard shortcuts while on camera

Use Camo's Overlay Gallery to preview, select, organise and categorise overlays

A gallery of 17 editable templates

Import, export and share overlays across the Camo community
Camo is the most powerful, feature-rich product on the market to empower users with incredible video quality and control over their image. It goes far beyond Apple's unreleased Continuity Camera functionality, with support for iPad, Windows, Android, overlays, lens selection, granular image control, AR effects, enterprise support, greater iOS & iPhone compatibility, a powerful SDK, and a host of other features.
Camo Studio 1.7's new features are freely available to all Camo users on macOS. The same features are coming soon to Camo Studio for Windows.
The team and I are now heads-down focusing on a series of features and updates to Camo on Windows, Android, iOS and macOS, and we're planning to share another significant update to Camo this summer.
As a team, we remain humbled by the incredible passion and support for our product shown by Camo's users, the press, and even Apple. Evangelising an entirely new way to get incredible video and overcoming a multitude of technical and design obstacles has not been a small undertaking, and we're motivated and inspired by the incredible stories and commentary we read on our work. Thank you for being part of the Camo journey! ❤️