Introducing Camo 1.3: Screen curtain, shots & languages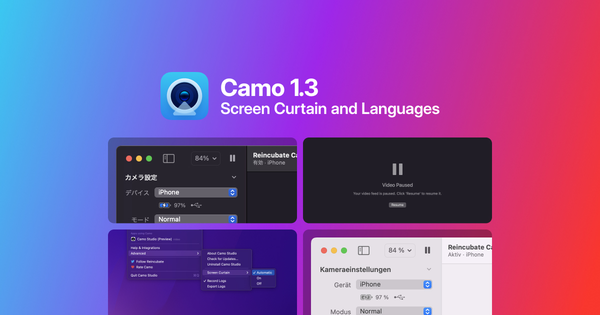 Today, we're excited to be launching Camo 1.3 with new features to make your use of video better, more energy efficient, and more accessible.
Camo's new "Screen Curtain" feature, will automatically turn off or dim your device's screen to save energy and conserve power. Camo provides three settings for this, defaulting to "Auto". After a few seconds of not detecting any movement of the device, Camo will dim or disable its screen when the rear cameras are in use. On newer iPhones with OLED screens, Camo will fully turn the screen off, and on older devices it will reduce screen brightness as low as possible.
As Camo is fully controlled using Camo Studio on your Mac or PC, most users have no need for their phone's screen to be on while using Camo, though if you'd like to keep the screen on, you can adjust the settings in Advanced → Screen Curtain.
Building on the power of Camo's remote control functionality, we've added a feature to allow you to take a still image from your video feed, to share with others, or help you to remember your lighting setup. Taking a screenshot is as easy as hitting ⌘ Cmd + S.
Finally, right from the first beta, Camo has had strong support from a host of users around the world. We've wanted to bring Camo and Camo Studio to all users in their native language, and today we're making a big step towards that, adding support for Brazilian, Chinese, Dutch, French, German, Italian, Japanese, Korean, Portuguese, Russian, and Spanish.
Many users kindly volunteered to help with this process, and we're grateful to Daniel Moqvist, Ming Lei, Cleyton Slaviero, Gennady Koshkin, Ángel Esquivel, Emilie Collins, Alexis May, Olivier Vanbiervliet, Gottfried, Michel Dworakowski, Jose Hernandez, Jacopo Piazzalunga, Diego Saavedra, Elouann Domenech, Artem Kovalev, Koira, Thomas Krammer, PatrickCH, Peter Unghváry and David Muñoz for their assistance.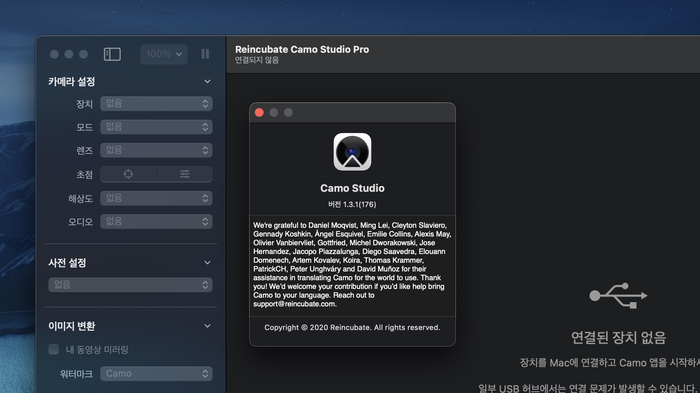 Of course, we'd love to bring Camo to even more languages, and we'd welcome your contribution if you'd like to help bring Camo to new languages or to join the effort in maintaining our existing languages. Reach out to support@reincubate.com.
Camo 1.3 wouldn't be complete without a handful of other changes, and we've included a good number of them, from performance improvements through to a redesigned, polished "pause" screen.
These new features are freely available today to all Camo users on iOS. Next up? We're sticking to a theme: having made Camo accessible to many more users around the world with support for additional languages, we're going to open up support for even more types of device over the summer.
Thank you for being part of the Camo journey. Your support, reviews, tweets and encouragement mean a lot to us. ❤️