Launching Camo Studio for iPad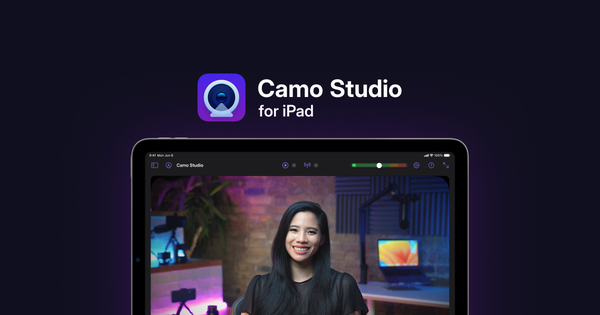 Today, we're bringing the Camo experience to a new platform – iPad – with powerful new streaming and multi-source picture-in-picture (PiP) features. Camo Studio for iPad is another step in removing friction for creators, making it easy for anyone to create great content with the tools they feel more confident with, irrespective of their experience. You can now:
Connect a pro camera and mic to your iPad and stream on the move, or simultaneously record to built-in storage or a connected USB/SD card.
Stream console games with a capture card to Twitch, YouTube or elsewhere, with PiP, web overlays, and integrated stream controls including chat.
Connect your iPad to your camera or Switch or DSLR via a dongle and use it as a bigger screen / monitor.
Do all three simultaneously, achieving things it previously took a traditional "computer" setup to do, but with only an iPad – or iPad Mini. The iPad is a computer, after all.
Camo Studio for iPad is free. As in, totally free, and we have no plans to change that.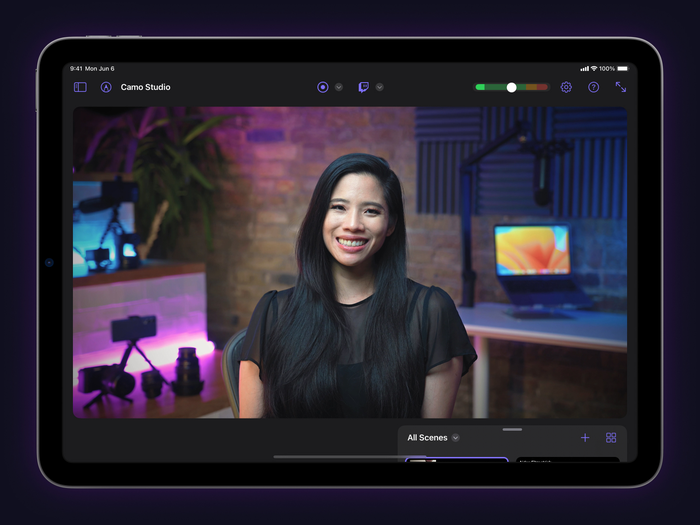 To get started, you'll need an iPad that can run iPadOS 17 with an A12 or newer. An M1 or M2 chip is required for Camo to stream or record while backgrounded, but all of the other functionality works great without.
Camo Studio for iPad isn't Camo as you know it: we've taken the opportunity to bring some features forward from the roadmap while holding – for now – some others. Most significantly, Camo now allows for use of several video feeds at a time, from the iPad's internal camera or from external connected webcams, cameras or capture cards. Camo also now allows use of the iPad's screen as a video source, so users can superimpose camera inputs over footage of apps or games being used on their iPads.
We've included Camo's Portrait, Privacy, and Replace background modes, and added a new one: "Remove", which allows a user to remove their background so that they could superimpose themselves on another camera feed or source. These video sources can be configured to various shapes and sizes, and we expect to build on this in future. Users can use animated replaced backgrounds for the entire canvas, or just for the replaced background on a given camera, and Camo now includes a bundled gallery of neat backgrounds.
Camo Studio for iPad's canvas lets you capture in resolutions including 4K and 1440p, and aspects from 16:9 to 9:16, and it'll intelligently configure your devices to perform their best for the set canvas size. Just as external cameras and capture cards can be connected, Camo Studio for iPad allows for external mics or audio mixers to be connected. We've particularly enjoyed using Elgato capture cards, webcams and mics, and recommend them for making the most of Camo Studio for iPad.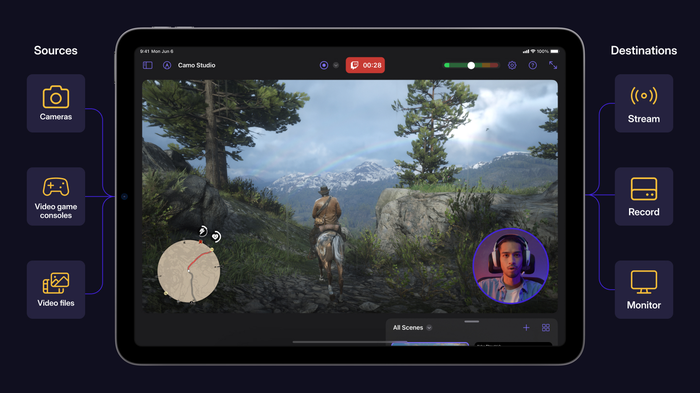 Camo's Auto-framing is live and well in Camo Studio for iPad, as is the Spotlight effect, the Filter gallery (and library of default filters), and the rotation and mirroring controls. All of this can be brought together with the new streaming functionality, allowing users to easily connect to Twitch, YouTube, RTMP and other services to stream and – if desired – simultaneously record their content. Content can be recorded to the iPad's local storage, or to a connected USB pen drive or SD card. Users will likely want a capable USB-C hub or dock for this.
Critical to streaming is the use of web overlays, and Camo Studio for iPad supports these. Just as Camo scenes created in the PC or Mac version of Camo Studio can be imported into iPad, one can also create a new scene using just a URL. Users familiar with StreamElements, Overlays.uno, or many similar services will feel at home with this. Camo Studio for iPad also introduces "Stream panels", which lets users embed web-based control panels. These can be used to access and interact with Twitch or YouTube chat live, or to introduce entirely new, custom ways of controlling stream or recording elements over the web. There's a lot to explore here.
Finally, it wouldn't be an iPad product without pencil support. Camo Studio for iPad has a neat little pencil control, allowing users to draw over or annotate their content in a familiar way. In the industry this is known as telestration, but let's just stick to "drawing" for now!
It's not yet possible to do everything we want to do on iPad, but the release of iPadOS 17 has provided what we needed to get started. We've had to creatively solve a huge number of challenges to make this happen, and we're still beavering away at solving the last few. We expect that scene editing on iPad, virtual camera support, Camo mobile support, and mixing multiple audio sources, will come in due course, as will some entirely new features.
As I wrote in the Camo manifesto, we're working to open Camo to multiple video sources and streaming services, deepen our integrations with platforms, chipsets and cameras to ensure those with unique capabilities really shine, and to allow others to extend and build on top of Camo. We've more to do on this journey, but Camo Studio for iPad represents another big step. Some of the beta testers described Camo Studio for iPad as "OBS for iPad", and that was great feedback to receive.
I hope you're excited by what you see in Camo Studio for iPad. Launching on day one of a significant mobile platform update is never easy! We'd love to read about your experiences with it and to learn what you'd like to see us add as we continue to evolve the product.
As ever: thanks for your support! ❤️