Announcing Camo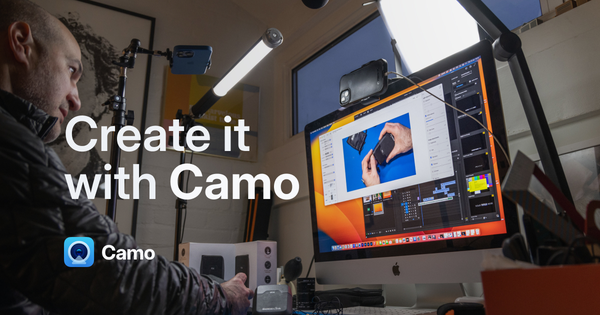 I'm excited to be opening up the beta of Reincubate Camo today. After a lot of hard work, we've built something that I feel is rather special.
Camo lets you use your iPhone, iPad or iPod touch as a pro quality webcam
It'll be available July for iOS and macOS, with a paid upgrade option, and Windows support is coming soon
iPhones provide much better quality than the best webcam on the market, and are substantially cheaper
Camo is a product I've wanted to make for a couple of years; it's long frustrated me that users joining calls with their iPhones or iPads tend to get amazing video quality, whereas users on Macs and PCs don't. It's been annoying to join Zoom and Meet calls with clients and leads, or friends and family, and to have much lower webcam quality than people who casually join.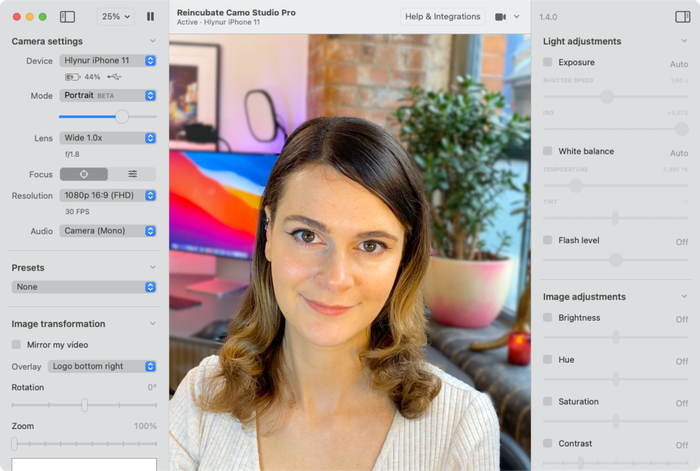 Let's look at why we've built this.
Image quality
Whilst Apple invests heavily in camera technology, they prioritise thinness in laptop screens. Apple are happy to put a bump in an iPhone to get a better camera in it, but not to make a MacBook Pro's lid any thicker. And whilst Apple used to make more in the way of accessories, they no longer make products like external webcams.
Laptop webcams are REAL BAD so I decided to shoot a video with one.

A webcam showdown shot almost entirely with the new MacBook Air's really bad webcam: https://t.co/4ydVO4UAw6 pic.twitter.com/sECZWvu0hi

— Joanna Stern (@JoannaStern) April 4, 2020
As such, other companies make external webcams, and many struggle to integrate sensors and software to produce imaging devices of the quality users expect. No external webcam comes close the image quality that even a few-year-old iPhone can provide. Logitech's annual gross revenue is less than six weeks of Apple's R&D spend, and their category-leading C920 and 4K Brio webcams are… noticeably worse than an iPhone 7. Users complain about focus, exposure, software, and value.
If you're curious to learn more about this, we worked with digital photography expert Jeff Carlson to produce a report on how Camo's performance compares with other options. Jeff's piece illustrates just how stark the difference between the C920 and the iPhone SE 2 is.
It turns out you can do a a pretty good global pop concert entirely with the performers' own phones. Everyone in the developed world has a video camera that's near-enough broadcast quality, & knows how to use it. Astonishing how fast that happened, & how we didn't really notice

— Benedict Evans (@benedictevans) April 29, 2020
Price
It's hard to compare an iPhone's performance as a webcam against that of a dedicated external webcam. And you might think that for the price, an external webcam was better value. But they're really not: a brand-new iPhone SE 2020 costs only $45 more than the Brio 4K in the UK. A second-hand iPhone 8 or a new iPod touch is hundreds of dollars cheaper — and still better. It's not just that external webcams are worse as webcams than phones: they're costlier, too, even if you were to buy a second phone to act as a dedicated webcam!
Convenience
Setting aside the fact that iOS devices produce better image results and are cheaper than webcams, there's another point to consider:
The best camera is the one you have.
That's true of webcams, too, and it turns out that most people already have an incredible webcam in their pocket, and they already upgrade it every few years. In fact, whilst hardware webcams aren't capable of producing high enough quality for today's video conferencing applications, iPhones are capable of producing video that's higher quality than products like Zoom and Meet are able to stream, with TrueDepth, LiDAR, and 4K @ 60 FPS. We're exploring supporting these features, but at present there are few video products that could take advantage of them if we did.
Not everyone likes how they look, viewed straight-on from a traditional webcam, and one of the other advantages of using your phone is the ability to position it more freely. (I'll write more in future on the best mounting options.)
The environment
iPhones come with many other benefits. They're more easily portable. They're a better choice for the environment, given, well… why manufacture webcams if you own an iPhone? Why have more clutter and expense when the problem can be solved with software? General consumer electronics are notoriously un-green to manufacture and recycle, and Apple does a lot more here than webcam manufacturers.
What's different?
When I first started looking for solutions to use my iPhone as a webcam, I couldn't find something that I was happy to run on my Mac. There are a few things out there, but little for users who want beautiful, native apps. I wanted a product with no invasive ads, no need for messing around with drivers, no clunky interface, the ability to control the camera settings from the Mac, and features that suggest attention to detail, such as Dark Mode support, persistence of settings, and readiness for corporate for privacy-critical deployment and management. That's what we're building.
Getting access to the beta
As of today, we're opening access to users who have signed up for early access to Camo, and providing them with a beta copy. Whilst we're not picking favourites with who gets beta access, we are going to be spreading invitations over the coming days. We had thousands of people sign up for access in the first week alone, and we don't want to be deluged with bug reports whilst we iron out issues that the first beta testers find.
If you're a journalist and you're interested, please contact us for a press kit — we'd be happy to jump on a call with you to show off what Camo can do, ahead of its launch next month.
After several rounds of beta updates, we're expecting to launch Camo in early July. I'll be laying out a public roadmap for what comes next, sharing stories from some of our users, showing how we've seen people making the most of Camo. See you then! 👍
ps. At the time of writing, early access is still open. You can still get on the list here.