Launching Camo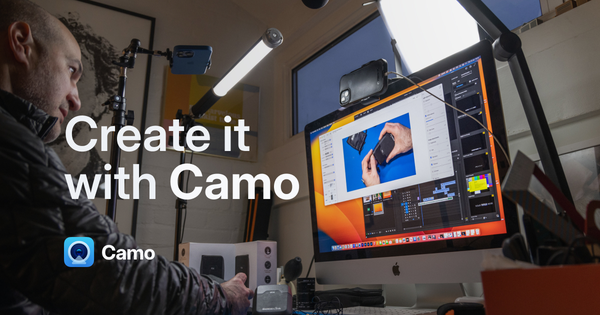 I'm thrilled to be announcing the release of Camo today. Camo lets you use the amazing camera in your iPhone or iPad as a webcam. You can get it here.
Why did we build Camo?
Three months ago I was frustrated. I had an amazing Mac, but friends who joined calls on their iPhones got much better video quality. I got a high-end webcam — $350! — but the software sucked, the colours were cold, and it kept refocusing all the time.
Experts I spoke to said the solution was to get a DSLR camera and a device to connect it. That'd give amazing image quality, but would cost over $1,500.
Thus began my journey to build Camo: an iPhone has one of the world's best cameras in it, so could we make it work as a webcam? Many sleepless nights and 5,500 beta testers later, the answer is yes.
We shared an early build of Camo with Apple photography expert Jeff Carlson, and what he found blew me away: The best external webcam doesn't have a chance against your iPhone.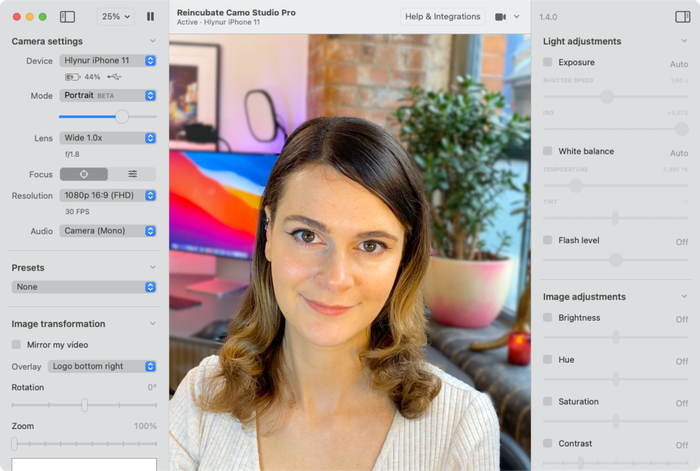 It turned out to be a lot harder than we thought
Building Camo has been a challenge. Sure, making great apps is a lot of work. Making a great app that communicates across two platforms — and that leaves room for a future Windows version — with some pre-WWDC Sherlocking risk is even harder.
I was dimly aware of a few products that did similar things, but which weren't at the level of quality I'd be happy to run on my computer. A friend described one as "like malware". So all we had to do was ship an app that didn't have dopey drivers or ads. How hard could it be?
Really hard, it turns out, because there were a number of deeper product questions that had to be answered, including:
How to put the user first and foremost in the user interface
How to let the user manage all the configuration from their Mac
How to offload the processing to the iOS device to not slow the user's Mac (iOS devices are generally faster for single-core processing than Macs)
How to let the user take advantage of obvious stuff like changing resolution and adjusting the image
We've come a long way in addressing those problems, but there's more to be done. There's nothing like shipping to highlight how you could have done better.
It wasn't just the technology that was hard: there are challenges in the industry, too. Coming into this, we found that support for virtual cameras came and went in video platforms — leading to periods of incompatibility — and we couldn't find evidence that anyone had taken the bull by the horns and set out to build integrations with video platforms.
With Zoom as our first target, I embarked on a campaign to get virtual camera support built-in, and after engaging with their executive team we won support for Camo in Zoom, before going on to get support for every other virtual camera. The campaign has continued, with more news on the way, and a number of vendors that have reached out to us directly, after we published integration guidance for all to see.
Virtual cameras won't be as smooth a ride as we'd hope from here on out, but we've made good progress, and we've steadily been building Camo's list of supported apps. I never thought indefatigable wooing of tech executives would be one of the critical skills in building this product.
What comes after Camo 1.0?
We're incredibly excited about the opportunity we've got to ship features on top of Camo 1.0. Now that we've got a stable base for the product, we get to do more fun stuff.
Our next major updates will likely include the following:
All of these features will be made available for free to users with existing licenses.
I'm once again asking for your support
We couldn't have built Camo without a huge effort from everyone on the team. We also couldn't have done it without support and encouragement from our 5,500 beta testers. Many of them took hours and hours to test and share feedback on Camo. I personally read and replied to every single bit of feedback they sent. It took a while.
That said, we need more help.
Features. Many people have written to tell us how they use Camo and what would make it even more valuable to them, either as individual users or in businesses. This has been incredibly helpful — please, if you haven't written yet, I'd love to read your thoughts.
Translation. We'll translate Camo into 11 languages other than English: French, Spanish, German, Dutch, Italian, Polish, Japanese, Chinese, Russian, Portuguese, Korean. If you could help us proof any of these we'd really appreciate your time, and we'll credit you in the app's acknowledgements.
Press. We've had some very kind messages from tech writers. Reincubate's a small company, and I've been busy with product at the expense of press outreach. If you're in a position to review Camo, please check out our press pack or drop us an email. If you can spread the word to friends who might benefit from Camo, that'd be fantastic. Please don't put us on Product Hunt — we're already scheduled to launch there Friday 17.
Compatibility. If you're a product manager at a company with a video app, and you can integrate with Camo, that'd be awesome. We can help you if you reach out.
Skills. We're exploring paid social marketing and doing more low-level video manipulation in Camo. If you're an expert in either field, indie-friendly, super organised, and dig our values, perhaps you might reach out? I'd love to talk, but not to agencies.
Thank you! ❤️