Camo FAQ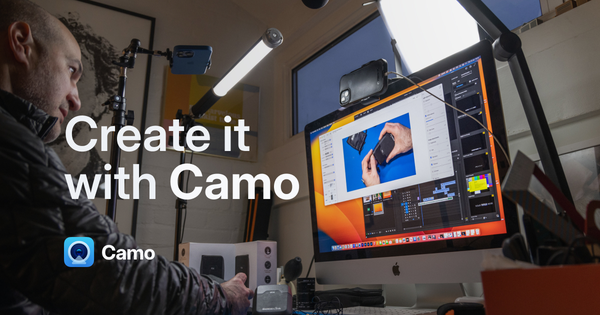 We've rounded up the most frequently asked questions on Camo here.
What's the difference between the paid and free versions of Camo?
See the manual for the differences between free and Pro.
What's on Camo's roadmap?
Check out our launch announcement, here, and the Camo Manifesto for more details on where Camo's headed.
Which video apps are compatible with Camo?
Camo is compatible with Zoom, Meet, Microsoft Teams and many other video apps. See the full list of ones we've tested below.
All apps on macOS and Windows are supported. This includes Apple's own apps, such as Safari, FaceTime, QuickTime, and more. For older versions of macOS, Camo Studio is able to integrate with most apps that don't automatically support it. To view available integrations, click "Help & Integrations" at the top of the Camo Studio window.
Supported apps
App
Supported on macOS
Supported on Windows
Zoom
✅ Yes, from 5.0.5
✅ Yes
Meet
✅ Yes, in Chrome, Firefox, Edge, and Safari from macOS 12.3
✅ Yes
GoToMeeting
✅ Yes
✅ Yes
BlueJeans
✅ Yes, from 2.20
✅ Yes
OBS Studio
✅ Yes
✅ Yes
Streamlabs
✅ Yes
✅ Yes
Twitch
✅ Yes
✅ Yes
Twitch Studio
✅ Yes
✅ Yes
mmhmm
✅ Yes
✅ Yes
Houseparty
✅ Yes
✅ Yes
Descript
✅ Yes
N/A
Ecamm Live
✅ Yes
N/A
ScreenFlow
✅ Yes
N/A
Capto
✅ Yes
N/A
Tuple
✅ Yes
N/A
Final Cut Pro
✅ Yes
N/A
FaceTime
✅ Yes, from macOS 12.3
N/A
QuickTime Player
✅ Yes, from macOS 12.3
N/A
Photo Booth
✅ Yes, from macOS 12.3
N/A
Keynote
✅ Yes, from macOS 12.3
N/A
iMovie
✅ Yes, from macOS 12.3
N/A
Microsoft Teams
✅ Yes, see native macOS support
✅ Yes
Snap Camera
✅ Yes, see native macOS support
⛔️ See roadmap
Skype
✅ Yes, see native macOS support
✅ Yes, with directly downloaded Skype
Skype for Business
✅ Yes, from native macOS support
N/A
Camtasia
✅ Yes, from 2021.0.10
✅ Yes, from 2021.0.10
Discord
✅ Yes, see native macOS support
✅ Yes
Webex Teams
✅ Yes, see native macOS support
✅ Yes
Slack
✅ Yes, see native macOS support
✅ Yes
Screen.so
✅ Yes, see native macOS support
✅ Yes
Amazon Chime
✅ Yes, see native macOS support
✅ Yes
HighFive
✅ Yes, see native macOS support
TeamViewer Meeting (formerly Blizz)
✅ Yes, see native macOS support
✅ Yes
Vidrio
✅ Yes, see native macOS support
✅ Yes
Capto (formerly Voila from Global Delight)
✅ Yes
N/A
Webex
✅ Yes, from 41.2
✅ Yes
Signal
✅ Yes
✅ Yes
Supported browser-based apps
| Browser-based app | Supported |
| --- | --- |
| Facebook Workplace | ✅ Yes |
| Zoom | ✅ Yes |
| Discord | ✅ Yes |
| Microsoft Teams | ✅ Yes |
| Streamyard | ✅ Yes |
| Slack | ✅ Yes |
| Jitsi | ✅ Yes |
| Whereby | ✅ Yes |
| BigBlueButton | ✅ Yes |
| Zoho Meeting | ✅ Yes |
| MeetButter | ✅ Yes |
| Flipgrid | ✅ Yes |
| Stream.club | ✅ Yes |
| vMix | ✅ Yes, read more |
| Attend Anywhere | ✅ Yes |
| LiveWebinar | ✅ Yes |
| VooV Meeting | ✅ Yes |
| Warm Welcome | ✅ Yes |
| Vidyard | ✅ Yes |
| WeVideo | ✅ Yes |
| Rumevideo | ✅ Yes |
| Airmeet | ✅ Yes |
| BigMarker | ✅ Yes |
| mimoLive | ✅ Yes |
| Kino Live | ✅ Yes |
| Be.Live | ✅ Yes |
| Clipchamp | ✅ Yes |
Supported browsers
| Browser | Supported on macOS | Supported on Windows |
| --- | --- | --- |
| Google Chrome | ✅ Yes | ✅ Yes |
| Microsoft Edge | ✅ Yes | ✅ Yes, from v.79 |
| Firefox | ✅ Yes | ✅ Yes |
| Safari | ✅ Yes, from macOS 12.3 | N/A |
Should I use Camo for iOS or Continuity Camera?
Camo supports an extensive range of older and recent iPhones, and works great across many different versions of macOS and iOS. Mac and iOS users who have newer iPhones and are running macOS Ventura or later, however, have the choice of pairing Camo either directly with their phone or with Continuity Camera. There are a number of advantages to connecting directly with Camo:
Full image adjustment capabilities, including exposure and white balance (connection via Continuity Camera will simulate these with software, rather than directly through the camera)
Full choice of lenses, along with use of control of focus and use of the camera's flash as a light source
Offloaded processing to the phone, keeping your computer cool and free to take on other tasks
AR modes
No interference from Airplay, VPNs and Sidecar when connecting wirelessly
If you're interested in learning more about how Camo stacks up against Continuity Camera in terms of features and compatibility, visit our comparison page. To see side-by-side images of the difference in video quality between Continuity Camera and Camo, take a look at the Camo 2.0 launch blog.
Does Camo support landscape and portrait orientation?
Yes, it does. If you're using a phone as your camera, make sure you don't have orientation lock enabled.
Why does my video appear mirrored?
We've worked hard to make Camo seamless, but in some cases it's difficult to comprehensively work around things that video conferencing products do.
In particular, some video conferencing apps mirror a user's video feed (ie. they flip it horizontally, left to right) when previewing it locally. This means that users might be transmitting something different to what they're seeing.
Here's what you should bear in mind:
Camo always shows you what it's transmitting. If you choose to mirror or rotate your feed in Camo, what you see is what we pass off to any video apps you're using. When it's your video feed, Camo never disconnects what you see from what other people see.

Zoom defaults to mirroring your own video in its preview but not to the other people you're on a call with. As such, people you're talking to will see you are you are in Camo Studio, but not as you are in Zoom. At least, not unless you untick the Video → Mirror my video setting in Zoom.
When Camo needs attention or needs to indicate its status in a way that affects the video feed — no device is connected, the video is paused, or Camo Studio isn't running — we try to indicate that in a sensible way, with text that can be read in both orientations.
How to make the best of video conferencing apps?
Here are some of our most valued tips for getting better results from video conferencing apps:
Zoom
Zoom shows you a mirrored view by default, which isn't what anyone you're talking to will see. We recommend you disable it. Camo Studio will always show you what other people will see.
Zoom is very careful not to tax the CPU on your Mac heavily. As such, if it's told to change your video format, it may lower the quality a lot to avoid slow re-encoding. To prevent this from happening, set Settings → Video → Original ratio in zoom, and rely on Camo to get the right ratio directly from your phone.
Copying the meeting's invitation code to the clipboard can be a pain, but you can configure Zoom to automatically copy the meeting code to your clipboard when a meeting starts. See Settings → General → Copy invite link when starting a meeting.
Zoom won't let you use virtual backgrounds in portrait mode video. You can get around this by rotating the device to one side, turning on "orientation lock" in iOS, and then using the rotation feature in Camo Studio. That'll let you take a stream in landscape, rotate it to portrait mode, and then run a virtual background on it in Zoom.
If you're recording meetings, we've seen Zoom will only create an HD recording if users use 720p video. We've seen Zoom create 360p recordings when users use 1080p locally. This is counter-intuitive, and likely something Zoom will fix in a future release. The solution is to set Camo to stream 720p in the meantime.
Meet
We find we get terrible video quality in Google Meet when using Safari (irrespective of whether we use Camo or a hardware camera); switching to Google Chrome results in much higher image quality.
Chrome
You can change Google Chrome's default camera, and stop it from repeatedly prompting for camera access if you visit this special URL: chrome://settings/content/camera.
Which resolution should I use in video calls?
There's no easy answer to this question, as it depends on a number of factors.
The quality of video that your video conferencing app is willing to send and receive
The speed of your internet connection
The speed of the internet connection of the people you're talking to
Your computer's speed
Some conferencing apps — like Google Meet — have a high upper bound on the resolution they'll use. That means that if you can get great resolution, they'll likely use it. That means that using 1080p is usually worthwhile with Meet.
Others, such as Zoom, may aggressively limit transmitted resolution. In Zoom's case, it'll use 180p or 360p on a normal account, and 720p or 1080p on a paid, business account. (They call this "Group HD".)
Counter-intuitively, just because a video app will only use a certain resolution doesn't mean you shouldn't be feeding it higher resolution video. It's easily demonstrable in Zoom that providing it with a 1080p video feed results in a better image quality for other participants than sending it a 720p feed. (To see this for yourself, you'll need to connect to your Zoom meeting from another computer, as each computer won't accurately show you how you're being seen by other participants.)
Some video-conferencing apps insist or prefer on transmitting video in 16:9 format. That means that feeding the video in other aspect ratios leads to more processing, as the app will either need to trim or pad your video to make it fit.
Video resolutions can be described using a variety of labels. Here's a table showing the most common ones, along with their aspect ratios and the bandwidth that's usually required to use them effectively.
| Common name | TV name | Resolution | Aspect | Bandwidth |
| --- | --- | --- | --- | --- |
| 4K | UHD | 3,860 x 2,160 | 16:9 | 15 Mb/s |
| 1440p | QHD | 2,560 x 1,440 | 16:9 | 10Mb/s |
| 1080p | FHD | 1,920 x 1,080 | 16:9 | 5Mb/s |
| 720p | HD | 1,280 x 720 | 16:9 | 2Mb/s |
| 480p | SD | 640 x 480 | 4:3 | 1Mb/s |
| 480i | SD | 854 x 480 | 4:3 | 1Mb/s |
| 360p | N/A | 480 x 360 | 4:3 | 1Mb/s |
| 240p | N/A | 352 x 240 | 4:3 | 1Mb/s |
The "p" or "i" at the end of each name indicates whether they're progressive or interlaced. Interlaced resolutions are half the quality they appear to be, as only every other line is read. Thus, if in doubt, it's a "p" resolution that you want.
With all this said, the answer in most cases:
You should send the highest resolution video that you can, because even if your video conferencing app won't send at that quality, it'll help it encode well
If you don't have a lot of bandwidth, it should be possible to trust your conferencing app to degrade the video quality automatically to handle this
The only reason to use a lower resolution feed is where your computer lacks the processing power to handle higher resolution video, or where you want to reduce the processing load on the computer
When should I use 4K video?
Ultra high resolutions, like 4K, are great for getting the sharpest video from your high-end devices. However, video conferencing apps don't tend to support them and will waste resources to downscale your video, slowing down your computer unnecessarily. The additional processing needed for downscaling can actually make your video look worse, as artefacts can get introduced in the process.
Additionally, whilst many phones are able to provide 4K video, this places a significant workload on both the device and the receiving computer, which can cause slowdowns and generate excess heat. Check the device compatibility doc for more details.
To ensure a good balance between quality and performance, we recommend using ultra high resolutions for local recordings only. Camo will disable certain functionality when operating at 4K resolution and above, find out more about feature compatibility.
How do I connect Camo for iOS or Android to my computer?
Phone users have the option of connecting their device to Camo via either USB or Wi-Fi. Instructions for both can be found in the Getting started with Camo section near the beginning of this manual, though we recommend that Android users connect via Wi-Fi in order to avoid the USB debugging process. If you need to use a cable with your Android, you can find instructions there, as well.
For more information on what this does and how it can be avoided, see here.
When using hosted app environments such as Citrix Workspace, administrator involvement may be required to make integration installation work.
What can I do if my product doesn't support Camo?
We're keen to deepen Camo's integration with other apps, and we've already got native integration with Zoom, Google, and Apple's own apps running on macOS 12.3 and later.
If you're a user of a product that you think should support Camo, or have a product that you would like to make compatible with it, just reach out to our support team. We'd love to hear from you.
Why do I have to swipe up twice to exit Camo on iOS?
We put this in place so that users were less likely to accidentally close Camo whilst mounting their phones.
Why does Camo make my phone warm?
If your phone feels warm when using Camo, it's nothing to worry about. In order to keep your computer as fast and cool as possible, Camo offloads its processing to your phone. Over time this can make it warm — though not as warm as the inside of your computer!
We've left test phones running Camo for weeks at a time, and regularly sat on 13 hour Zoom calls running Camo without problems.
All devices are able to manage themselves as they warm up, and they shouldn't get too hot. However, while the vast majority don't struggle with overheating, we've found a small percentage of problematic devices get warmer over time, just like DSLR and mirrorless cameras do. These problem devices can get warmer until they eventually display a temporary thermal message. If this happens there's no risk to the phone, but it is inconvenient.
If you have one of the few devices that does this, please let us know. In the meantime, there are a few tips you can use to prevent it:
Ensure "Screen Curtain" is enabled under the Advanced menu. That will reduce power and heat use from the screen.
If you're using an iPhone 5s, we'd recommend sticking to 720p. The 6s and above handle 1080p well.
Combining zoom / crop and image adjustments adds extra load. If the phone is warm, it might be worth disabling these.
Portrait, Privacy blur, and other modes take quite a lot of processing on the phone, and can generate extra heat.
What are the additional components that Camo Studio needs on Windows?
In order to be able to communicate with your iPhone, Camo Studio on Windows needs to install Apple's standard mobile components. Users that have iTunes installed will typically already have these components. If they're not available, Camo Studio will prompt the user to install them. This will trigger a download of approximately 50Mb in the background.