Camo overview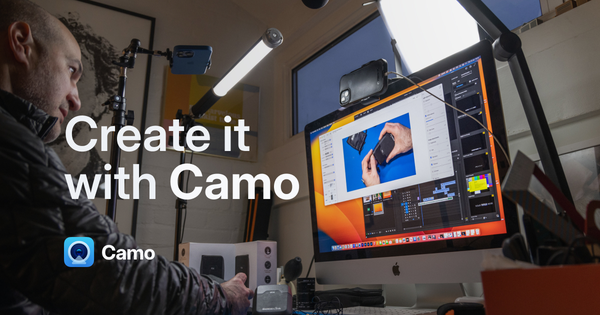 Camo is an app for using your iPhone, iPad, or iPod Touch as a pro-quality webcam. It allows you to use the high-quality video direct from the iOS device's amazing camera on your Mac or PC.
To learn more about Camo and its features, please see Camo's product page.
Reincubate Camo has two components: an app that runs on your iPhone or iPad, and an app that runs on your computer. For the sake of clarity, we refer to the mobile app as "Camo", and the desktop app as "Camo Studio", as it allows you to control the image sent from the mobile device.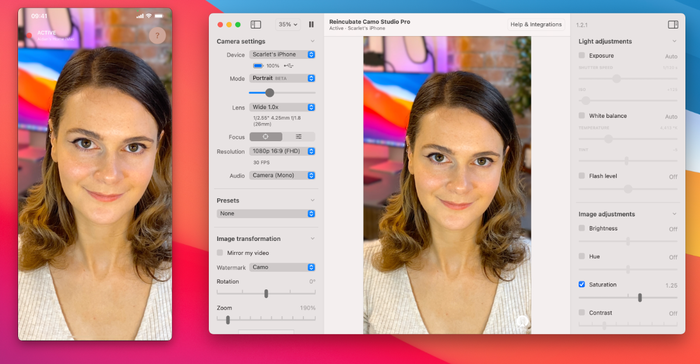 Camo vs Camo Pro
Camo is available in free and paid editions. We hope users love both versions, for different reasons. Here's how we think of them.
Camo's free edition is great for straightforward, high-quality calls, but lacks adjustments. It gives you resolutions up to and including 720p video, along with a choice of the device's selfie lens, or it's main back lens (the wide one). The free version of Camo also lets you access your device's audio. You can connect multiple iOS devices and switch between them.
If you upgrade to Camo Pro, you get the following:
Access to every lens (modern devices have selfie, telephoto, ultra-wide & wide)
"Portrait mode" with bokeh effect and shallow depth-of-field
Control of the device's flash for use as a light ( turn it on and off, control the brightness)
Access to any resolution the device provides (opening up 1080p and 1440 x 1080)
Removal the Camo watermark from your feed
Video mirroring (Zoom only mirrors video in your view, not your viewers')
Rotation of the feed in 90° increments (in case your phone is orientation locked)
Zoom controls, with pan and tilt to keep you front and centre
Focus adjustments (autofocus, focus on a particular area, manual focus control)
Shutter speed and ISO adjustments
Image adjustments including brightness, temperature, tint, hue, saturation, contrast, gamma, sharpness
You can see some of these controls in action in adjusting your video.
Compatibility
Camo is compatible with any iPhone, iPad, or iPod Touch running iOS 12 or above.
Camo Studio is compatible with any macOS computer running macOS 10.13 or newer, or any Windows computer running Windows 7 or newer. It is compatible with M1 Macs.
Many popular video calling and streaming apps such as Zoom, Google Meet and Twitch are compatible with Camo. If you're using Zoom, Camo requires Zoom 5.0.5 or above. You can see the full compatibility list here.
Camo Studio should stream 1080p fine on a low-power 12" 2015 MacBook. Similarly, it performs well on 2012 iMacs. If you encounter slowdown on older or slower machines, try decreasing the video resolution in Camo Studio to 720p.
In order to use "portrait mode" and its shallow depth-of-field bokeh effect, you'll need to use an iPhone XR or newer, or an iPad Pro 3 or newer.