Getting started with Camo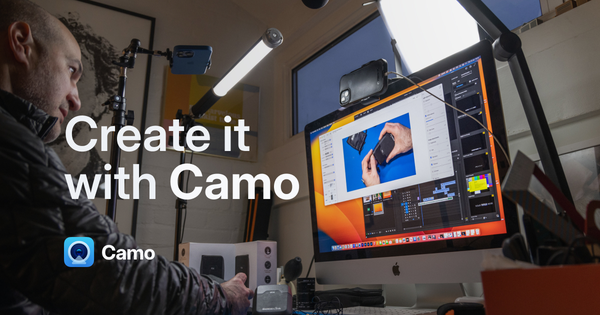 To use Camo, you'll need to install it on your mobile device and your computer. We recommend installing the mobile app first.
Installing Camo on your mobile device
Camo is available on the App Store and Google Play Store. You can find it on both by searching for "camo".
Installing Camo Studio on your Computer
Once you've downloaded the app to your mobile device, you can share the computer app directly from Camo.
To share from iOS to macOS, AirDrop the desktop app to your Mac by tapping the AirDrop icon on the Getting Started screen.
To share to Windows, tap Share Link from the Getting Started screen on Android or iOS.
Alternatively, you can download and unzip Camo Studio for macOS here and Windows here.
Once you've downloaded Camo Studio, double-click the Camo icon to run
To install to Windows, check the box to accept our license agreement and click Install
To install to Mac, grant permission to install (it'll move itself to "Applications", and install a plugin to let video conferencing apps see it).
On both Windows and Mac, Camo Studio will also ask if you want it to automatically check for updates. We recommend that you allow these, because we update Camo Studio regularly to stay abreast of compatibility with a wide range of video apps.
Pairing Camo and Camo Studio
Pairing Camo on using an iOS device is automatic, whether you're pairing to Windows or macOS — just plug your device in to your computer with a standard lightning USB cable — after a few seconds, you should see your iOS device's camera feed in Camo Studio.
The steps for pairing Camo for Android differ depending on whether you're pairing to Windows or Mac.
In our current beta, to pair Android to Windows you'll need to turn on USB debugging. The instructions to do this vary slightly depending on the Android phone you're using. We've outlined the process below using a Samsung Galaxy S20.
If you need help turning on USB debugging for your Android device please contact us and we'll walk you through the process for your specific phone.
Pairing Android to Windows:
Connect your phone to your computer and open Camo Studio. You should see the following screen:

Camo Studio shows the steps required to connect to Windows

Follow these steps on your Android to configure your device:

Go to Settings, search for Build Number and tap it 7 times.

Now search for Developer Options in Settings, scroll down to USB debugging and tick to turn on.

Selecting Always allow from this computer means you will only need to do this once.

The images show the debugging steps on a Samsung Galaxy S20
Pairing Android to Mac:
Your Android should connect automatically to your Mac, unless you followed the steps above to connect to Windows. If this is the case, turn off USB debugging by searching for Developer Options → USB debugging and unticking to turn off.
Activating Camo
There's no need to pay to use Camo, and the free edition provides everything you need to use your iPhone as a high-quality webcam. However, if you'd like to unlock all of Camo's power, you can upgrade by clicking the "Upgrade" button on the top-right of Camo Studio.
That'll show a window like the following, with buttons at the bottom to buy a license or activate a license. Clicking "Buy now" will take you to Camo's checkout to buy a license.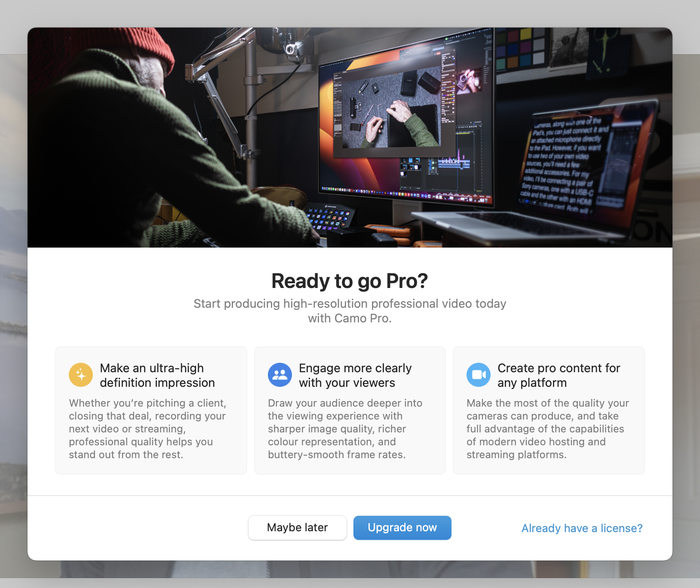 Once you've bought Camo, you'll receive an email with a username and password for activating Camo. Go back to Camo Studio's Upgrade and select Activate license to enter your credentials and start using Camo Pro.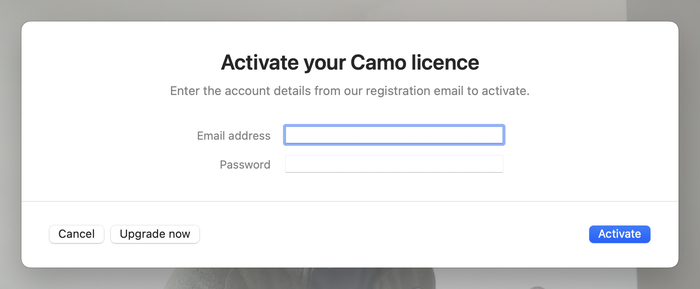 If you've closed the browser window you used to buy Camo, and you can't find the email, search for support@reincubate.com in your inbox and check your spam. Contact us if you get stuck or need help!