Platform and device compatibility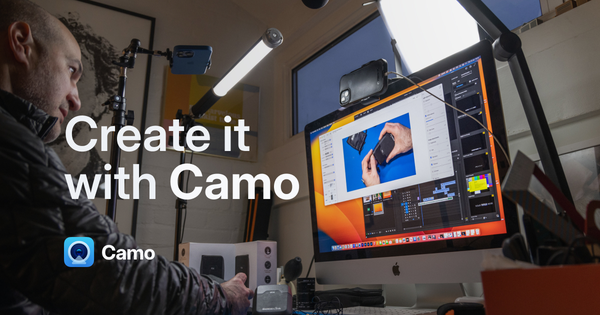 Camo offers a broad range of features across an even broader set of devices. This can mean that support for a particular feature may vary depending on the device being used and the platform Camo Studio is running on. Below, you'll find an overview of the main factors to keep in mind when trying Camo with your particular setup.
If you run into any issues, or find that this information doesn't seem to apply in your case, please check the troubleshooting doc or contact us so that we can help.
Webcams, built-in cameras, connected DSLRs and other USB devices
When using a dedicated camera that is connected to your computer via USB, or a built-in camera like ones found in many laptops, Camo Studio will rely on a standardised protocol to communicate with and receive video from the device. This means that Camo can work with a wide variety of devices, but also restricts what it can do to what is allowed by the protocol.
Available functionality can also be restricted by which features of the protocol a particular device supports. For example, some cameras might support many different kinds of image adjustments, even zoom and pan, whereas others will not. Camo attempts to minimise these through software where possible.
If you are planning to try Camo with a webcam, built-in camera, connected DSLR or other USB camera device, please keep the following in mind:
Supported image adjustments may vary from device to device. In many cases, Camo will emulate controls in software, but where that is not possible the control will be disabled.
Audio pass-through and advanced controls are not supported
Stabilisation is currently not supported
On macOS, the Portrait, Privacy Blur, Replace, and Spotlight image enhancement modes are supported on a limited set of devices
Augmented Reality (AR) modes are not supported
Camo for Android
Certain features will be missing from Camo for Android while the app is still in beta on the platform. If you are looking to use your Android device with Camo, please keep the following in mind:
Variable frame rate is only supported on Google Pixel phones due to manufacturer restrictions
On Windows, audio pass-through and controls are currently not supported
Advanced audio controls, such as variable input delay and selectable input channels, is currently not supported
Smart zoom is currently not supported
Auto framing (with or without zoom) is currently not supported
Stabilisation is currently not supported
The Replace, Spotlight, and Filter image enhancements are currently not supported
Vibrance image adjustment is currently not supported
Camo for iOS
Camo supports Portrait Mode and additional AR modes on any iPhone or iPad with an A12 processor or higher. Note that this is different from Apple's Portrait Mode within the Camera app, which works on some slightly older devices.
Support for super high resolutions, like 4K, is limited to devices with an A14 or M1 processor and later.
Support for higher video frame rates, above 30 fps and up to 60 fps, is also limited to devices with an A13 or M1 processor and later.
You can use the table below to find your device and check compatibility.
| Model | Processor | Portrait Mode & AR modes | Frame rates above 30 fps | 4K resolution and above |
| --- | --- | --- | --- | --- |
| iPhone 14 Pro Max | A16 | ✅ | ✅ | ✅ |
| iPhone 14 Pro | A16 | ✅ | ✅ | ✅ |
| iPhone 14 Plus | A15 | ✅ | ✅ | ✅ |
| iPhone 14 | A15 | ✅ | ✅ | ✅ |
| iPhone SE (3rd gen) | A15 | ✅ | ✅ | ✅ |
| iPhone 13 Pro Max | A15 | ✅ | ✅ | ✅ |
| iPhone 13 Pro | A15 | ✅ | ✅ | ✅ |
| iPhone 13 | A15 | ✅ | ✅ | ✅ |
| iPhone 13 mini | A15 | ✅ | ✅ | ✅ |
| iPhone 12 Pro Max | A14 | ✅ | ✅ | ✅ |
| iPhone 12 Pro | A14 | ✅ | ✅ | ✅ |
| iPhone 12 | A14 | ✅ | ✅ | ✅ |
| iPhone 12 mini | A14 | ✅ | ✅ | ✅ |
| iPhone SE (2nd gen) | A13 | ✅ | ✅ | ❌ |
| iPhone 11 Pro Max | A13 | ✅ | ✅ | ❌ |
| iPhone 11 Pro | A13 | ✅ | ✅ | ❌ |
| iPhone 11 | A13 | ✅ | ✅ | ❌ |
| iPhone XS Max | A12 | ✅ | ❌ | ❌ |
| iPhone XS | A12 | ✅ | ❌ | ❌ |
| iPhone XR | A12 | ✅ | ❌ | ❌ |
| iPhone X | A11 | ❌ | ❌ | ❌ |
| iPhone 8 Plus | A11 | ❌ | ❌ | ❌ |
| iPhone 8 | A11 | ❌ | ❌ | ❌ |
| iPhone 7 Plus | A10 | ❌ | ❌ | ❌ |
| iPhone 7 | A10 | ❌ | ❌ | ❌ |
| iPhone SE (1st gen) | A9 | ❌ | ❌ | ❌ |
| iPhone 6s Plus | A9 | ❌ | ❌ | ❌ |
| iPhone 6s | A9 | ❌ | ❌ | ❌ |
| iPhone 6 Plus | A8 | ❌ | ❌ | ❌ |
| iPhone 6 | A8 | ❌ | ❌ | ❌ |
| iPhone 5s | A7 | ❌ | ❌ | ❌ |
| iPad Pro (12.9-inch, 6th gen) | M2 | ✅ | ✅ | ✅ |
| iPad Pro (11-inch, 4th gen) | M2 | ✅ | ✅ | ✅ |
| iPad Pro (12.9-inch, 5th gen) | M1 | ✅ | ✅ | ✅ |
| iPad Pro (11-inch, 3rd gen) | M1 | ✅ | ✅ | ✅ |
| iPad Pro (12.9-inch, 4th gen) | A12Z | ✅ | ❌ | ❌ |
| iPad Pro (11-inch, 2nd gen) | A12Z | ✅ | ❌ | ❌ |
| iPad Pro (12.9-inch, 3rd gen) | A12X | ✅ | ❌ | ❌ |
| iPad Pro (11-inch) | A12X | ✅ | ❌ | ❌ |
| iPad Pro (12.9-inch, 2nd gen) | A10X | ❌ | ❌ | ❌ |
| iPad Pro (10.5-inch) | A10X | ❌ | ❌ | ❌ |
| iPad Pro (12.9-inch) | A9X | ❌ | ❌ | ❌ |
| iPad Pro (9.7-inch) | A9X | ❌ | ❌ | ❌ |
| iPad (2022, 10th gen) | A14 | ✅ | ✅ | ✅ |
| iPad (2021, 9th gen) | A13 | ✅ | ✅ | ❌ |
| iPad (2020, 8th gen) | A12 | ✅ | ❌ | ❌ |
| iPad (2019, 7th gen) | A10 | ❌ | ❌ | ❌ |
| iPad (2018, 6th gen) | A10 | ❌ | ❌ | ❌ |
| iPad (2017, 5th gen) | A9 | ❌ | ❌ | ❌ |
| iPad mini (6th gen) | A15 | ✅ | ✅ | ✅ |
| iPad mini (5th gen) | A12 | ✅ | ❌ | ❌ |
| iPad mini 4 | A8 | ❌ | ❌ | ❌ |
| iPad mini 3 | A7 | ❌ | ❌ | ❌ |
| iPad mini 2 | A7 | ❌ | ❌ | ❌ |
| iPad Air (5th gen) | M1 | ✅ | ✅ | ✅ |
| iPad Air (4th gen) | A14 | ✅ | ✅ | ✅ |
| iPad Air (3rd gen) | A12 | ✅ | ❌ | ❌ |
| iPad Air 2 | A8X | ❌ | ❌ | ❌ |
| iPad Air | A7 | ❌ | ❌ | ❌ |
| iPod touch (2019, 7th gen) | A10 | ❌ | ❌ | ❌ |
| iPod touch (2015, 6th gen) | A8 | ❌ | ❌ | ❌ |