Getting the best results from Camo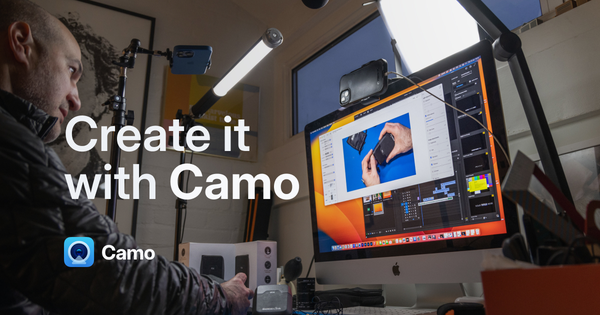 Once you've got Camo up and running, try out these tips to help you get the most out of using your phone as a webcam.
Mounting your device
Where and how you position your camera in your home-office setup, or even when on the road, can make a huge difference to how your video looks. Positioning the device's camera around eye-level and close to where you'll be looking makes for a more natural, familiar, and approachable shot.
A good quality mount will help reduce unwanted vibrations and shaking in your environment. Users running Camo in iOS can also take advantage of Camo's built-in video stabilisation to help with this.
If you want to learn more about mounting options for your phone, we have a guide for that, too.
Improve your lighting
Professional photographers use a three-point lighting system to ensure their subject is well lit, using the strongest light source near the camera, a fill light on the other side of the camera, and a backlight behind the subject. You can use any lights to do this, including desk lights, lamps, and sunlight from windows.
Find out more in our guide on how to get the best lighting.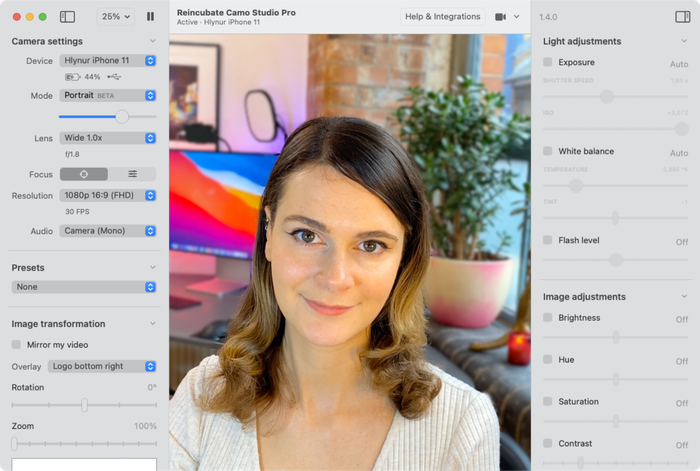 Get a good microphone
A picture might speak a thousand words, but audio plays a crucial part in producing great video. A good microphone, suited to your use-case and environment, can make all the difference for the viewer. There's nothing like having a great shot ruined by missing or corrupted audio, as it will often carry the bulk of your video's narrative.
Most video meeting platforms will allow you to select any microphone connected to your computer as your audio source. Another option, if you're using your phone with Camo, is to connect to Camo Studio over Wi-Fi, leaving the port on your mobile device free for a portable microphone (or other peripherals). When recording with Camo, Mac users can select a connected microphone directly from the interface.
Optimise your settings
If you are using video to meet or stream, we typically recommend that you match your resolution output to your video service's capabilities. Most video services will automatically downscale picture quality, making your video look worse, and causing your picture to lag - you can read more on this subject in our FAQ section.
On the other hand, if you want to record in the maximum resolution available on your dedicated camera, make sure that you are using a cable that will support it. You'll need a USB 3 or HDMi cable to capture 4K video, and your device might require a connection through a video capture card.
Make adjustments in Camo Studio wherever possible, rather than using other software. If you're using your phone as a webcam, the phone's dedicated graphics processor powers Camo, meaning that any adjustments and enhancements you make within Camo won't slow your computer down. Using image adjustments from other software can cause your image to lag, or your audio and video to become out of sync.
Also, for those using their phone as a webcam with Camo, we recommend using the rear camera on your device since the optics on the back of your phone are much more powerful than the selfie camera. There's no need to see your phone screen when you're using Camo, as all the controls are accessed from your computer, so make use of the back camera to get the best possible picture.
Set the scene
An excellent video shot isn't just comprised of a well-lit, good-sounding subject - it involves your surroundings, as well. Whether too stark or too busy, a poor scene can be distracting, erode your credibility and weaken your message. On the other hand, a well-planned and balanced background can give helpful context, express individuality and give your ideas greater impact.
To start, combine Portrait mode with zoom to keep the focus front and centre, rather than on your background. Portrait mode will blur your background slightly, keeping you in focus, while the zoom and pan function can help crop out distractions. Next, ensure that the lighting behind you is no stronger than the lighting in front, and that the area directly behind your head is clear of distracting elements.
For more tips, see our guide on setting up your environment.
Wi-Fi vs USB connections
Camo supports connecting your iOS or Android device to your computer via Wi-Fi or directly through USB. Find out more about pairing your mobile device to Camo Studio if you haven't done so already.
In many cases, the ease of Wi-Fi connectivity will be ideal for setting up your device wherever and however you want to. For most this will be on a simple desk mount, but not having to worry about cabling opens up a lot of options. It can also be more convenient for quick calls: just open Camo, mount the device, and add it in Camo Studio.
Like on any wireless connection, the latency and consistency of the video sent from your device to Camo Studio over Wi-Fi can vary depending on network conditions, such as a poor connection to a local router or a sudden spike in activity.
This is particularly true on macOS due to how it handles switching between different wireless modes and connections with various devices. Camo minimises the effects of these by introducing a slight delay to the video, on macOS only.
For users looking for the smoothest video experience, we continue to recommend connecting your device directly to your computer using a high-quality USB cable. This will be more important if you are recording video for distribution (e.g. on YouTube or elsewhere), or for other production purposes.
Avoid interruptions
Having a random text or notification interrupt a flowing recording session or important call can be deflating. Here are a couple ideas to avoid breaking your focus.
Use Do Not Disturb and turn off Orientation Lock to keep your calls distraction-free. We wrote a guide on how to use Shortcuts on iOS to automatically turn these settings on when you open Camo, and turn them off when you close it.