Getting the best results from Camo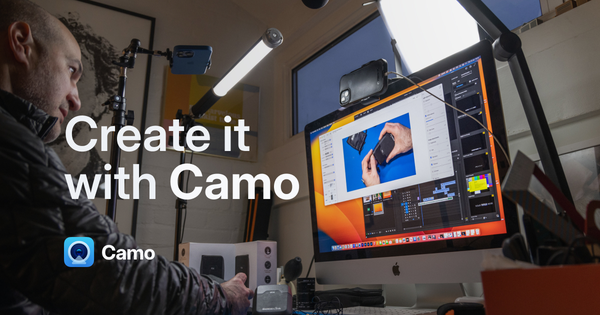 Once you've installed Camo, take a look at these tips to help you get the most out of using your phone as a webcam:
Use a mount to position your phone. A gooseneck arm mount, like this one, is a good option for most use-cases.

Use Do Not Disturb and turn off Orientation Lock to keep your calls distraction-free. We wrote a guide on how to use Shortcuts on iOS to automatically turn these settings on when you open Camo, and turn them off when you close it.

Shortcut automations can let you trigger do not Do Not Disturb and Orientation Lock on and off when opening and closing Camo

Connect your phone directly to your computer. Most Camo connection issues are caused by USB hubs. USB hubs can also cause slow video, and do not provide enough power to keep your phone charged whilst in use (checking that you're gaining a charge while you use Camo can be a good troubleshooting tactic). If you need to use an adapter, simple solutions like this don't tend to cause issues. The best bet, however, is to plug your phone into your computer directly and save your hub for devices that don't need a consistent connection.

Match your resolution output to your video service's capabilities. For example, if you're using Zoom, there's no need to set your video resolution higher than 720p, as that's the maximum Zoom output. Using a higher resolution will lead to your video service downscaling the picture quality by itself, and this can cause your video to look worse than it otherwise would, and cause your picture to lag.

Make sure you're well lit. Professional photographers use a three-point lighting system to ensure their subject is well lit, using the strongest light source near the camera, a fill light on the other side of the camera, and a backlight behind the subject. You can use any lights to do this, including desk lights, lamps, and sunlight from windows.

Camo used with three-point lighting, with two lights either side of the camera and the light from a separate computer set up as the backlight.

Use the rear camera on your phone. The cameras on the back of your phone are much more powerful than the selfie camera. There's no need to see your phone screen when you're using Camo, as all the controls are accessed from your computer, so make use of the back camera to get the best possible picture.

Try "portrait mode" with zoom and pan to keep the focus on you, rather than your background. Portrait mode will blur your background slightly, keeping you in focus, while the zoom and pan function allows you to crop your video.

Make adjustments in Camo Studio wherever possible, rather than using other software. The phone's dedicated graphics processor powers Camo, which means that any alterations you make within Camo won't slow your computer down. Using image adjustments from other software can cause your image to lag, or your audio and video to become out of sync.