Navigating Camo's interface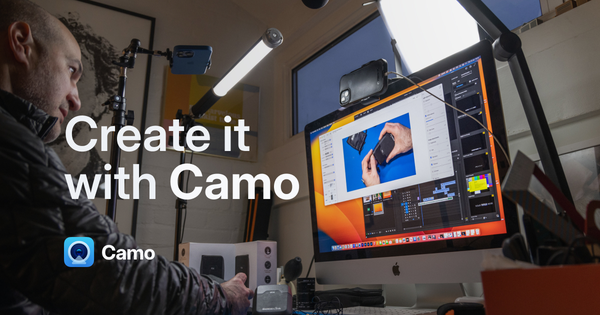 These documents explain how to use and make the most of Camo. If you're yet to install it, please check out getting started with Camo before returning here.
The controls for Camo are all located on your desktop, so you don't need to use your device once it's connected. To this end, version 1.3 of Camo introduced screen curtain, which keeps your device's screen dimmed while using Camo, to prevent distraction, keep the device cool, and improve privacy and power usage. Screen curtain is automatically enabled, and can be disbled in Camo Studio's settings (Advanced > Screen Curtain > Off).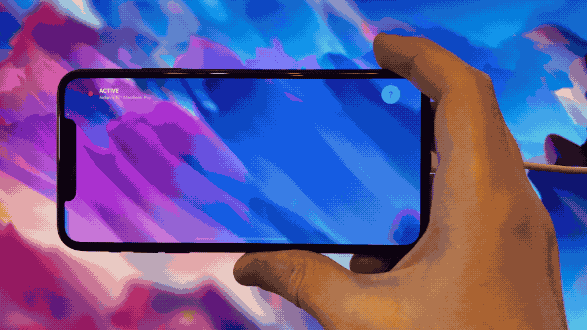 The Camo Studio window
When you first run Camo Studio, the Camo Studio window will open on your computer and should look like the image below. It'll be showing its "Welcome" popup.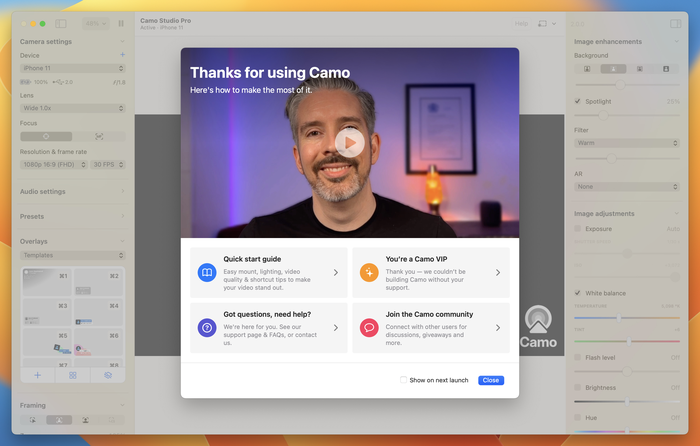 If you click "close" on the welcome screen, you'll see the Camo Studio window. (You can always get back to the welcome screen by clicking "Help & Integrations" on the top-right of Camo Studio.) Below you can see examples of the window with a device connected and without.
If your iOS device is connected to your computer and running Camo, you'll see a preview of the camera feed in the centre of the window. If not, you'll see a prompt to connect your device.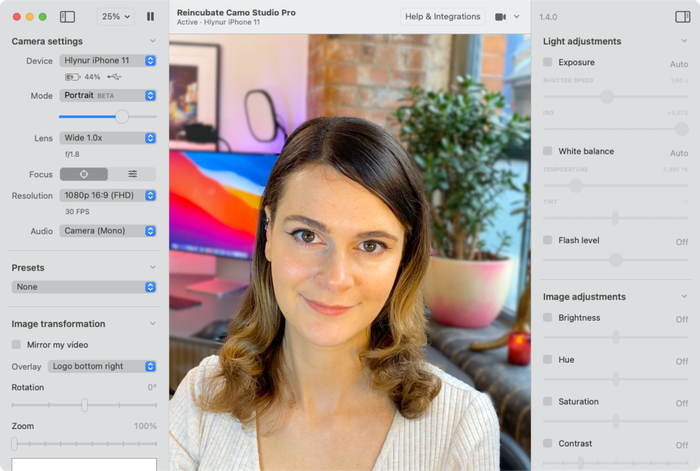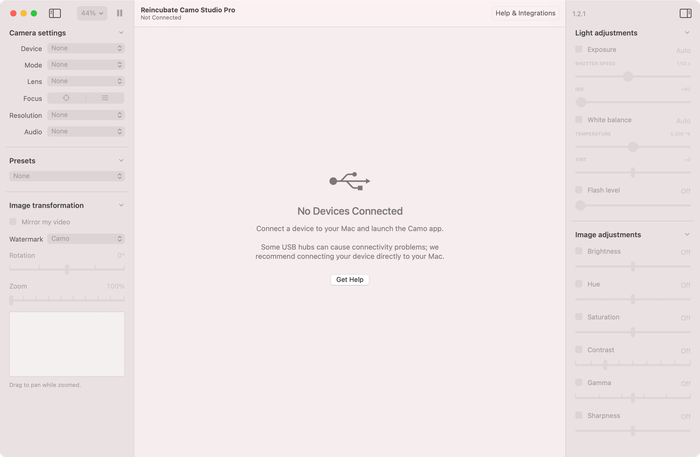 Note that the "No devices connected" screen will show if a device is connected that isn't running Camo. To connect a device to Camo Studio, it must be plugged in, and the Camo app must be running on the device.
If you're using your computer in Dark Mode, Camo Studio will automatically adjust itself to fit that, along with any custom accent colours a user has set.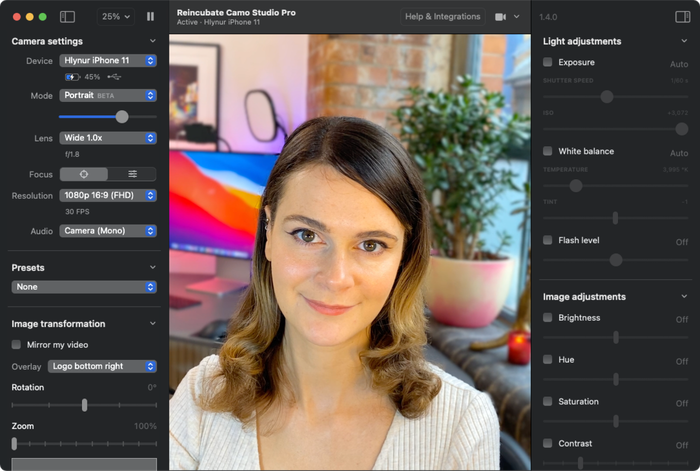 The Camo Studio window can be safely closed at any time: its window doesn't have to be open for Camo to work.
Camo Studio shows a preview of your feed right in the center. you can control that by pinching to zoom, or using the magnification menu on the top-left of the main window. Below you can see the window changing between "Scale to Fit" and "Scale to Fill".
Camo Studio's menus
When Camo Studio is running, you'll see there's always a Camo icon shown in your computer's menu bar, at the top of the screen. If you click it, you'll see a menu appears with a number of options and sub-menus. You can use this to open the Camo Studio window if you've previously closed it.

The Camo Studio icon in the menu bar indicates the state that Camo is in. The screenshot below shows the OK, paused, and disconnected states, respectively.