Troubleshooting Camo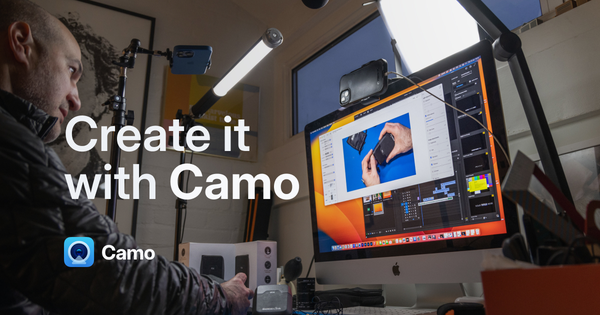 If you run into a problem with Camo, please make sure you're using the latest version: use Check for Updates in macOS, and check the App Store for updates on iOS.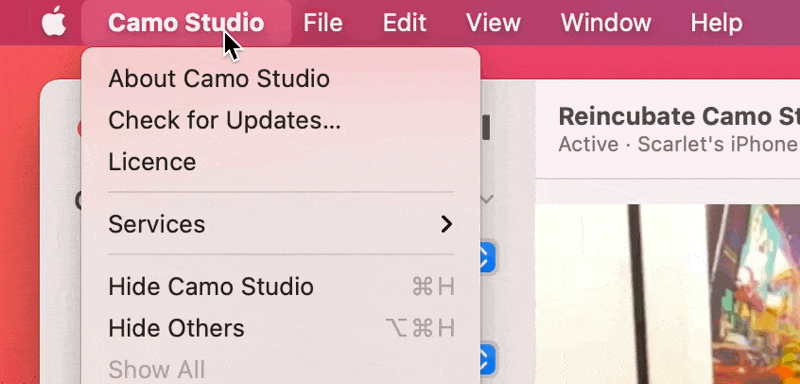 "Reincubate Camo" doesn't appear as a video source in my video conferencing app!
Confirm your app appears on the compatibility list, and follow any instructions there
The instructions are important — you might need to upgrade some apps
Make sure you've restarted your video app since installing Camo
Still doesn't work? Please contact us
Zoom doesn't show Reincubate Camo or is slow
Make sure you're Zoom 5.0.5 or newer
If Camo still doesn't appear, it's caused by Zoom's internals being broken: sometimes it gets itself in a state where it doesn't support third-party cameras properly and leaves behind older Zoom components
Uninstalling and reinstalling Zoom solves this
Still doesn't work? Please contact us
My device disconnects from Camo Studio (or is slow to appear, or won't connect)
Camo shouldn't ever disconnect when you're using it. We've had it running for days on end in test calls, and actively on calls for up to 13 hours at a time.
If you do see disconnects, there are generally 3 causes:
There's a third-party USB hub in between the phone and Mac
There's a problem with the USB cable
The Mac is overloaded
The first troubleshooting step is to ensure the phone is connected directly to the Mac, and not through a hub. All hubs and adapters made by Apple work perfectly, but there are a number of third-party hubs that aren't powerful enough. We're yet to find a USB hub in a monitor that causes problems.
Once you've made it work by removing the hub or switching cables, it may be that you can reintroduce your hub with fewer devices connected to it. Seeing the charging indicator on the iPhone and iPad flicker on and off is a good indicator, but if the charging indicator is on solidly it does not necessarily mean a third-party hub will work.
If you suspect the issue may be caused by your Mac being too slow, try lowering the resolution in Camo Studio to the lowest setting. If that works, it's a good indicator, and we'd love to hear from you. Please let us know, as we should be able to make even the slowest Mac run with 720p.
We've tested and recorded feedback with a number of USB and USB-C hubs below. If you share your experience with us, we can add to this table.
Simple adapters like these tend not to cause any problems.
Using Camo with Wi-Fi
Wi-Fi connectivity is only available for users of the Android beta at present.
Your Android device should connect automatically to Camo Studio, so long as it is running on the same Wi-Fi network as the PC running Camo Studio.
Camo crashes on iOS when I connect to Camo Studio
Sorry! Camo Studio on your Mac keeps track of settings, so if a setting breaks it, reconnecting the phone will break it again. The solution until we fix this is to reset your Camo Studio preferences.
Close Camo Studio
Open a Terminal and run defaults delete com.reincubate.macos.cam
Start Camo Studio again
Still doesn't work? Please contact us.
Uninstalling Camo
Camo Studio can fully remove itself and its components. To do so:
Click Camo Studio in the macOS menu bar and select Advanced → Uninstall Camo Studio. This is the menu on the upper-right of your Mac's screen, not the upper left.

Uninstalling Camo Studio

Close any apps that were using Camo's camera, and open them again (those apps won't see that the camera has been removed until they've been restarted)

Delete the Camo app from your iOS device
Getting logs from Camo
In some cases, sending us logs can help us diagnose problems. Camo Studio doesn't record logs by default, so you'll need to turn on logging first.
You can enable logging with Advanced → Record Logs. Once that's done, restart Camo Studio and replicate the problem, before using the Advanced → Export Logs menu.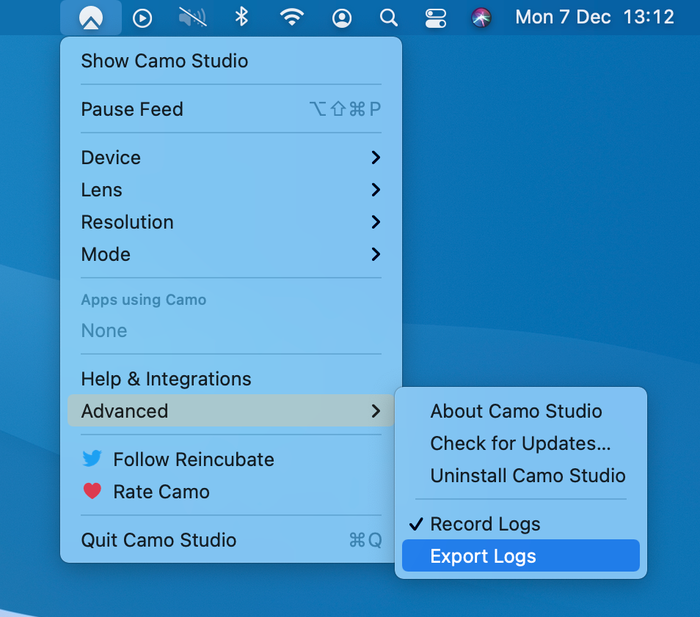 On iOS, you can turn logging on using your iPhone's settings menu: Settings → Camo → Troubleshooting Settings → Record Logs. Once logging is turned on, replicate the problem you've got, so that information about it gets written to the logs.
With that done, you can then get the logs by long-pressing on the question mark icon top-right of the screen. That'll open a share dialog prompting you to share the app's logs. You can choose to AirDrop them to your Mac from there.