Adjusting your video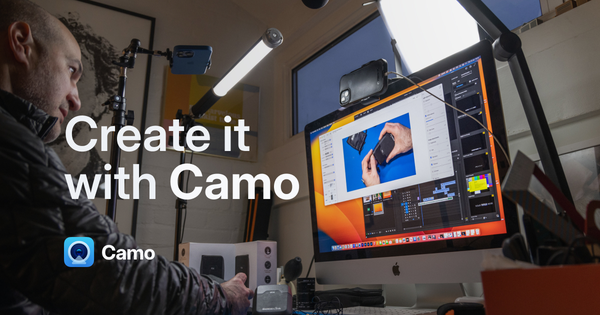 Camo is designed to be controlled entirely from your computer, using Camo Studio. We've designed it with the assumption that the iOS device might be out of reach when in use or even permanently mounted. It's likely you may want to set up a particular angle for the iOS device's camera, and don't want to regularly move it.
Camo deliberately chooses sensible defaults when it's first run. As such, most users can simply run Camo and get started with streaming high-quality video immediately. If you want more control, Camo Studio also offers a number of options to alter or improve a user's video.
Top controls

The top bar of Camo Studio offers five controls. From left to right, these are:
Hide settings and adjustments. These buttons let you hide or show the settings bars. You'll see one of these on either end of Camo Studio: one for each column of controls.
Preview magnification. This allows you to change the size of your video in Camo Studio. You can choose from a variety of magnifications, including scale to fit, which will shrink your feed to fit it into the Camo Studio window, or scale to fill, which will expand your video to fill this window completely.
Pausing and resuming the camera. This can also be done with the ⌘ Cmd + ⇧ Shift + ⌥ Option + P hotkey. When your video is paused, your image disappears in Camo Studio, and Camo's blurred pause screen appears on your video call.
Help & Integrations. This will take you to the welcome screen, with tips for getting started, support, and integrations to other platforms.
Record. This lets you record your camera feed, to create videos. Hit the record button to start and stop recordings, and the dropdown to change your audio option and save location.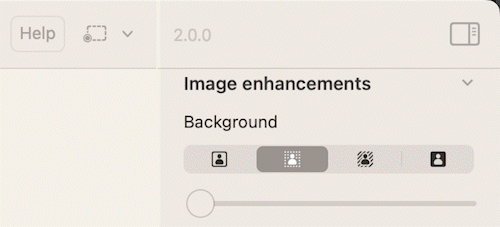 Camera settings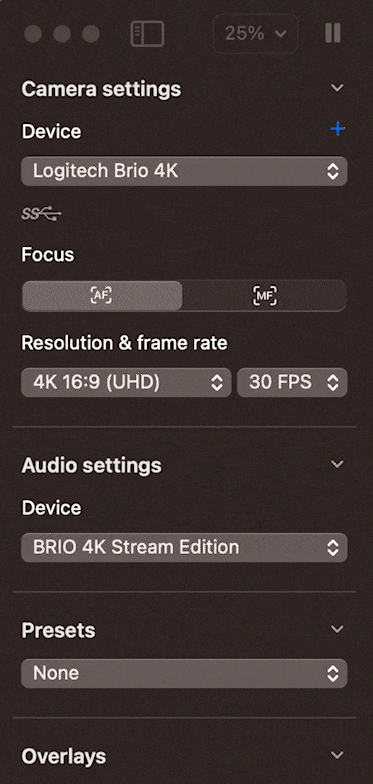 Camo Studio offers a number of options for configuring your camera settings. These are:
Device: This lets you choose which connected device Camo should take video from. It's possible to connect many iOS and Android devices to a single Mac or PC, and to switch between them during a call with this control. Camo will remember settings for each device individually.
Mode: This lets you switch between the normal feed and other modes, such as Portrait Mode, Beauty Filter, and other AR Modes. The various modes are only available for certain models.
Lens: The lens drop-down allows a user to select any of the front or rear-facing cameras on their device.
Focus: This lets you use autofocus, or enable manual focus and select the focus with a slider.
Resolution: This drop-down lists all of the resolutions that are available from the selected device lens. The majority of users will want to choose 1080p or 720p as these are optimal for most applications. Camo also supports virtual rotation, which makes portrait orientated resolutions available when a device is mounted in landscape and vice-versa. This makes switching between image orientations simple, without having to touch the device or adjust how it's mounted. We have more information on choosing resolutions.
Frame rate: This drop-down controls the video frame rate requested from the device. The higher the frame rate, the smoother your video will appear. Video conferencing applications don't use more than 25 or 30, so using higher values is more appropriate for recording or streaming. See what frame rates Camo supports for your device.
Audio settings
You can use Camo to access your device's microphone, alongside the camera. Camo lets you choose between Stereo and Mono audio. With Mono audio, you can choose between the device's bottom microphone or the microphone near the camera. As with camera options, different devices have different microphone options available.
Camo also lets you use your computer's audio input sources, which is especially useful when recording videos directly in the app.
Presets
Camo Studio lets you save image adjustments as a preset. We also have a number of stock presets.
Overlays
Apply overlays to your image. You can choose from premade overlays, edit overlays with your own text and images, and upload custom overlays to use from the Overlay Gallery. Learn more about the Overlay Editor.
Image transformation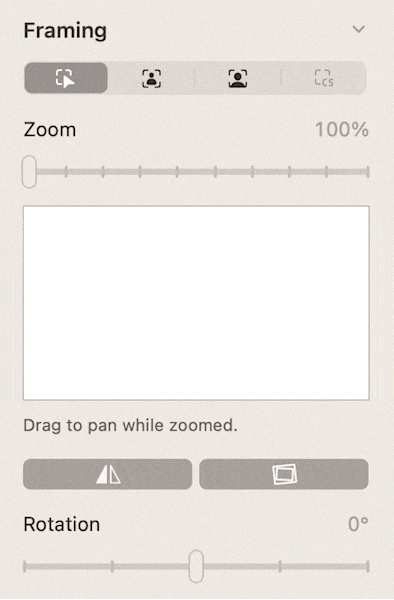 Camo's image transformation controls let you adjust the rotation, zoom, tilt, and pan of your video, and toggle functionality such as video mirroring and image stabilisation.
Mirror my video: This horizontally flips your video. We'd recommend using this rather than your video app's mirroring, so that it's consistent. Some video apps incorrectly mirror your preview video, which can be confusing, whereas Camo always shows you what other people will see.
Stabilise video: Minimise the effects of bumps and vibrations on your video by using digital video stabilisation. This can be especially helpful when using a slightly wobbly mount, or for particularly heavy typists.
Rotation: This lets you rotate your video feed in 90° adjustments. In almost all cases, it's better to disable orientation lock on your phone and to rotate it. (In part because it's faster for the phone to handle the rotation of the video at source.) However, if you're using your phone in upside-down portrait mode, using this rotation combined with mirroring can work well.
Zoom: The zoom slider lets you zoom in on a particular part of your feed, and you can drag the viewport around in that zoomed view.
Smart Zoom
Smart Zoom lets you zoom into your video with minimal impact on image quality.
Standard digital zoom, which is what Camo uses by default, simply crops the image to a set zoom level and uses upscaling to match the desired output resolution. Smart Zoom avoids the loss in quality introduced through upscaling by using a larger initial input resolution so that the video's resolution never dips below the targeted output resolution.
You can enable Smart Zoom in Camo's Preferences, under the General tab.
Compatibility
Camo's broad range of functionality gives a lot of choice in how to set up and adjust your video, but can also require a lot of processing power from your device. Using demanding features, such as Smart Zoom, higher frame rates and resolutions, and advanced modes together would lead some devices to underperform during prolonged usage.
To account for this, and in a few cases due to technical reasons, the usage of certain modes is incompatible with other functionality. Use the table below for guidance on what features make a good combination for your device and overall setup.
Note that if you select a mode that is unsupported by the currently in-use lens, resolution, or frame rate, Camo will automatically resolve this incompatibility by switching the lens, resolution, and/or frame rate to a compatible value. For example, selecting Portrait mode while shooting at 60 fps will enable Portrait mode but lower the frame rate setting to 30 fps.
| Functionality | Normal mode | Portrait mode | Other modes |
| --- | --- | --- | --- |
| Alternative lenses | ✅ | ❌ | ✅ |
| Frame rates up to 30 fps | ✅ | ✅ | ✅ |
| Frame rates above 30 fps | ✅ | ❌ | ❌ |
| Optimised resolutions | ✅ | ✅ | ✅ |
| Other resolutions | ✅ | ❌ | ✅ |
| Video stabilisation | ✅ | ❌ | ✅ |
| Smart Zoom | ✅ | ❌ | ❌ |