Adjusting your video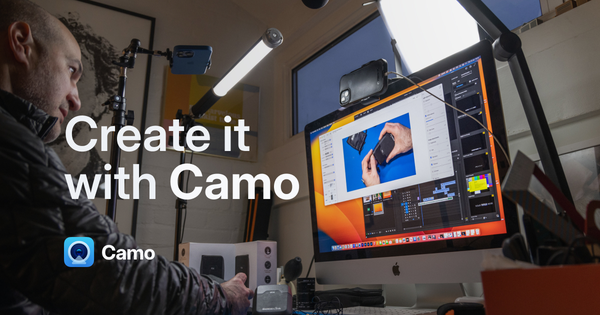 Camo is designed to be controlled entirely from your computer, using Camo Studio. We've designed it with the assumption that the iOS device might be tucked away or permanently mounted. It's likely you may want to set up a particular angle for the iOS device's camera, and don't want to regularly move it.
Camo deliberately chooses sensible defaults when it's first run. As such, most users can simply run Camo and get on streaming high-quality video immediately. There are a number of options that Camo Studio presents which can be used to alter or improve a user's video.
Camera settings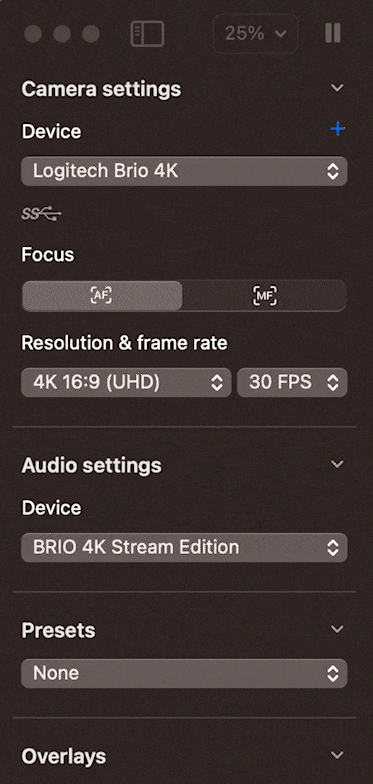 Camo Studio shows a number of options for configuration camera settings. These are:
Source: This lets you choose which connected iOS device that Camo should take video from. It's possible to connect many iPhones and iPads to a single Mac, and to switch between them during a call with this. Camo will remember the settings that each device had last.
Lens: The lens drop-down allows a user to select any or the front or rear-facing cameras on an iOS device.
Resolution: This drop-down lists all of the resolutions that are available from a given device's lens. In most cases, users will want to choose 1080p or 720p. We have more information on choosing resolutions.
Activity controls
Camo Studio presents two activity controls:
Pausing and resuming the camera. This can also be done with the ⌘ Cmd + ⇧ Shift + ⌥ Option + P hotkey. When your video is paused, it won't be visible to anyone you are on a call with.
Flash level. This will enable or disable the device's flash, if it has one. The flash level can be varied. Flash isn't available for every device, and isn't available for selfie lenses.
Post-processing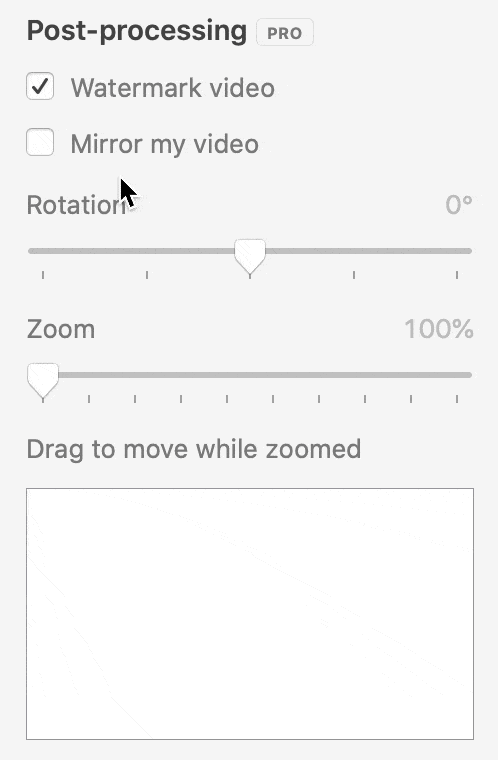 Camo's post-process controls allow you to configure the watermark, mirror and rotate your video, and control zoom, tilt and pan controls.
Watermark my video: This controls whether or not the Camo watermark is shown on your video feed.
Mirror my video: This horizontally flips your video. We'd recommend using this rather than your video app's mirroring, so that it's consistent. Some video apps incorrectly mirror your preview video, which can be confusing, whereas Camo always shows you what other people will see.
Rotation: This lets your rotate your video feed in 90° adjustments. In almost all cases, it's better to disable orientation lock on your phone and to rotate it. However, if you're using your phone in upside-down portrait mode, using this rotation combined with mirroring can work well.
Zoom: The zoom slider lets you zoom in on a particular part of your feed, and you can drag the viewport around in that zoomed view.