How to mount an iPhone webcam: which mount is best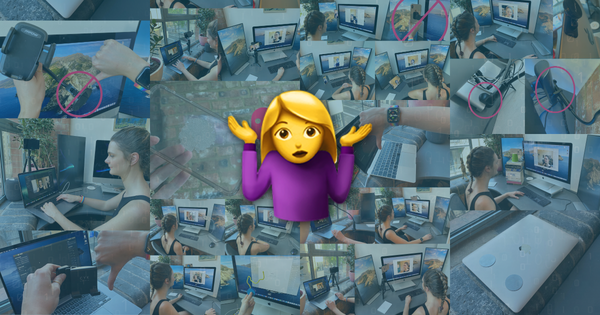 So, you're thinking about using your phone or tablet as a webcam. You've probably got a cable. We hope you've got Camo. And maybe you need a mount or a stand. I bought just about every type of stand on the market, and even tried constructing some makeshift ones from things I had around the house. In this guide, I'm going to run through which ones might work for you, and why.
If you don't have time to look through these options in detail, just get this one:
What makes a good iPhone webcam mount?
Before starting to look into the various iPhone mounts, I had a think about what I was really looking for. In order of importance, an iPhone webcam mount should:
Have good stability. You need to be able to type, click, and use your computer as you normally would on calls without your iPhone jiggling around or even falling out of its mount.
Make you look good. Step one here is to use Camo, which lets you use the incredible camera built into the iPhone as your webcam. In terms of your mount, you want it to be positioned near your computer screen. It's disconcerting to talk to someone who doesn't seem to be looking at you. You also want to be able to get your mount so that it's roughly parallel to your face; too low and everyone else on the call will be gazing up your nostrils; too high and it will be pointed at your body.
Make it easy for you to put your phone in and take it out. As you're using Camo on your iPhone, in all likelihood you'll also want to use this as a phone at other times, so being able to put in your iPhone and remove it easily is important.
Not result in anything too permanent. You might not want to keep a magnetic disk stuck to your iPhone, or a bulky car mount stuck on your iMac.
Be compact. When you're not using your iPhone as a webcam, you probably don't want a hulking great piece of plastic cluttering up your desktop.
Not look like a hideous eyesore. Bonus points if it looks nice.
Want to look better on your video calls? We've put together an article full of tips to help you look your best on your webcam here.
With this criteria in mind, let's take a look at the various types of mounts you can use to turn an iPhone into a webcam.
Tripods
Product tested: EVERESTA 42 Inch 360 flexible Smartphone Tripod UK £19.54, similar US product $25.49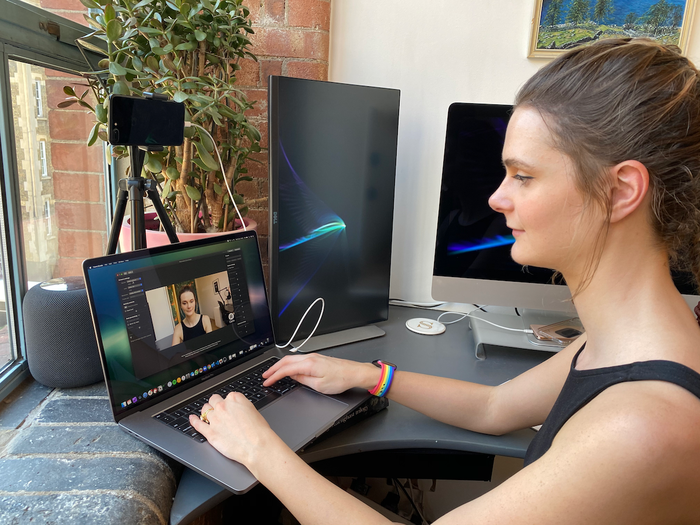 A tripod was one of the first stands I decided to test. They've got great variability; you can adjust the height, and easily move a tripod around to different computers if you've got a laptop and a desktop, or different areas if you take calls in different places throughout the day. If you're working from cafes, for instance, a tripod is a good option, because it's quick and easy to set up: all you need is a flat surface. You can also move your tripod independent of your computer to make sure you're well lit on your webcam even if your computer isn't facing the light.
On the subject of light, you can purchase tripods that come with built in ring lights if your desk is not already well lit, but I've found that these are generally low-quality tripods attached to low-quality light rings, so you might be better off getting a regular, stable tripod and using a standard lamp, the flash from your iPhone (which you can control using Camo), or simply the natural light from a window (or the sun, if you're outside), to improve light levels.
With that said, tripods are generally quite big and bulky. If desk space is tight, you might not be able to sacrifice the space for a tripod. In addition, while you can move your tripod to be in the best light, it's a little trickier to get it close to your display than when using some other mounts, which can give the impression that you're looking off to the side on your calls. Most tripods use a grip claw, which, depending on the strength of the grip, can be fiddly when putting your iPhone in and taking it out of its mount.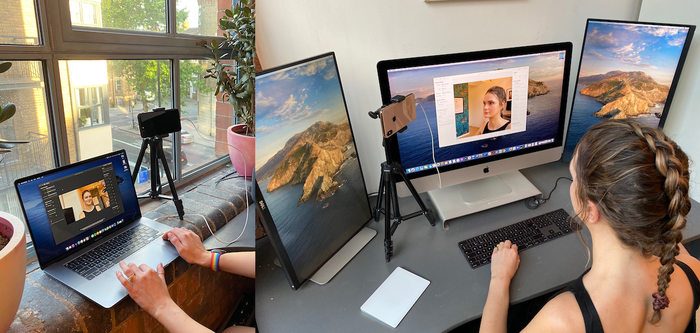 Tripods will work well for people who only want one mount, but who switch around to different computers and laptops or different workspaces often. At around $25 for a good tripod, they're not the cheapest option, but they're not too expensive, either.
Flexible arms
Product tested: Jumkeet Gooseneck Phone Holder, UK $18.99
A flexible arm has aspects of both a tripod and a car mount. You can attach it to your screen, your desk or any other object that can be clamped (such as a monitor stand or plant pot). It takes up no desk space, unlike a tripod, and can keep your desk clutter-free if attached behind your laptop or monitor. Flexible arms also offer a little more flexibility than a screen mount, as you can move the arm up and down, side to side to find the perfect position. You can even bend the arm round a corner if you need to.

Flexible arms generally attach using two claws, so there are no permanent stickers, and I found the grip claws of the flexible arm I tested to be easier to take my iPhone in and out of than the desktop mounts and car mounts.
The flexible arm was very stable: the picture didn't judder as I typed, and it was also pretty affordable. For me, this was by far the best mount to use for laptops, and if you don't want to use a magnetic sticker, it was the best option for desktops, too. The only requirement for these flexible arms is that you have something to clamp the arm to, so if you have a built-in desk, this type of mount might not work for you. You can see how I clamped the arm to the side of a desk when using it with a laptop, above. Here's how I attached it to a couple of desktop computers: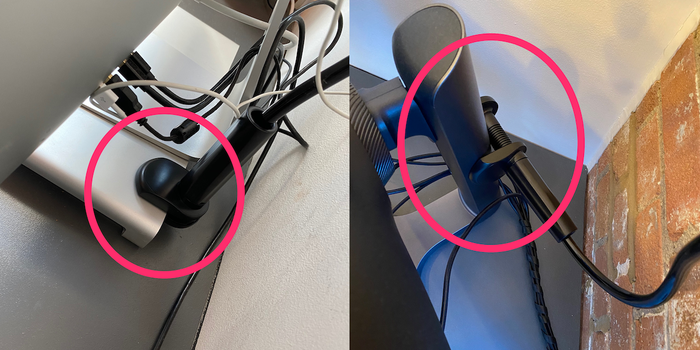 Suction cups
Product tested: MPOW Dashboard Car Phone Mount, UK £8.99, similar US product $10.99
These just won't work, unless you stick them to a nearby window, or to the screen of your computer (no, really, don't do this). Beware that some listings on Amazon imply they'll stick to other surfaces. They won't!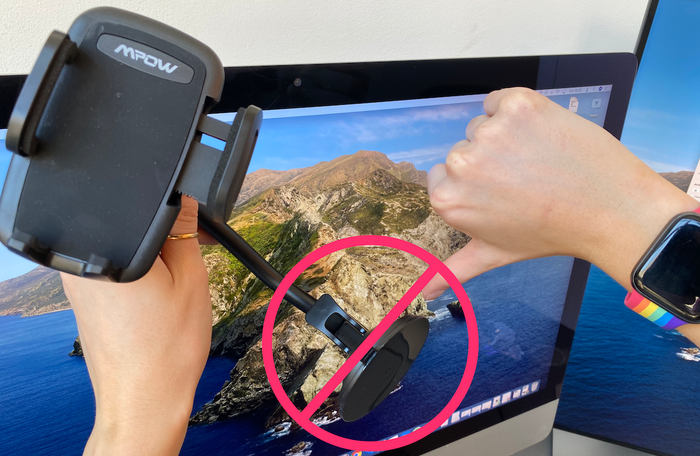 Sticker mounts
Product tested: FLOVEME Magnetic Car Mount US $13.99, UK £12.16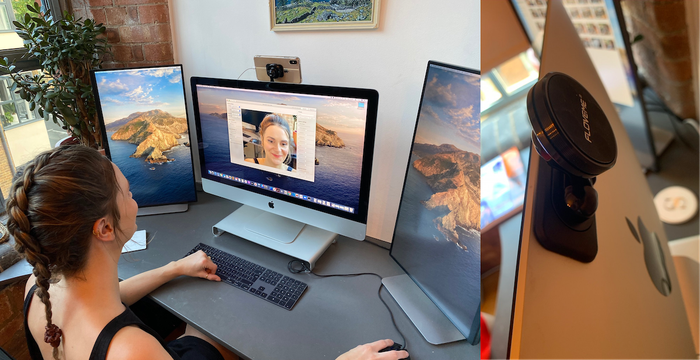 Any mount that attaches directly to your monitor will let you get your iPhone webcam close to where the built in webcam is, so you can get a good angle for your calls. The main variable with these types of mounts is how they attach to your computer and your iPhone. Of the direct mounts I tried, the best option for desktop users was the sticker/magnet mount pictured above. You stick it to the back of your computer and can add the magnet to the back of a cheap iPhone case to quickly attach and remove your iPhone for calls. (Keep reading to see why you don't want to stick it directly to your iPhone.)
These are much less bulky than tripods, but they're probably not suitable for laptops if you're planning to move around, as the mount should remain attached to your computer and they'll prevent your laptop from fitting in a case. You can try unsticking and resticking your mount each time you use your webcam, but this will reduce the stickiness and risk your iPhone and mount falling off and getting damaged.
Magnetic mounts
Products tested:
Magnets, how do they work? However they do, they make it really easy to attach and remove your iPhone from its webcam mount. Some mounts were so simple they consisted of two magnets; one for the back of your iPhone, the other for the back of your monitor or laptop. You just stick your iPhone to your computer, and grab it off when your call ends. To get the best mount for an iPhone webcam, however, you'll need a little more than just two magnets, because you want to be able to adjust the angle of your iPhone.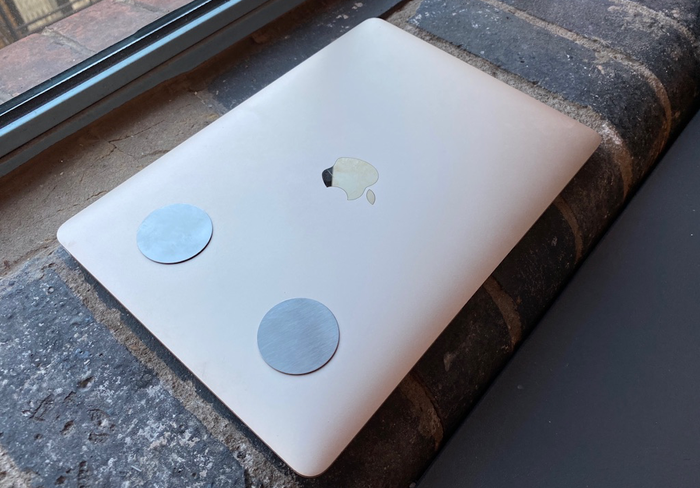 This type of attachment does well for ease of use and compactness, but there is very little room for variability - once you've stuck your magnets in place, that's where you need to keep your webcam. I found that the magnets held pretty well, there was a very small amount of wobbling when typing on a laptop (realistically, no more that you'd get when using the built-in webcam), but this is reduced when using a desktop. You'll also need to keep magnets stuck to your iPhone (or iPhone case) and computer, if the idea fills you with horror then you'll want to look for a different type of attachment.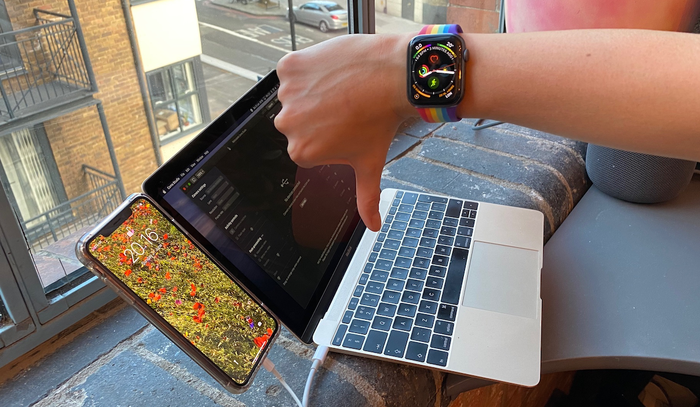 I stuck the magnet to a silicone case for the iPhone, rather than directly to the phone or to a leather case (because stickers will probably damage the leather, and I didn't want to risk marking the iPhone), and here's what happened when I removed the magnet: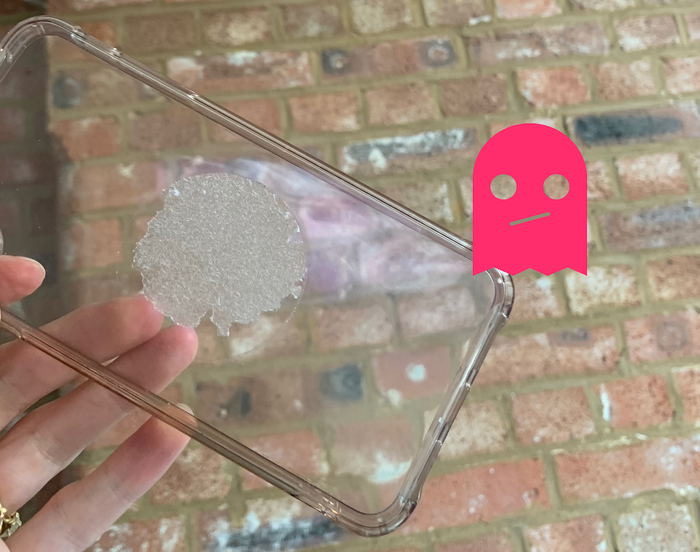 I managed to get this magnetic holder working with an iMac. One big drawback to this mount was that it wasn't possible to attach the iPhone backwards, so you can only use the selfie camera with this holder. You also can't adjust the angle of the iPhone when using this mount, so the picture is slightly off to one side.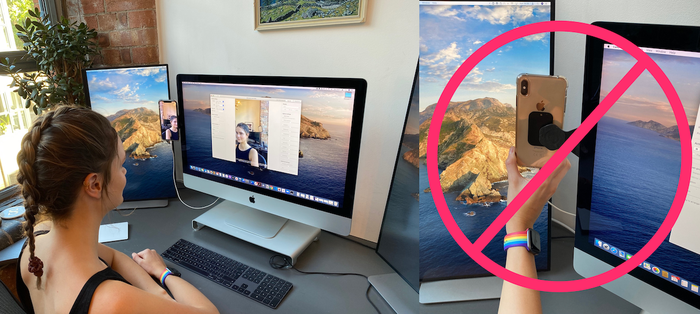 The second magnetic mount I tried was much more flexible. The IMstick phone mount was made up of one magnet attached to a wire, and a metal disk to stick to the back of your iPhone.
You have to stick down at least one magnet for this to work, either on your phone or your computer, but the other can be held in place by the wire. You can see how I attached the mount to my computer using the wire, below.

This is a pretty good option if you want flexibility, or you have a tricky mounting situation. It doesn't take up a lot of space, and while it's a little fiddly to set the mount up, once you've done so it's easy to take your phone in and out of.
I did feel like my phone was secure, but I noticed it wobble a little more than the mount that used both a stickers and a magnet, so I preferred the FLOVEME mount to this one, though if you want to move your webcam around a bit, you might prefer this one.
Slotted holders
Product tested: YUYITEK Mobile Phone Holder, UK £14.99, US $14.99
These let you rest your iPhone in place, rather than holding it securely. As such, they're easy to get your iPhone in and out of, but they will wobble when you type. I found it was more difficult to get a good angle when using this slotted holder than with any other mount, as the iPhone couldn't be adjusted as easily with these mounts, and would often fall into a different position, anyway.

The slotted holder attaches to the computer with a very sturdy clip. I was able to attach this to my iMac, but given the curved back of the computer, leaving it there for a long period of time might cause it to ping off unexpectedly. I didn't even want to try using this clip with my laptop, as the clip attachment is so tight that it felt like it could damage the screen.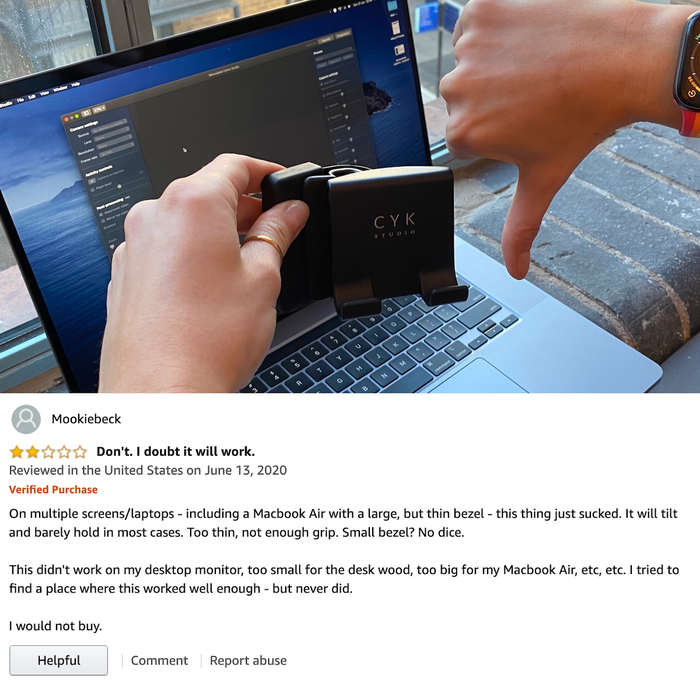 Gimbals
Product tested: Zhiyun Smooth 4 3-Axis Handheld Gimbal Stabilizer, UK £89.00, US $99.00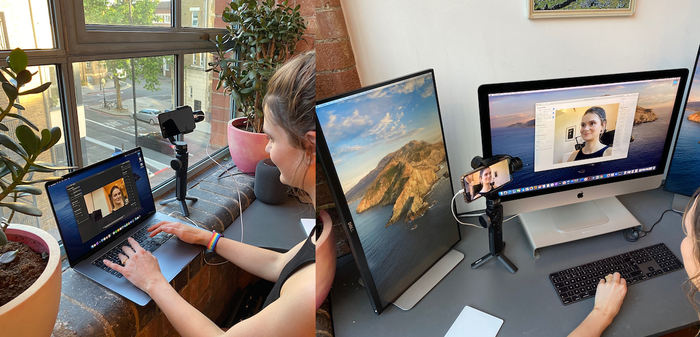 I tried using a gimbal as a webcam, but it was a pretty impractical choice. The height of the gimbal isn't adjustable, so you'll either end up with your camera too high, or too low for your screen (as the image above shows, this works a little better with a laptop than a desktop, but neither is ideal). Yes, your gimbal will keep your iPhone stabilised while it's being held, but, provided you're not moving your webcam around while you're talking, there really isn't any benefit to this feature for webcam purposes. Additionally, the gimbal I used periodically turned itself off, causing the iPhone to drop down, and inserting an iPhone XS Max into the gimbal kept triggering SOS calls. You'd also need to keep your gimbal charged in advance of your calls.
If you've already got a gimbal, and you're adamant that you don't want yet another tech accessory, then by all means give it a try, but you might want to start with a casual call, rather than an important meeting.
iPhone Docks and Smart Keyboards
Products tested:
If you've got a docking station for your iPhone you could use that, or you can use an iPad if you have a case that functions as a stand. Neither will give you a very good angle, but both work. You'll also need to use the selfie camera for both of these options, unless you find a way to raise your device to head level.

Makeshift / DIY
What if you need a webcam stand now and you haven't got any of the above? We did a little experimenting and found that the perhaps the best makeshift stand can be cobbled together with a stack of books and a coffee cup/cardboard box: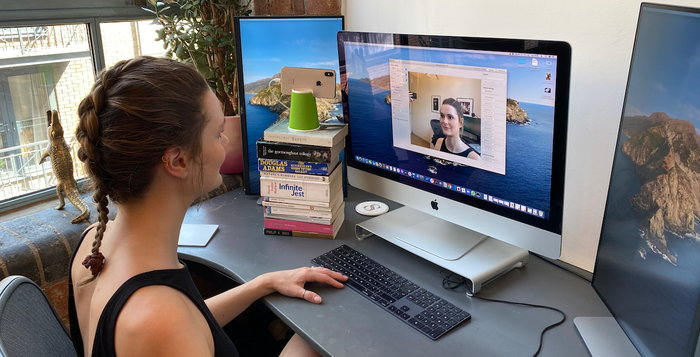 It's bulky, it doesn't look great, and your iPhone might wobble around a bit if you're doing a lot of typing, but it's a quick and easy solution to start using your iPhone as a webcam today.
Got a better makeshift stand? Found a better mount? Let us know in the comments below.