How to mount a phone webcam: which mount is best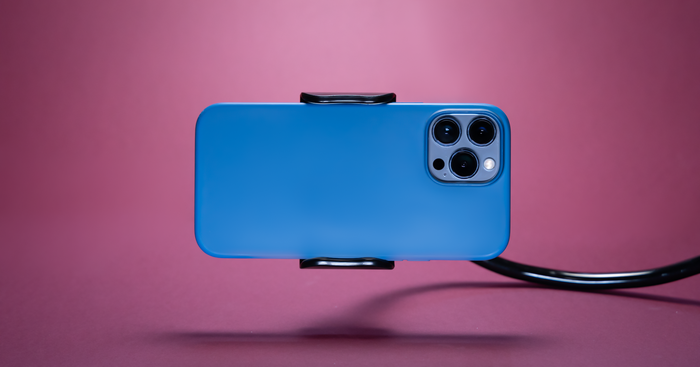 Vous songez donc à utiliser votre téléphone ou votre tablette comme webcam. Vous avez probablement un câble. Nous espérons que vous avez Camo . Et peut-être avez-vous besoin d'un support ou d'un support. J'ai acheté à peu près tous les types de stands sur le marché et j'ai même essayé d'en construire quelques-uns à partir de choses que j'avais autour de la maison. Dans ce guide, je vais passer en revue ceux qui pourraient vous convenir et pourquoi.
Si vous n'avez pas le temps de parcourir ces options en détail, procurez-vous simplement celle-ci:
What makes a good phone webcam mount?
Before starting to look into the various phone mounts, I had a think about what I was really looking for. In order of importance, a good mount should:
Have good stability. You need to be able to type, click, and use your computer as you normally would on calls without your phone jiggling around or even falling out of its mount.
Make you look good. Step one here is to use Camo, which lets you use the incredible camera built into the phone as your webcam. In terms of your mount, you want it to be positioned near your computer screen. It's disconcerting to talk to someone who doesn't seem to be looking at you. You also want to be able to get your mount so that it's roughly parallel to your face; too low and everyone else on the call will be gazing up your nostrils; too high and it will be pointed at your body.
Make it easy for you to mount and remove your phone. Unless you're using a dedicated phone with Camo, you'll also want to use your phone for other purposes, so being able to set it up and take it down easily is important.
Not result in anything too permanent. You might not want to keep a magnetic disk stuck to your smartphone, or a bulky car mount stuck on your iMac.
Be compact. When you're not using your phone as a webcam, you probably don't want a hulking great piece of plastic cluttering up your desktop.
Ne ressemble pas à une horrible horreur. Points bonus si ça a l'air sympa.
Vous voulez mieux voir vos appels vidéo? Nous avons mis en place un article plein de conseils pour vous aider à regarder votre meilleur sur votre webcam ici .
Avec ces critères à l'esprit, examinons les différents types de supports que vous pouvez utiliser pour transformer un iPhone en webcam.
Trépieds
Produit testé: EVERESTA Trépied flexible pour smartphone 42 pouces 360 UK £ 19.54, produit américain similaire $ 25.49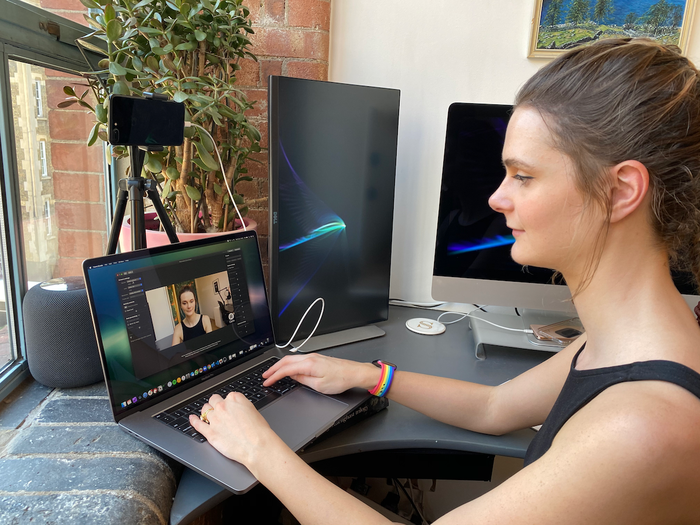 Un trépied a été l'un des premiers supports que j'ai décidé de tester. Ils ont une grande variabilité; vous pouvez régler la hauteur et déplacer facilement un trépied sur différents ordinateurs si vous avez un ordinateur portable et un bureau, ou dans différentes zones si vous prenez des appels à différents endroits de la journée. Si vous travaillez dans des cafés, par exemple, un trépied est une bonne option, car il est rapide et facile à installer: il vous suffit d'une surface plane. Vous pouvez également déplacer votre trépied indépendamment de votre ordinateur pour vous assurer que votre webcam est bien éclairée même si votre ordinateur n'est pas exposé à la lumière.
On the subject of light, you can purchase tripods that come with built in ring lights if your desk is not already well lit, but I've found that these are generally low-quality tripods attached to low-quality light rings, so you might be better off getting a regular, stable tripod and using a standard lamp, the flash from your phone (which you can control using Camo), or simply the natural light from a window (or the sun, if you're outside), to improve light levels.
With that said, tripods are generally quite big and bulky. If desk space is tight, you might not be able to sacrifice the space for a tripod. In addition, while you can move your tripod to be in the best light, it's a little trickier to get it close to your display than when using some other mounts, which can give the impression that you're looking off to the side on your calls. Most tripods use a grip claw, which, depending on the strength of the grip, can be fiddly when putting your phone in or removing it.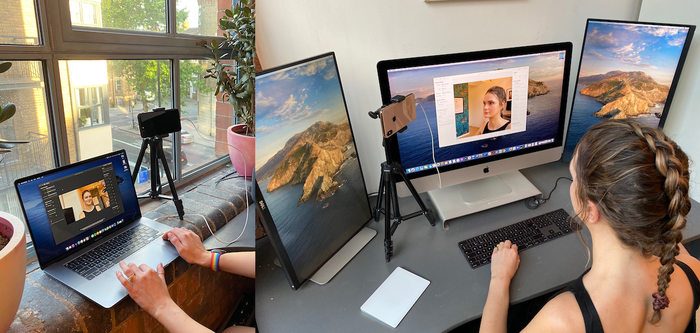 Les trépieds fonctionneront bien pour les personnes qui ne veulent qu'une seule monture, mais qui passent souvent à différents ordinateurs et ordinateurs portables ou à différents espaces de travail. À environ 25 $ pour un bon trépied, ce n'est pas l'option la moins chère, mais ce n'est pas trop cher non plus.
Bras flexibles
Produit testé : Support de téléphone Jumkeet Gooseneck, Royaume -Uni 18,99 $
Un bras flexible présente à la fois un trépied et un support de voiture. Vous pouvez le fixer sur votre écran, votre bureau ou tout autre objet pouvant être fixé (comme un support de moniteur ou un pot de fleurs). Contrairement à un trépied, il ne prend aucun espace de bureau et peut garder votre bureau sans encombrement s'il est fixé derrière votre ordinateur portable ou votre moniteur. Les bras flexibles offrent également un peu plus de flexibilité qu'un support d'écran, car vous pouvez déplacer le bras de haut en bas, d'un côté à l'autre pour trouver la position parfaite. Vous pouvez même plier le bras autour d'un coin si vous en avez besoin.

Flexible arms generally attach using two claws, so there are no permanent stickers, and I found the grip claws of the flexible arm I tested to be easier to take my phone in and out of than the desktop mounts and car mounts.
The flexible arm was very stable: the picture didn't judder as I typed, and it was also pretty affordable. For me, this was by far the best mount to use for all laptops, and if you don't want to use a magnetic sticker, it was the best option for desktops, too. The only requirement for these flexible arms is that you have something to clamp the arm to, so if you have a built-in desk, this type of mount might not work for you. You can see how I clamped the arm to the side of a desk when using it with a laptop, above. Here's how I attached it to a couple of desktop computers: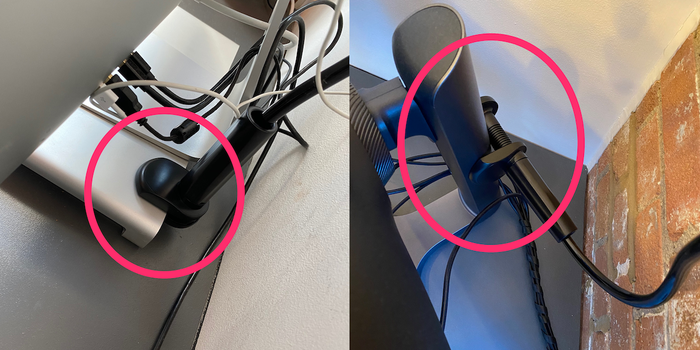 Ventouses
Produit testé: Support de téléphone pour voiture MPOW Dashboard, Royaume - Uni 8,99 £, produit américain similaire 10,99 $
Ceux-ci ne fonctionneront tout simplement pas, à moins que vous ne les colliez à une fenêtre à proximité ou à l'écran de votre ordinateur (non, vraiment, ne faites pas cela). Sachez que certaines annonces sur Amazon impliquent qu'elles colleront à d'autres surfaces. Ils ne le feront pas!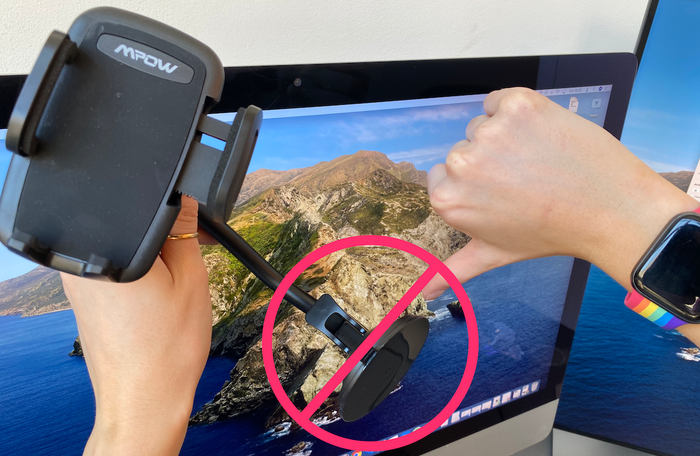 Supports autocollants
Produit testé: FLOVEME Magnetic Car Mount US $ 13.99, UK £ 12.16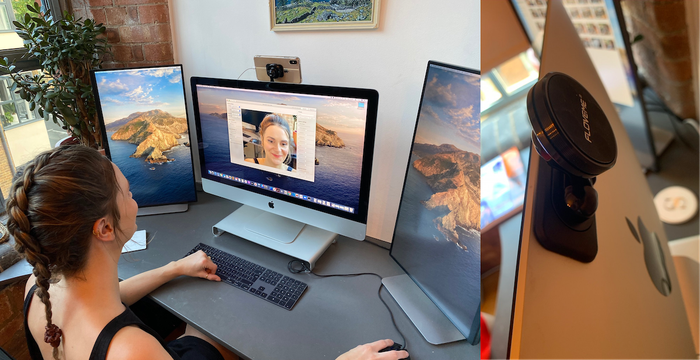 Any mount that attaches directly to your monitor will let you get your phone webcam close to where the built in webcam is, providing a good angle for your calls. The main variable with these types of mounts is how they attach to your computer and your phone. Of the direct mounts I tried, the best option for desktop users was the sticker/magnet mount pictured above. You stick it to the back of your computer and can add the magnet to the back of a cheap phone case to quickly attach and remove your phone for calls. (Keep reading to see why you don't want to stick it directly to your phone.)
Ils sont beaucoup moins encombrants que les trépieds, mais ils ne conviennent probablement pas aux ordinateurs portables si vous prévoyez de vous déplacer, car le support doit rester attaché à votre ordinateur et empêchera votre ordinateur portable de rentrer dans un étui. Vous pouvez essayer de décoller et de recoller votre support à chaque fois que vous utilisez votre webcam, mais cela réduira l'adhérence et risque que votre iPhone et le support tombent et soient endommagés.
Magnetic & MagSafe mounts
Produits testés:
Magnets, how do they work? However they do, they make it really easy to attach and remove your iPhone from its webcam mount. Some mounts were so simple they consisted of two magnets; one for the back of your iPhone, the other for the back of your monitor or laptop. You just stick your iPhone to your computer, and grab it off when your call ends. And while the Belkin mount reviewed here does not attach to a laptop with magnets, it uses Apple's MagSafe functionality to make attaching your iPhone quick and easy. A drawback for all of these, however, is that their angle is restricted to the angle of your screen.
Useful only for iPhone and MacBook users, Belkin's MagSafe mount debuted alongside the release of macOS Ventura's Continuity Camera feature. While there is of course plenty to say about how Continuity stacks up against Camo, I've also been looking forward to putting this mount through its paces to see how it compares to the other solutions explored in this guide. One thing that already puts it ahead of the other mounts in this category is not having to attach magnets like silver leeches to my laptop.
As expected, the Belkin connected firmly to the circular MagSafe zone in the middle of both the iPhone 13 and iPhone 13 Pro Max that I used for this test. I liked that it could easily be oriented in either landscape or portrait orientations, though changing from one to the other required removing the setup from the laptop screen and either twisting the mount firmly or removing entirely to reorient it. Rotating the phone while it was mounted - as the video on the Belkin site shows - could not be replicated without knocking the whole arrangement from its perch. And though the MagSafe connection is strong, it doesn't snap to any particular axis. Sometimes when it looked like the mount was attached exactly parallel to the orientation of the phone, I found when mounting it on the screen that it was off kilter, and had to readjust. Not a huge deal, apart from the illusory Belkin visuals.
Placing the mount on top of the screen is fairly straightforward, with a small plastic foot that folds out and hooks onto the top of your laptop. I tested the mount on both a 14-inch MacBook Pro and a 13-inch MacBook Air, and found - unsurprisingly - that it fit more snugly on the thicker frame of the Pro. That said, it did not feel especially precarious on the narrower Air.
On both laptops, it was simple to line up the camera lens with the centre of the screen, a big advantage over the side-mounting solutions for maintaining a good eyeline. Still, since it works only on MacBooks, it would be impossible for all but the shortest users to avoid capturing video from an unattractive low angle (this was slightly better when the phone is mounted in portrait, since the camera lens was higher).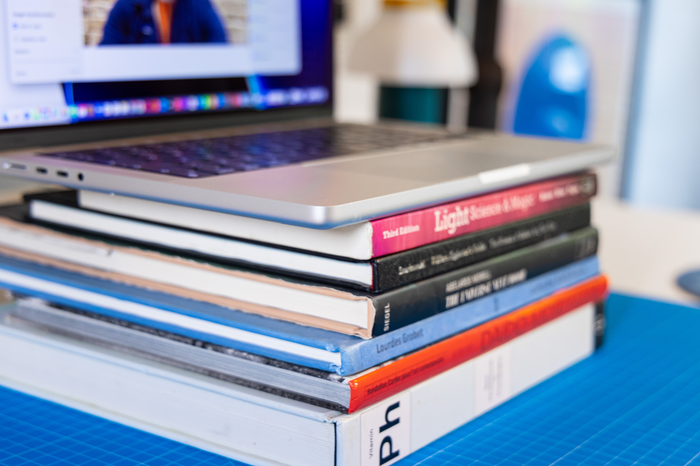 Raising your laptop as shown above is also about practicality - it keeps the screen of your laptop as close to vertical as possible, something I found to be fairly important when using all of the mounts in this category. As you'd expect from hanging something as substantial as an iPhone to the top or side of your MacBook screen, the centre of gravity shifts quite dramatically as the screen moves away from perpendicular.
In the spirit of science, I attempted to measure the precise angles at which the screens of both laptops began to collapse backward with either of the two iPhones mounted. Using a goniometer, I found that for the combination of MacBook Pro/iPhone 13 Max, the widest angle at which it remained steady for me was about 113°. With the iPhone 13, that expanded just a bit to 119°.
Knowing these angles has two upshots. First, if you tend to work with your laptop literally in your lap, with the screen leaning back fairly far (unflattering angle be damned), the mount and phone combination will yank the screen all the way back, with the laptop possibly headed for the floor. Second, even when working with your laptop situated firmly on a desk in front of you, it is important to remember the physics at play. Twice in one morning I pulled the screen slightly forward to reach something behind the laptop, only to have it slam loudly shut like a bear trap, with my phone (mount firmly attached) rocketed into my lap. No harm done to the laptop, though I don't like the idea of subjecting it to such violence on a regular basis.
In conclusion, I appreciated the convenient size and quality build of the Belkin mount, and if I conducted mostly informal video calls on my MacBook, I could see myself just keeping it attached to my iPhone for easy transport and quick deployment (the integrated ring/kickstand is also a nice touch, though it doesn't really factor into how I carry and use my phone on a daily basis). But what keeps this mount from being a solid recommend across the board is the fact that it required extra care to keep my laptop from slamming open or shut, as well as its specificity to iPhones (and only the later MagSafe generations) and MacBooks. Just as Camo works across platforms and devices, our ideal mount would be useful for both desktops and laptops, and both new and older iPhones and Android devices.
The other mounts in this category also score points for ease of use and compactness, but they leave little room for variability - once you've stuck the magnets in place, that's where you need to keep your webcam. And though these magnets held pretty well, there was a very small amount of wobbling when typing on a laptop (realistically, no more that you'd get when using the built-in webcam). Like the Belkin, they're best used with the screen as close to vertical as possible; however, for these you'll also need to keep magnets stuck to your phone (or phone case) and computer. If this idea fills you with horror then you'll want to look for a different type of attachment.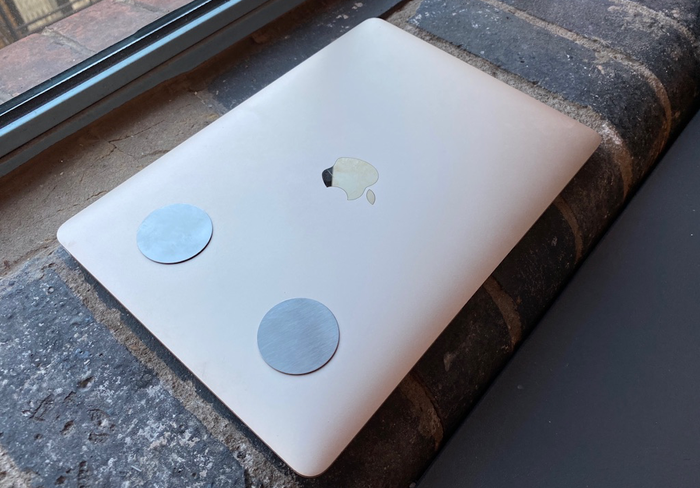 I stuck the magnet to a silicone case for my iPhone, rather than directly to the phone or to a leather case (because stickers will probably damage the leather, and I didn't want to risk marking my phone), and here's what happened when I removed the magnet: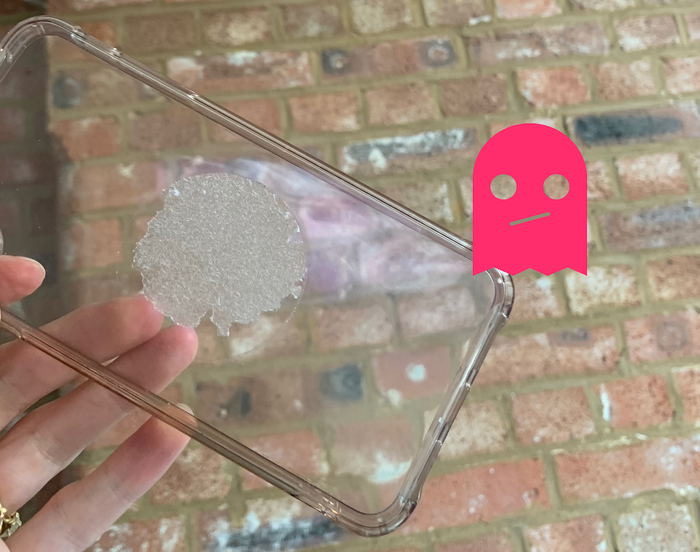 J'ai réussi à faire fonctionner ce support magnétique avec un iMac. Un gros inconvénient de ce support était qu'il n'était pas possible de fixer l'iPhone à l'arrière, vous ne pouvez donc utiliser la caméra selfie qu'avec ce support. Vous ne pouvez pas non plus régler l'angle de l'iPhone lorsque vous utilisez ce support, de sorte que l'image est légèrement décalée d'un côté.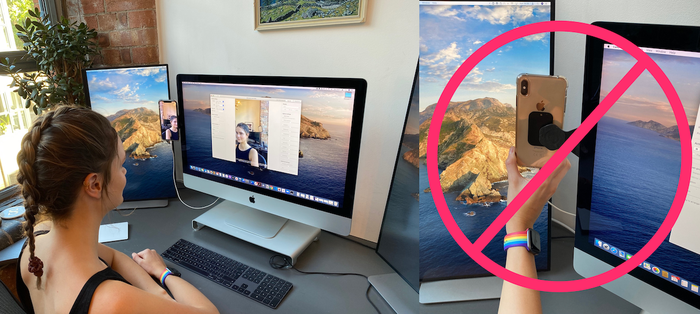 The second magnetic mount I tried was much more flexible. The IMstick phone mount was made up of one magnet attached to a wire, and a metal disk to stick to the back of your phone.
Vous devez coller au moins un aimant pour que cela fonctionne, que ce soit sur votre téléphone ou votre ordinateur, mais l'autre peut être maintenu en place par le fil. Vous pouvez voir comment j'ai attaché le support à mon ordinateur à l'aide du fil ci-dessous.

C'est une assez bonne option si vous voulez de la flexibilité ou si vous avez une situation de montage délicate. Cela ne prend pas beaucoup de place, et bien qu'il soit un peu fastidieux de configurer la monture, une fois que vous l'avez fait, il est facile de rentrer et de sortir votre téléphone.
J'avais l'impression que mon téléphone était sécurisé, mais j'ai remarqué qu'il vacillait un peu plus que le support qui utilisait à la fois des autocollants et un aimant, j'ai donc préféré le support FLOVEME à celui-ci, bien que si vous voulez déplacer un peu votre webcam , vous préférerez peut-être celui-ci.
Supports fendus
Produit testé: support de téléphone portable YUYITEK, UK £ 14.99, US $ 14.99
These let you rest your phone in place, rather than holding it securely. As such, they're easy to get your phone in and out of, but they will wobble when you type. I found it was more difficult to get a good angle when using this slotted holder than with any other mount, as the phone couldn't be adjusted as easily with these mounts, and would often fall into a different position, anyway.

Le support à fente se fixe à l'ordinateur avec un clip très robuste. J'ai pu attacher ceci à mon iMac, mais étant donné l'arrière incurvé de l'ordinateur, le laisser là pendant une longue période pourrait le faire se déclencher de manière inattendue. Je ne voulais même pas essayer d'utiliser ce clip avec mon ordinateur portable, car la fixation du clip est si serrée qu'elle semblait endommager l'écran.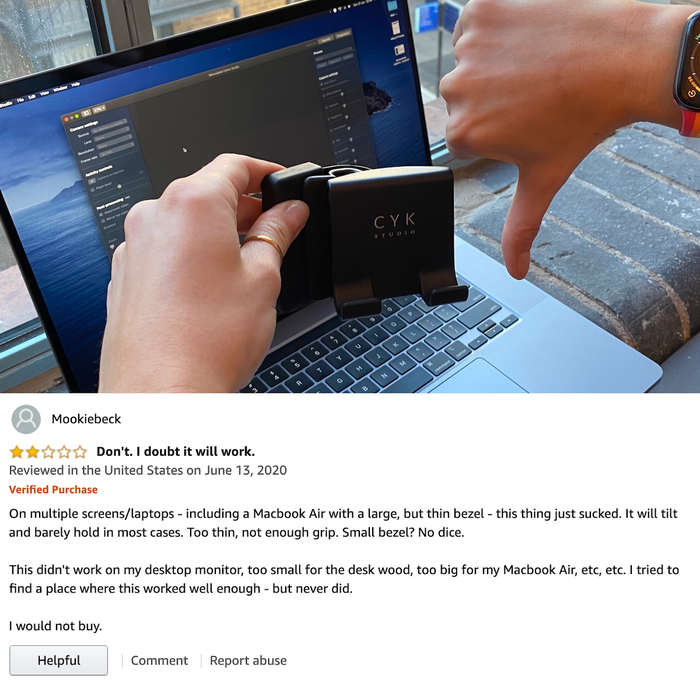 Cardan
Produit testé: stabilisateur portatif à cardan Zhiyun Smooth 4 3 axes, UK £ 89.00, US $ 99.00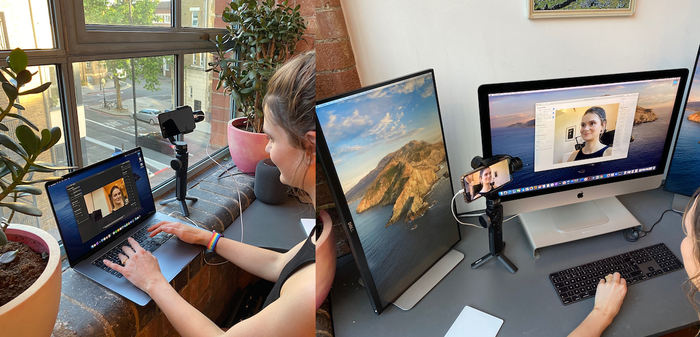 I tried using a gimbal as a webcam, but it was a pretty impractical choice. The height of the gimbal isn't adjustable, so you'll either end up with your camera too high, or too low for your screen (as the image above shows, this works a little better with a laptop than a desktop, but neither is ideal). Yes, your gimbal will keep your phone stabilised while it's being held, but, provided you're not moving your webcam around while you're talking, there really isn't any benefit to this feature for webcam purposes. Additionally, the gimbal I used periodically turned itself off, causing the phone to drop down, and inserting an iPhone XS Max into the gimbal kept triggering SOS calls. You'd also need to keep your gimbal charged in advance of your calls.
Si vous avez déjà un cardan et que vous êtes catégorique sur le fait que vous ne voulez pas encore un autre accessoire technologique, essayez certainement, mais vous voudrez peut-être commencer par un appel décontracté plutôt qu'une réunion importante .
Stations d'accueil et claviers intelligents pour iPhone
Produits testés:
Si vous avez une station d'accueil pour votre iPhone, vous pouvez l'utiliser, ou vous pouvez utiliser un iPad si vous avez un étui qui fonctionne comme un support. Aucun ne vous donnera un très bon angle, mais les deux fonctionnent. Vous devrez également utiliser la caméra selfie pour ces deux options, sauf si vous trouvez un moyen d'élever votre appareil au niveau de la tête.

Fortune / bricolage
Et si vous avez besoin d'un support de webcam maintenant et que vous n'avez rien de ce qui précède? Nous avons fait un peu d'expérimentation et avons découvert que le meilleur stand de fortune peut être pavé avec une pile de livres et une tasse de café / boîte en carton: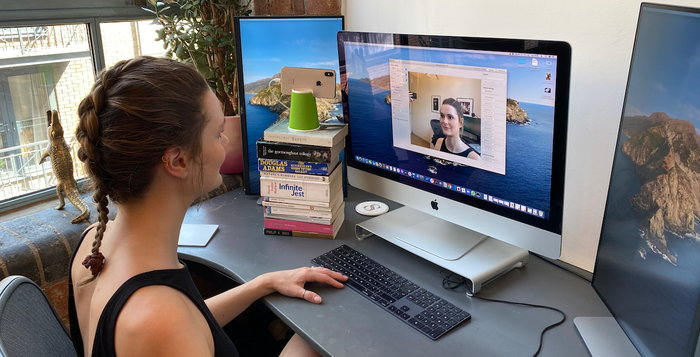 It's bulky, it doesn't look great, and your phone might wobble around a bit if you're doing a lot of typing, but it's a quick and easy solution to start using your phone as a webcam today.
Vous avez un meilleur stand de fortune? Vous avez trouvé une meilleure monture? Faites-le nous savoir dans les commentaires ci-dessous.