How to mount a phone webcam: which mount is best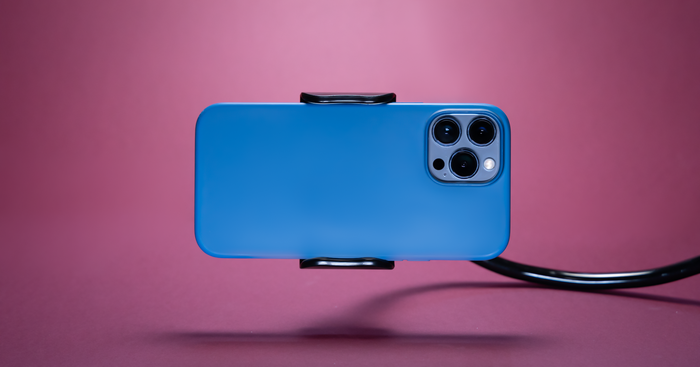 Dus je denkt erover om je telefoon of tablet als webcam te gebruiken. Je hebt waarschijnlijk een kabel. We hopen dat je Camo hebt . En misschien heb je een beugel of een standaard nodig. Ik kocht zowat elk type stand op de markt en probeerde zelfs een aantal geïmproviseerde te bouwen van dingen die ik in huis had. In deze gids bespreek ik welke voor u werken en waarom.
Als je geen tijd hebt om deze opties in detail te bekijken, koop dan deze:
What makes a good phone webcam mount?
Before starting to look into the various phone mounts, I had a think about what I was really looking for. In order of importance, a good mount should:
Have good stability. You need to be able to type, click, and use your computer as you normally would on calls without your phone jiggling around or even falling out of its mount.
Make you look good. Step one here is to use Camo, which lets you use the incredible camera built into the phone as your webcam. In terms of your mount, you want it to be positioned near your computer screen. It's disconcerting to talk to someone who doesn't seem to be looking at you. You also want to be able to get your mount so that it's roughly parallel to your face; too low and everyone else on the call will be gazing up your nostrils; too high and it will be pointed at your body.
Make it easy for you to mount and remove your phone. Unless you're using a dedicated phone with Camo, you'll also want to use your phone for other purposes, so being able to set it up and take it down easily is important.
Not result in anything too permanent. You might not want to keep a magnetic disk stuck to your smartphone, or a bulky car mount stuck on your iMac.
Be compact. When you're not using your phone as a webcam, you probably don't want a hulking great piece of plastic cluttering up your desktop.
Lijkt niet op een afzichtelijke doorn in het oog. Bonuspunten als het er mooi uitziet.
Wil je er beter uitzien tijdens je videogesprekken? We hebben een artikel vol tips samengesteld om u te helpen er op uw best uit te zien op uw webcam hier .
Laten we, met dit criterium in gedachten, eens kijken naar de verschillende soorten bevestigingen die u kunt gebruiken om van een iPhone een webcam te maken.
Statieven
Getest product: EVERESTA 42 Inch 360 flexibel smartphonestatief UK £ 19,54, vergelijkbaar Amerikaans product $ 25,49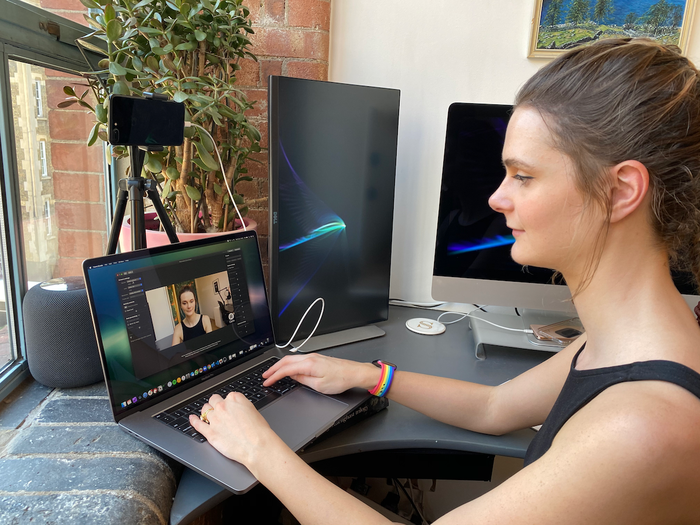 Een statief was een van de eerste stands die ik besloot te testen. Ze hebben grote variabiliteit; u kunt de hoogte aanpassen en een statief gemakkelijk verplaatsen naar verschillende computers als u een laptop en een desktop heeft, of verschillende gebieden als u de hele dag door op verschillende plaatsen belt. Werk je bijvoorbeeld vanuit cafés, dan is een statief een goede optie, want het is snel en eenvoudig op te zetten: je hebt alleen een vlakke ondergrond nodig. U kunt uw statief ook onafhankelijk van uw computer verplaatsen om ervoor te zorgen dat u goed verlicht bent op uw webcam, zelfs als uw computer niet in het licht staat.
On the subject of light, you can purchase tripods that come with built in ring lights if your desk is not already well lit, but I've found that these are generally low-quality tripods attached to low-quality light rings, so you might be better off getting a regular, stable tripod and using a standard lamp, the flash from your phone (which you can control using Camo), or simply the natural light from a window (or the sun, if you're outside), to improve light levels.
With that said, tripods are generally quite big and bulky. If desk space is tight, you might not be able to sacrifice the space for a tripod. In addition, while you can move your tripod to be in the best light, it's a little trickier to get it close to your display than when using some other mounts, which can give the impression that you're looking off to the side on your calls. Most tripods use a grip claw, which, depending on the strength of the grip, can be fiddly when putting your phone in or removing it.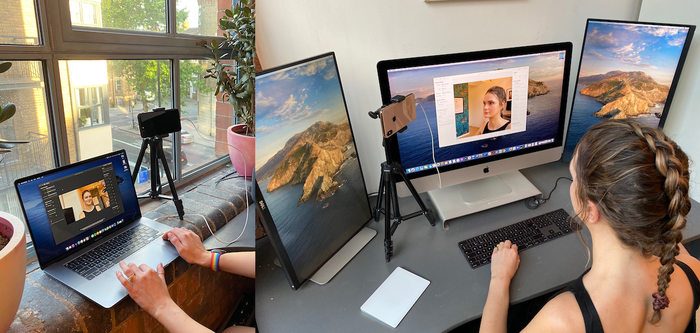 Statieven zullen goed werken voor mensen die maar één houder willen, maar die vaak overschakelen naar verschillende computers en laptops of verschillende werkruimten. Met ongeveer $ 25 voor een goed statief zijn ze niet de goedkoopste optie, maar ze zijn ook niet te duur.
Flexibele armen
Product getest: Jumkeet Gooseneck telefoonhouder, VK $ 18,99
Een flexibele arm heeft aspecten van zowel een statief als een autohouder. Je kunt hem aan je scherm, je bureau of een ander vast te klemmen object bevestigen (zoals een monitorstandaard of plantenpot). Het neemt geen bureauruimte in beslag, in tegenstelling tot een statief, en kan uw bureau opgeruimd houden als het achter uw laptop of monitor is bevestigd. Flexibele armen bieden ook iets meer flexibiliteit dan een schermbevestiging, omdat je de arm op en neer kunt bewegen, van links naar rechts om de perfecte positie te vinden. Je kunt zelfs de arm om een hoek buigen als dat nodig is.

Flexible arms generally attach using two claws, so there are no permanent stickers, and I found the grip claws of the flexible arm I tested to be easier to take my phone in and out of than the desktop mounts and car mounts.
The flexible arm was very stable: the picture didn't judder as I typed, and it was also pretty affordable. For me, this was by far the best mount to use for all laptops, and if you don't want to use a magnetic sticker, it was the best option for desktops, too. The only requirement for these flexible arms is that you have something to clamp the arm to, so if you have a built-in desk, this type of mount might not work for you. You can see how I clamped the arm to the side of a desk when using it with a laptop, above. Here's how I attached it to a couple of desktop computers: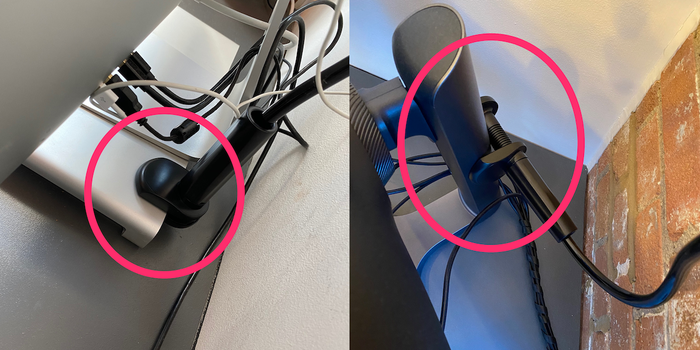 Zuignappen
Getest product: MPOW Dashboard autotelefoonhouder, VK £ 8,99, vergelijkbaar Amerikaans product $ 10,99
Deze werken gewoon niet, tenzij je ze in een nabijgelegen venster of op het scherm van je computer plakt (nee, echt, doe dit niet). Houd er rekening mee dat sommige vermeldingen op Amazon impliceren dat ze zich aan andere oppervlakken houden. Dat zullen ze niet!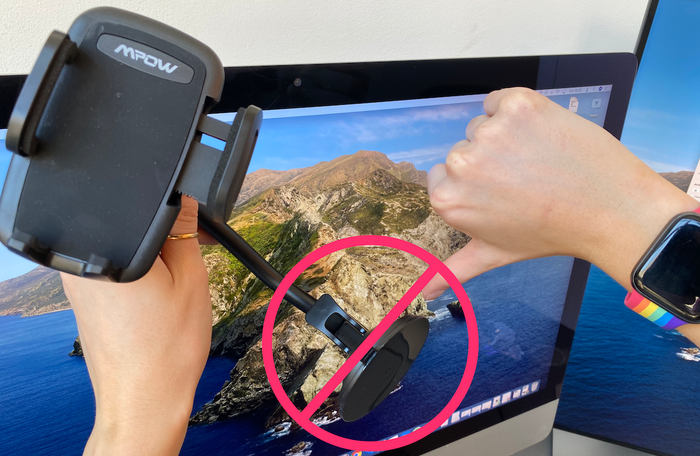 Sticker bevestigingen
Getest product: FLOVEME magnetische autohouder US $ 13,99, VK £ 12,16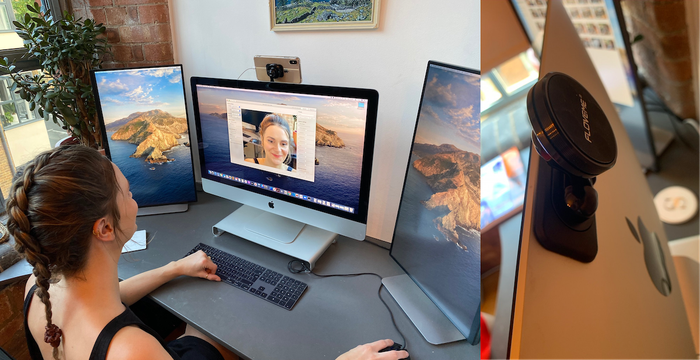 Any mount that attaches directly to your monitor will let you get your phone webcam close to where the built in webcam is, providing a good angle for your calls. The main variable with these types of mounts is how they attach to your computer and your phone. Of the direct mounts I tried, the best option for desktop users was the sticker/magnet mount pictured above. You stick it to the back of your computer and can add the magnet to the back of a cheap phone case to quickly attach and remove your phone for calls. (Keep reading to see why you don't want to stick it directly to your phone.)
Deze zijn veel minder omvangrijk dan statieven, maar ze zijn waarschijnlijk niet geschikt voor laptops als je van plan bent om te bewegen, omdat de houder aan je computer moet blijven zitten en ze voorkomen dat je laptop in een hoesje past. U kunt elke keer dat u uw webcam gebruikt uw stick losmaken en opnieuw aanbrengen, maar dit vermindert de plakkerigheid en riskeert dat uw iPhone en mount eraf vallen en beschadigd raken.
Magnetic & MagSafe mounts
Geteste producten:
Magnets, how do they work? However they do, they make it really easy to attach and remove your iPhone from its webcam mount. Some mounts were so simple they consisted of two magnets; one for the back of your iPhone, the other for the back of your monitor or laptop. You just stick your iPhone to your computer, and grab it off when your call ends. And while the Belkin mount reviewed here does not attach to a laptop with magnets, it uses Apple's MagSafe functionality to make attaching your iPhone quick and easy. A drawback for all of these, however, is that their angle is restricted to the angle of your screen.
Useful only for iPhone and MacBook users, Belkin's MagSafe mount debuted alongside the release of macOS Ventura's Continuity Camera feature. While there is of course plenty to say about how Continuity stacks up against Camo, I've also been looking forward to putting this mount through its paces to see how it compares to the other solutions explored in this guide. One thing that already puts it ahead of the other mounts in this category is not having to attach magnets like silver leeches to my laptop.
As expected, the Belkin connected firmly to the circular MagSafe zone in the middle of both the iPhone 13 and iPhone 13 Pro Max that I used for this test. I liked that it could easily be oriented in either landscape or portrait orientations, though changing from one to the other required removing the setup from the laptop screen and either twisting the mount firmly or removing entirely to reorient it. Rotating the phone while it was mounted - as the video on the Belkin site shows - could not be replicated without knocking the whole arrangement from its perch. And though the MagSafe connection is strong, it doesn't snap to any particular axis. Sometimes when it looked like the mount was attached exactly parallel to the orientation of the phone, I found when mounting it on the screen that it was off kilter, and had to readjust. Not a huge deal, apart from the illusory Belkin visuals.
Placing the mount on top of the screen is fairly straightforward, with a small plastic foot that folds out and hooks onto the top of your laptop. I tested the mount on both a 14-inch MacBook Pro and a 13-inch MacBook Air, and found - unsurprisingly - that it fit more snugly on the thicker frame of the Pro. That said, it did not feel especially precarious on the narrower Air.
On both laptops, it was simple to line up the camera lens with the centre of the screen, a big advantage over the side-mounting solutions for maintaining a good eyeline. Still, since it works only on MacBooks, it would be impossible for all but the shortest users to avoid capturing video from an unattractive low angle (this was slightly better when the phone is mounted in portrait, since the camera lens was higher).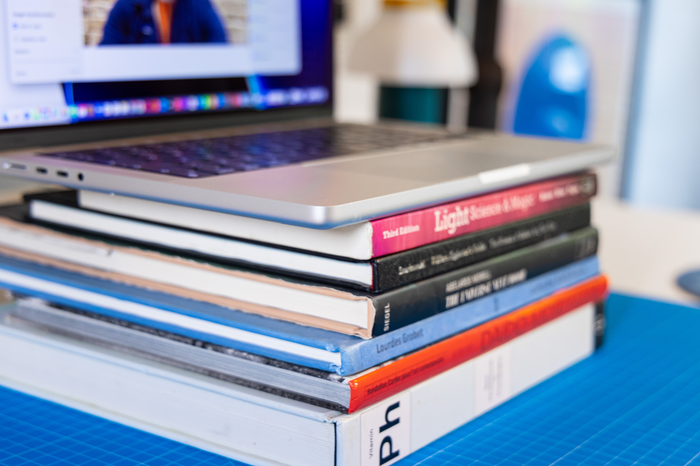 Raising your laptop as shown above is also about practicality - it keeps the screen of your laptop as close to vertical as possible, something I found to be fairly important when using all of the mounts in this category. As you'd expect from hanging something as substantial as an iPhone to the top or side of your MacBook screen, the centre of gravity shifts quite dramatically as the screen moves away from perpendicular.
In the spirit of science, I attempted to measure the precise angles at which the screens of both laptops began to collapse backward with either of the two iPhones mounted. Using a goniometer, I found that for the combination of MacBook Pro/iPhone 13 Max, the widest angle at which it remained steady for me was about 113°. With the iPhone 13, that expanded just a bit to 119°.
Knowing these angles has two upshots. First, if you tend to work with your laptop literally in your lap, with the screen leaning back fairly far (unflattering angle be damned), the mount and phone combination will yank the screen all the way back, with the laptop possibly headed for the floor. Second, even when working with your laptop situated firmly on a desk in front of you, it is important to remember the physics at play. Twice in one morning I pulled the screen slightly forward to reach something behind the laptop, only to have it slam loudly shut like a bear trap, with my phone (mount firmly attached) rocketed into my lap. No harm done to the laptop, though I don't like the idea of subjecting it to such violence on a regular basis.
In conclusion, I appreciated the convenient size and quality build of the Belkin mount, and if I conducted mostly informal video calls on my MacBook, I could see myself just keeping it attached to my iPhone for easy transport and quick deployment (the integrated ring/kickstand is also a nice touch, though it doesn't really factor into how I carry and use my phone on a daily basis). But what keeps this mount from being a solid recommend across the board is the fact that it required extra care to keep my laptop from slamming open or shut, as well as its specificity to iPhones (and only the later MagSafe generations) and MacBooks. Just as Camo works across platforms and devices, our ideal mount would be useful for both desktops and laptops, and both new and older iPhones and Android devices.
The other mounts in this category also score points for ease of use and compactness, but they leave little room for variability - once you've stuck the magnets in place, that's where you need to keep your webcam. And though these magnets held pretty well, there was a very small amount of wobbling when typing on a laptop (realistically, no more that you'd get when using the built-in webcam). Like the Belkin, they're best used with the screen as close to vertical as possible; however, for these you'll also need to keep magnets stuck to your phone (or phone case) and computer. If this idea fills you with horror then you'll want to look for a different type of attachment.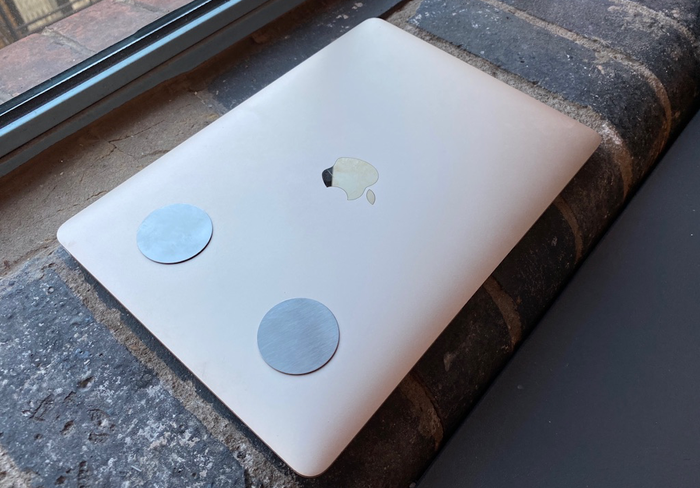 I stuck the magnet to a silicone case for my iPhone, rather than directly to the phone or to a leather case (because stickers will probably damage the leather, and I didn't want to risk marking my phone), and here's what happened when I removed the magnet: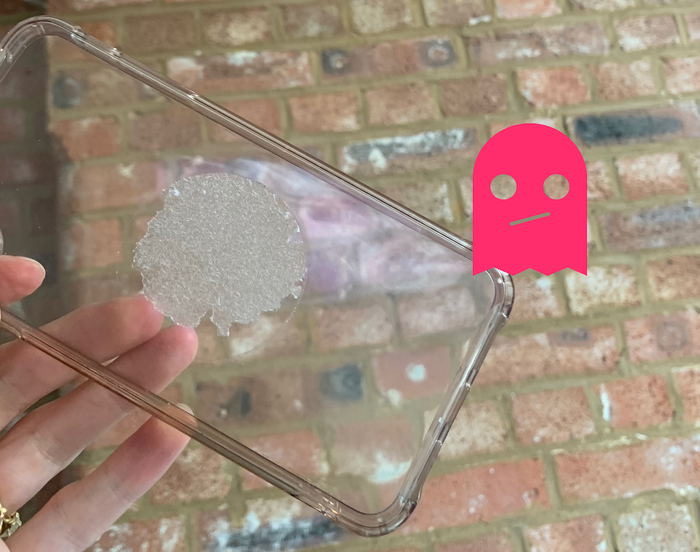 Ik heb deze magnetische houder met een iMac kunnen laten werken. Een groot nadeel van deze houder was dat het niet mogelijk was om de iPhone achterstevoren te bevestigen, waardoor je de selfie camera alleen met deze houder kunt gebruiken. Je kunt ook de hoek van de iPhone niet aanpassen wanneer je deze houder gebruikt, dus de foto is enigszins scheef.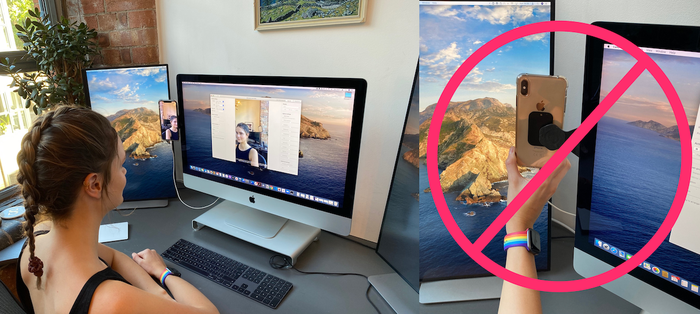 The second magnetic mount I tried was much more flexible. The IMstick phone mount was made up of one magnet attached to a wire, and a metal disk to stick to the back of your phone.
Om dit te laten werken, moet je minstens één magneet ingedrukt houden, op je telefoon of je computer, maar de andere kan op zijn plaats worden gehouden door de draad. U kunt zien hoe ik de houder op mijn computer heb bevestigd met behulp van de onderstaande draad.

Dit is een redelijk goede optie als je flexibiliteit wilt, of als je een lastige montagesituatie hebt. Het neemt niet veel ruimte in beslag, en hoewel het een beetje lastig is om de houder in te stellen, is het eenmaal gemakkelijk om je telefoon in en uit te nemen.
Ik had het gevoel dat mijn telefoon veilig was, maar ik merkte dat hij iets meer wiebelde dan de houder die zowel een sticker als een magneet gebruikte, dus ik gaf de voorkeur aan de FLOVEME-houder voor deze, maar als je je webcam een beetje wilt verplaatsen , misschien geef je er de voorkeur aan.
Gleufhouders
Getest product: YUYITEK gsm-houder, VK £ 14,99, US $ 14,99
These let you rest your phone in place, rather than holding it securely. As such, they're easy to get your phone in and out of, but they will wobble when you type. I found it was more difficult to get a good angle when using this slotted holder than with any other mount, as the phone couldn't be adjusted as easily with these mounts, and would often fall into a different position, anyway.

De sleufhouder wordt met een zeer stevige clip aan de computer bevestigd. Ik kon dit op mijn iMac aansluiten, maar gezien de gebogen achterkant van de computer, kan het onverwachts wegvallen als ik het er lange tijd laat staan. Ik wilde deze clip niet eens proberen te gebruiken met mijn laptop, omdat de clipbevestiging zo strak is dat het voelde alsof het het scherm zou kunnen beschadigen.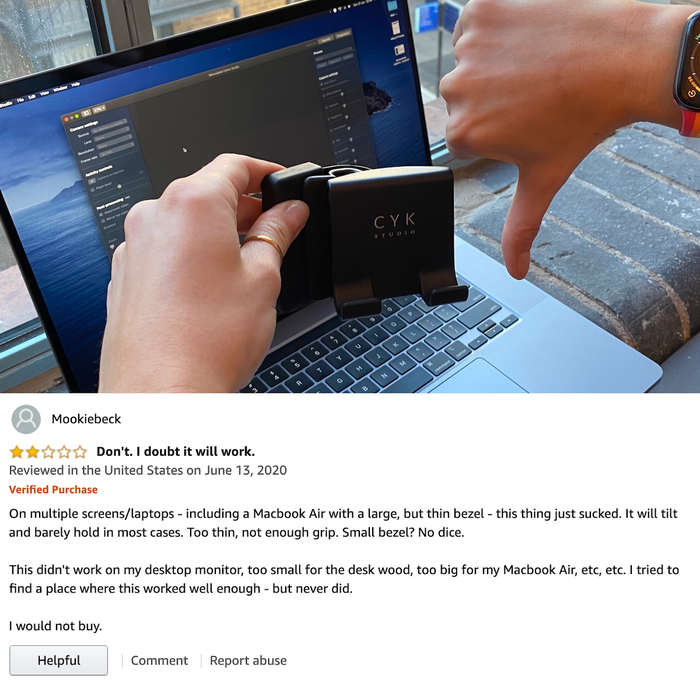 Gimbals
Getest product: Zhiyun Smooth 4 3-assige gimbalstabilisator, VK £ 89,00, US $ 99,00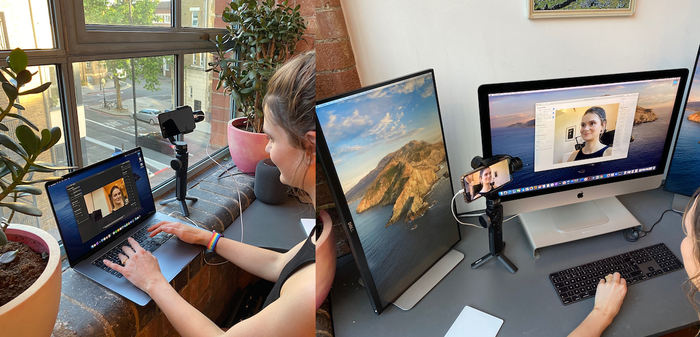 I tried using a gimbal as a webcam, but it was a pretty impractical choice. The height of the gimbal isn't adjustable, so you'll either end up with your camera too high, or too low for your screen (as the image above shows, this works a little better with a laptop than a desktop, but neither is ideal). Yes, your gimbal will keep your phone stabilised while it's being held, but, provided you're not moving your webcam around while you're talking, there really isn't any benefit to this feature for webcam purposes. Additionally, the gimbal I used periodically turned itself off, causing the phone to drop down, and inserting an iPhone XS Max into the gimbal kept triggering SOS calls. You'd also need to keep your gimbal charged in advance of your calls.
Als je al een gimbal hebt, en je bent er vast van overtuigd dat je niet nog een ander technisch accessoire wilt, probeer het dan zeker, maar misschien wil je beginnen met een informeel gesprek in plaats van een belangrijke vergadering .
iPhone-docks en slimme toetsenborden
Geteste producten:
Als je een dockingstation voor je iPhone hebt, kun je dat gebruiken, of je kunt een iPad gebruiken als je een hoes hebt die als standaard fungeert. Geen van beide geeft je een heel goede invalshoek, maar beide werken. Je moet ook de selfie-camera gebruiken voor beide opties, tenzij je een manier vindt om je apparaat op hoofdhoogte te brengen.

Geïmproviseerde / DIY
Wat gebeurt er als je een webcam nodig nu staan en heb je niet een van de bovenstaande? We hebben een beetje geëxperimenteerd en ontdekten dat de misschien wel de beste geïmproviseerde standaard samen kan worden geplaveid met een stapel boeken en een koffiekopje / kartonnen doos: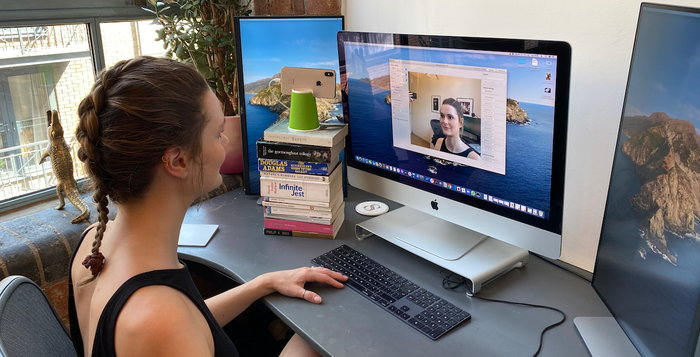 It's bulky, it doesn't look great, and your phone might wobble around a bit if you're doing a lot of typing, but it's a quick and easy solution to start using your phone as a webcam today.
Heb je een betere geïmproviseerde stand? Een betere berg gevonden? Laat het ons weten in de reacties hieronder.