How to mount a phone webcam: which mount is best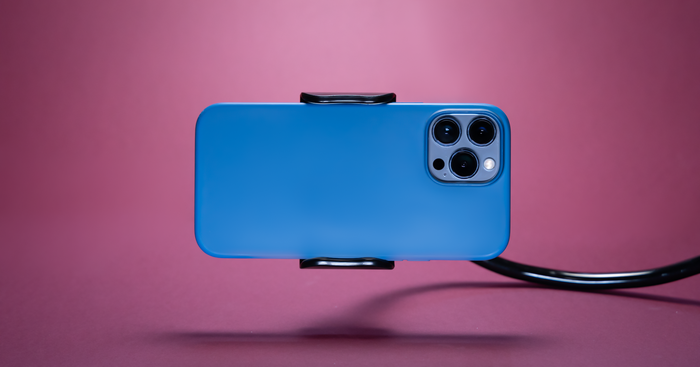 Quindi, stai pensando di utilizzare il tuo telefono o tablet come webcam. Probabilmente hai un cavo. Speriamo che tu abbia Camo . E forse hai bisogno di un supporto o di un supporto. Ho comprato quasi tutti i tipi di stand sul mercato e ho persino provato a costruirne alcuni di fortuna a partire da cose che avevo in casa. In questa guida, esaminerò quali potrebbero funzionare per te e perché.
Se non hai tempo per esaminare queste opzioni in dettaglio, procurati semplicemente questa:
What makes a good phone webcam mount?
Before starting to look into the various phone mounts, I had a think about what I was really looking for. In order of importance, a good mount should:
Have good stability. You need to be able to type, click, and use your computer as you normally would on calls without your phone jiggling around or even falling out of its mount.
Make you look good. Step one here is to use Camo, which lets you use the incredible camera built into the phone as your webcam. In terms of your mount, you want it to be positioned near your computer screen. It's disconcerting to talk to someone who doesn't seem to be looking at you. You also want to be able to get your mount so that it's roughly parallel to your face; too low and everyone else on the call will be gazing up your nostrils; too high and it will be pointed at your body.
Make it easy for you to mount and remove your phone. Unless you're using a dedicated phone with Camo, you'll also want to use your phone for other purposes, so being able to set it up and take it down easily is important.
Not result in anything too permanent. You might not want to keep a magnetic disk stuck to your smartphone, or a bulky car mount stuck on your iMac.
Be compact. When you're not using your phone as a webcam, you probably don't want a hulking great piece of plastic cluttering up your desktop.
Non sembra un orrendo orrendo. Punti bonus se sembra bello.
Vuoi avere un aspetto migliore nelle tue videochiamate? Abbiamo messo insieme un articolo pieno di suggerimenti per aiutarti ad apparire al meglio sulla tua webcam qui .
Con questi criteri in mente, diamo un'occhiata ai vari tipi di supporti che puoi usare per trasformare un iPhone in una webcam.
Treppiedi
Prodotto testato: treppiede per smartphone flessibile EVERESTA da 42 pollici 360 pollici UK £ 19,54, prodotto statunitense simile $ 25,49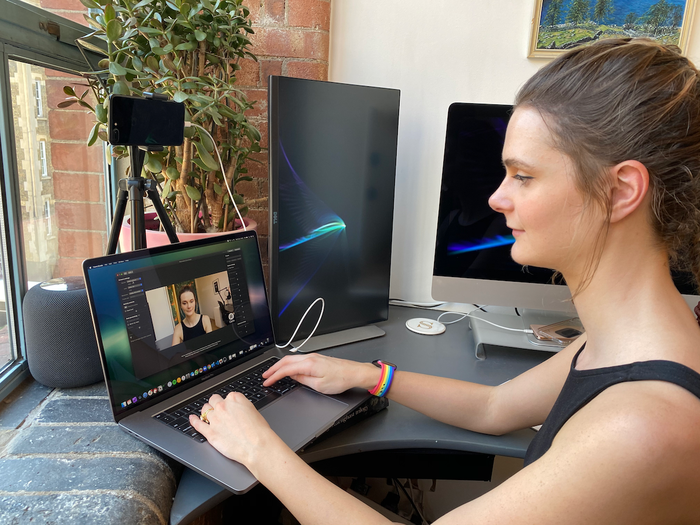 Un treppiede è stato uno dei primi stand che ho deciso di provare. Hanno una grande variabilità; puoi regolare l'altezza e spostare facilmente un treppiede su computer diversi se hai un laptop e un desktop, oppure aree diverse se ricevi chiamate in luoghi diversi durante il giorno. Se lavori dai caffè, ad esempio, un treppiede è una buona opzione, perché è facile e veloce da installare: tutto ciò che serve è una superficie piana. Puoi anche spostare il treppiede indipendentemente dal tuo computer per assicurarti di essere ben illuminato sulla tua webcam anche se il tuo computer non è rivolto verso la luce.
On the subject of light, you can purchase tripods that come with built in ring lights if your desk is not already well lit, but I've found that these are generally low-quality tripods attached to low-quality light rings, so you might be better off getting a regular, stable tripod and using a standard lamp, the flash from your phone (which you can control using Camo), or simply the natural light from a window (or the sun, if you're outside), to improve light levels.
With that said, tripods are generally quite big and bulky. If desk space is tight, you might not be able to sacrifice the space for a tripod. In addition, while you can move your tripod to be in the best light, it's a little trickier to get it close to your display than when using some other mounts, which can give the impression that you're looking off to the side on your calls. Most tripods use a grip claw, which, depending on the strength of the grip, can be fiddly when putting your phone in or removing it.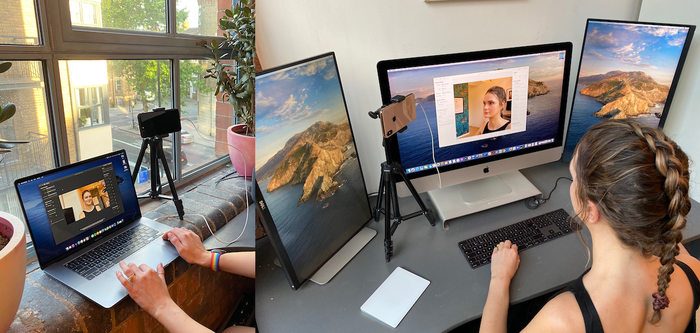 I treppiedi funzioneranno bene per le persone che desiderano solo una montatura, ma che passano spesso a computer e laptop diversi o aree di lavoro diverse. A circa $ 25 per un buon treppiede, non sono l'opzione più economica, ma non sono nemmeno troppo costosi.
Bracci flessibili
Prodotto testato: supporto per telefono a collo d'oca Jumkeet, Regno Unito $ 18,99
Un braccio flessibile presenta aspetti sia di un treppiede che di un supporto per auto. Puoi collegarlo allo schermo, alla scrivania o a qualsiasi altro oggetto che può essere bloccato (come un supporto per monitor o un vaso per piante). Non occupa spazio sulla scrivania, a differenza di un treppiede, e può mantenere la scrivania priva di ingombri se collegata dietro al laptop o al monitor. I bracci flessibili offrono anche un po 'più di flessibilità rispetto a un supporto per schermo, poiché puoi spostare il braccio su e giù, da un lato all'altro per trovare la posizione perfetta. Puoi anche piegare il braccio dietro un angolo, se necessario.

Flexible arms generally attach using two claws, so there are no permanent stickers, and I found the grip claws of the flexible arm I tested to be easier to take my phone in and out of than the desktop mounts and car mounts.
The flexible arm was very stable: the picture didn't judder as I typed, and it was also pretty affordable. For me, this was by far the best mount to use for all laptops, and if you don't want to use a magnetic sticker, it was the best option for desktops, too. The only requirement for these flexible arms is that you have something to clamp the arm to, so if you have a built-in desk, this type of mount might not work for you. You can see how I clamped the arm to the side of a desk when using it with a laptop, above. Here's how I attached it to a couple of desktop computers: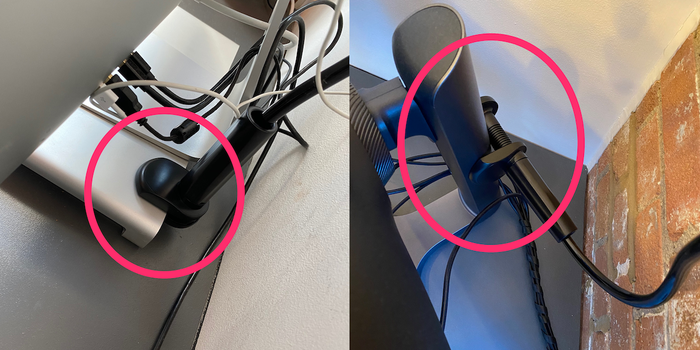 Ventose
Prodotto testato: Supporto per telefono per auto Dashboard MPOW, Regno Unito £ 8,99, prodotto statunitense simile $ 10,99
Questi semplicemente non funzioneranno, a meno che non li attacchi a una finestra vicina o allo schermo del tuo computer (no, davvero, non farlo). Attenzione che alcuni elenchi su Amazon implicano che si attaccheranno ad altre superfici. Non lo faranno!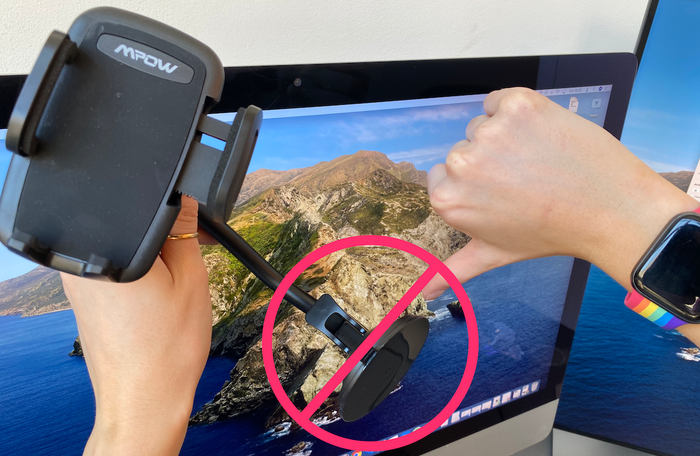 Supporti per adesivi
Prodotto testato: FLOVEME Supporto magnetico per auto US $ 13,99, Regno Unito £ 12,16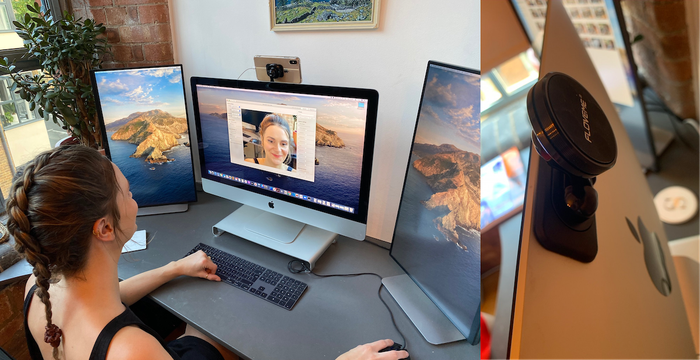 Any mount that attaches directly to your monitor will let you get your phone webcam close to where the built in webcam is, providing a good angle for your calls. The main variable with these types of mounts is how they attach to your computer and your phone. Of the direct mounts I tried, the best option for desktop users was the sticker/magnet mount pictured above. You stick it to the back of your computer and can add the magnet to the back of a cheap phone case to quickly attach and remove your phone for calls. (Keep reading to see why you don't want to stick it directly to your phone.)
Questi sono molto meno ingombranti dei treppiedi, ma probabilmente non sono adatti ai laptop se hai intenzione di spostarti, poiché il supporto dovrebbe rimanere attaccato al tuo computer e impediranno al tuo laptop di inserirsi in una custodia. Puoi provare a sbloccare e riposizionare il tuo supporto ogni volta che usi la webcam, ma ciò ridurrà la viscosità e rischierà che il tuo iPhone e il supporto cadano e vengano danneggiati.
Magnetic & MagSafe mounts
Prodotti testati:
Magnets, how do they work? However they do, they make it really easy to attach and remove your iPhone from its webcam mount. Some mounts were so simple they consisted of two magnets; one for the back of your iPhone, the other for the back of your monitor or laptop. You just stick your iPhone to your computer, and grab it off when your call ends. And while the Belkin mount reviewed here does not attach to a laptop with magnets, it uses Apple's MagSafe functionality to make attaching your iPhone quick and easy. A drawback for all of these, however, is that their angle is restricted to the angle of your screen.
Useful only for iPhone and MacBook users, Belkin's MagSafe mount debuted alongside the release of macOS Ventura's Continuity Camera feature. While there is of course plenty to say about how Continuity stacks up against Camo, I've also been looking forward to putting this mount through its paces to see how it compares to the other solutions explored in this guide. One thing that already puts it ahead of the other mounts in this category is not having to attach magnets like silver leeches to my laptop.
As expected, the Belkin connected firmly to the circular MagSafe zone in the middle of both the iPhone 13 and iPhone 13 Pro Max that I used for this test. I liked that it could easily be oriented in either landscape or portrait orientations, though changing from one to the other required removing the setup from the laptop screen and either twisting the mount firmly or removing entirely to reorient it. Rotating the phone while it was mounted - as the video on the Belkin site shows - could not be replicated without knocking the whole arrangement from its perch. And though the MagSafe connection is strong, it doesn't snap to any particular axis. Sometimes when it looked like the mount was attached exactly parallel to the orientation of the phone, I found when mounting it on the screen that it was off kilter, and had to readjust. Not a huge deal, apart from the illusory Belkin visuals.
Placing the mount on top of the screen is fairly straightforward, with a small plastic foot that folds out and hooks onto the top of your laptop. I tested the mount on both a 14-inch MacBook Pro and a 13-inch MacBook Air, and found - unsurprisingly - that it fit more snugly on the thicker frame of the Pro. That said, it did not feel especially precarious on the narrower Air.
On both laptops, it was simple to line up the camera lens with the centre of the screen, a big advantage over the side-mounting solutions for maintaining a good eyeline. Still, since it works only on MacBooks, it would be impossible for all but the shortest users to avoid capturing video from an unattractive low angle (this was slightly better when the phone is mounted in portrait, since the camera lens was higher).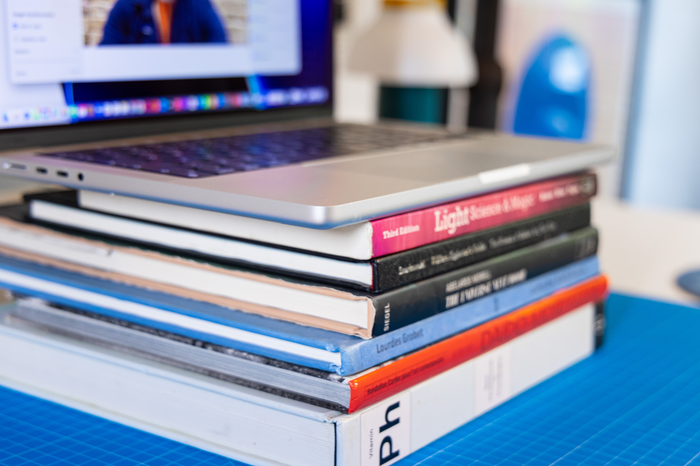 Raising your laptop as shown above is also about practicality - it keeps the screen of your laptop as close to vertical as possible, something I found to be fairly important when using all of the mounts in this category. As you'd expect from hanging something as substantial as an iPhone to the top or side of your MacBook screen, the centre of gravity shifts quite dramatically as the screen moves away from perpendicular.
In the spirit of science, I attempted to measure the precise angles at which the screens of both laptops began to collapse backward with either of the two iPhones mounted. Using a goniometer, I found that for the combination of MacBook Pro/iPhone 13 Max, the widest angle at which it remained steady for me was about 113°. With the iPhone 13, that expanded just a bit to 119°.
Knowing these angles has two upshots. First, if you tend to work with your laptop literally in your lap, with the screen leaning back fairly far (unflattering angle be damned), the mount and phone combination will yank the screen all the way back, with the laptop possibly headed for the floor. Second, even when working with your laptop situated firmly on a desk in front of you, it is important to remember the physics at play. Twice in one morning I pulled the screen slightly forward to reach something behind the laptop, only to have it slam loudly shut like a bear trap, with my phone (mount firmly attached) rocketed into my lap. No harm done to the laptop, though I don't like the idea of subjecting it to such violence on a regular basis.
In conclusion, I appreciated the convenient size and quality build of the Belkin mount, and if I conducted mostly informal video calls on my MacBook, I could see myself just keeping it attached to my iPhone for easy transport and quick deployment (the integrated ring/kickstand is also a nice touch, though it doesn't really factor into how I carry and use my phone on a daily basis). But what keeps this mount from being a solid recommend across the board is the fact that it required extra care to keep my laptop from slamming open or shut, as well as its specificity to iPhones (and only the later MagSafe generations) and MacBooks. Just as Camo works across platforms and devices, our ideal mount would be useful for both desktops and laptops, and both new and older iPhones and Android devices.
The other mounts in this category also score points for ease of use and compactness, but they leave little room for variability - once you've stuck the magnets in place, that's where you need to keep your webcam. And though these magnets held pretty well, there was a very small amount of wobbling when typing on a laptop (realistically, no more that you'd get when using the built-in webcam). Like the Belkin, they're best used with the screen as close to vertical as possible; however, for these you'll also need to keep magnets stuck to your phone (or phone case) and computer. If this idea fills you with horror then you'll want to look for a different type of attachment.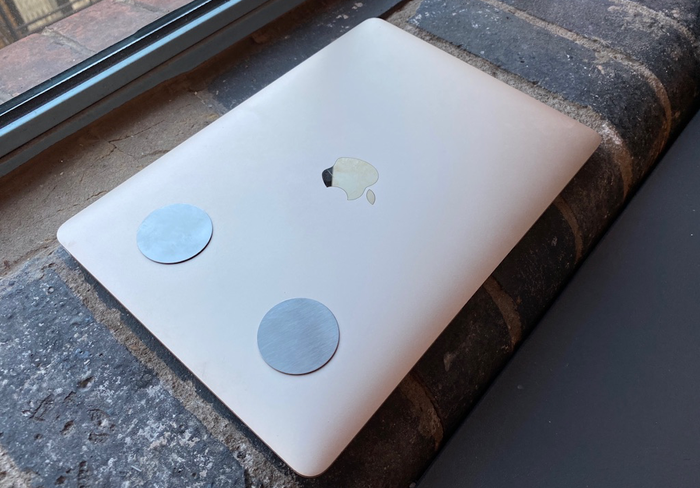 I stuck the magnet to a silicone case for my iPhone, rather than directly to the phone or to a leather case (because stickers will probably damage the leather, and I didn't want to risk marking my phone), and here's what happened when I removed the magnet: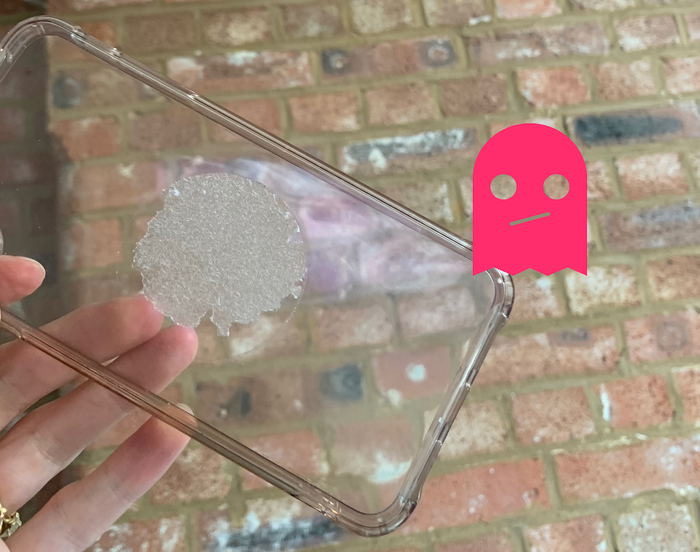 Sono riuscito a far funzionare questo supporto magnetico con un iMac. Un grande svantaggio di questa montatura era che non era possibile collegare l'iPhone all'indietro, quindi puoi usare la fotocamera selfie solo con questo supporto. Inoltre, non è possibile regolare l'angolazione dell'iPhone quando si utilizza questo supporto, quindi l'immagine è leggermente spostata su un lato.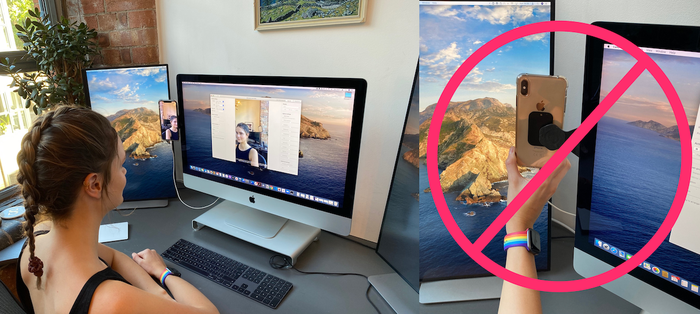 The second magnetic mount I tried was much more flexible. The IMstick phone mount was made up of one magnet attached to a wire, and a metal disk to stick to the back of your phone.
Devi far aderire almeno un magnete affinché funzioni, sul tuo telefono o sul tuo computer, ma l'altro può essere tenuto in posizione dal filo. Puoi vedere come ho collegato il supporto al mio computer usando il filo, di seguito.

Questa è un'opzione abbastanza buona se vuoi flessibilità o hai una situazione di montaggio difficile. Non occupa molto spazio e, anche se è un po 'complicato impostare il supporto, una volta che lo hai fatto è facile prendere il telefono dentro e fuori.
Mi è sembrato che il mio telefono fosse sicuro, ma ho notato che oscillava un po 'di più rispetto all'attacco che utilizzava sia adesivi che un magnete, quindi ho preferito l'attacco FLOVEME a questo, anche se se vuoi spostare un po' la tua webcam , potresti preferire questo.
Supporti scanalati
Prodotto testato: supporto per telefono cellulare YUYITEK, Regno Unito £ 14,99, US $ 14,99
These let you rest your phone in place, rather than holding it securely. As such, they're easy to get your phone in and out of, but they will wobble when you type. I found it was more difficult to get a good angle when using this slotted holder than with any other mount, as the phone couldn't be adjusted as easily with these mounts, and would often fall into a different position, anyway.

Il supporto a fessura si collega al computer con una clip molto robusta. Sono stato in grado di collegarlo al mio iMac, ma dato il retro curvo del computer, lasciarlo lì per un lungo periodo di tempo potrebbe causare un ping inaspettato. Non volevo nemmeno provare a usare questa clip con il mio laptop, poiché l'allegato è così stretto da sembrare che possa danneggiare lo schermo.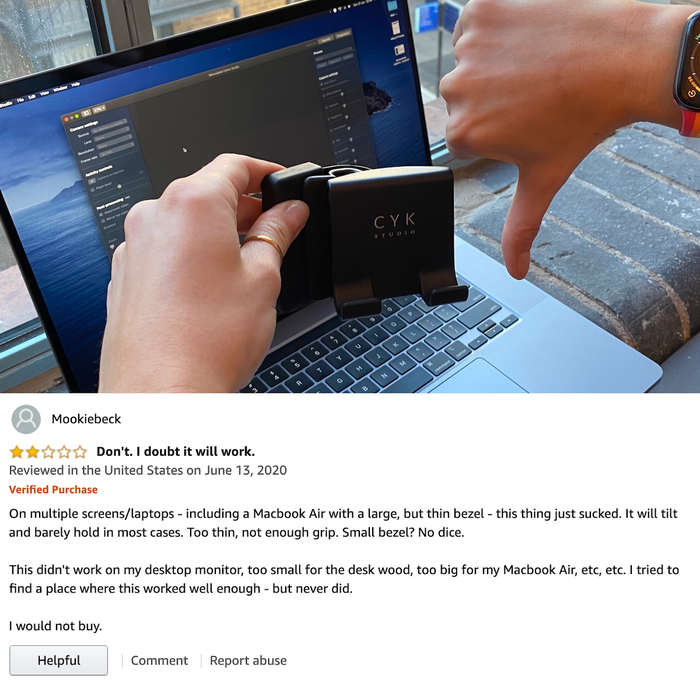 Gimbals
Prodotto testato: stabilizzatore cardanico palmare a 3 assi Zhiyun Smooth 4, Regno Unito £ 89,00, US $ 99,00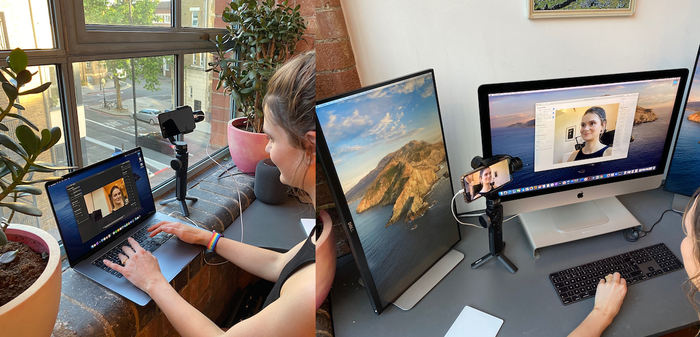 I tried using a gimbal as a webcam, but it was a pretty impractical choice. The height of the gimbal isn't adjustable, so you'll either end up with your camera too high, or too low for your screen (as the image above shows, this works a little better with a laptop than a desktop, but neither is ideal). Yes, your gimbal will keep your phone stabilised while it's being held, but, provided you're not moving your webcam around while you're talking, there really isn't any benefit to this feature for webcam purposes. Additionally, the gimbal I used periodically turned itself off, causing the phone to drop down, and inserting an iPhone XS Max into the gimbal kept triggering SOS calls. You'd also need to keep your gimbal charged in advance of your calls.
Se hai già un gimbal e sei irremovibile di non voler ancora un altro accessorio tecnologico, allora provalo, ma potresti voler iniziare con una chiamata casuale, piuttosto che un incontro importante .
Dock per iPhone e tastiere intelligenti
Prodotti testati:
Se hai una docking station per il tuo iPhone, puoi usarla o puoi usare un iPad se hai una custodia che funziona come supporto. Nessuno dei due ti darà un ottimo angolo, ma entrambi funzionano. Dovrai anche utilizzare la fotocamera selfie per entrambe queste opzioni, a meno che non trovi un modo per elevare il dispositivo a livello di testa.

Makeshift / Fai da te
Cosa succede se hai bisogno di un supporto per webcam ora e non hai nessuno dei precedenti? Abbiamo fatto un po 'di esperimenti e abbiamo scoperto che forse il miglior stand di fortuna può essere messo insieme con una pila di libri e una tazza di caffè / scatola di cartone: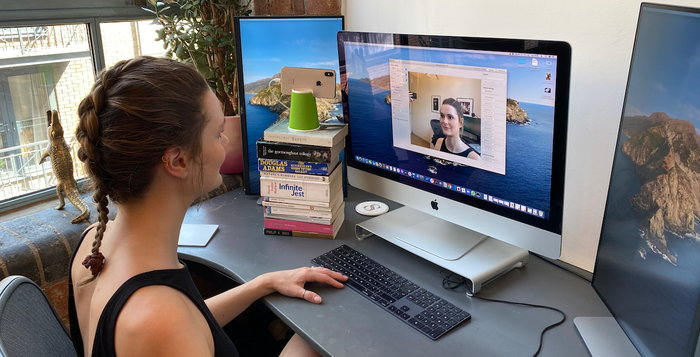 It's bulky, it doesn't look great, and your phone might wobble around a bit if you're doing a lot of typing, but it's a quick and easy solution to start using your phone as a webcam today.
Hai uno stand di fortuna migliore? Hai trovato una cavalcatura migliore? Fateci sapere nei commenti qui sotto.