How to mount a phone webcam: which mount is best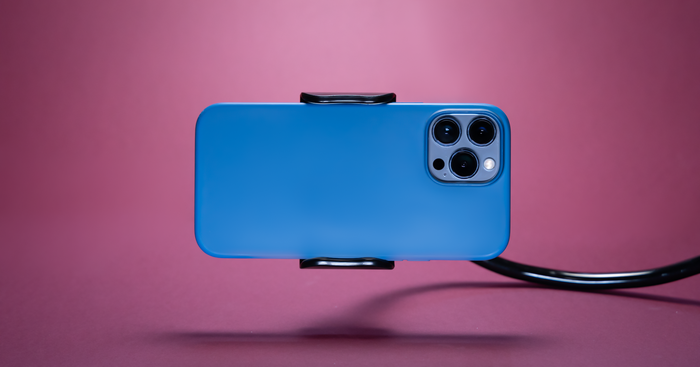 따라서 휴대 전화 나 태블릿을 웹캠으로 사용하려고합니다. 케이블이있을 것입니다. 우리는 당신이 카모를 가지고 있기를 바랍니다. 그리고 당신은 마운트 또는 스탠드가 필요할 수 있습니다. 나는 시장에서 거의 모든 유형의 스탠드를 구입했으며 심지어 집 주변에서 가지고있는 것들로부터 임시 변통을 구성하려고 시도했습니다. 이 안내서에서는 어느 것이 당신에게 도움이되는지, 왜 그런지 살펴 보겠습니다.
이러한 옵션을 자세히 살펴볼 시간이 없다면 다음 중 하나를 선택하십시오.
What makes a good phone webcam mount?
Before starting to look into the various phone mounts, I had a think about what I was really looking for. In order of importance, a good mount should:
Have good stability. You need to be able to type, click, and use your computer as you normally would on calls without your phone jiggling around or even falling out of its mount.
Make you look good. Step one here is to use Camo, which lets you use the incredible camera built into the phone as your webcam. In terms of your mount, you want it to be positioned near your computer screen. It's disconcerting to talk to someone who doesn't seem to be looking at you. You also want to be able to get your mount so that it's roughly parallel to your face; too low and everyone else on the call will be gazing up your nostrils; too high and it will be pointed at your body.
Make it easy for you to mount and remove your phone. Unless you're using a dedicated phone with Camo, you'll also want to use your phone for other purposes, so being able to set it up and take it down easily is important.
Not result in anything too permanent. You might not want to keep a magnetic disk stuck to your smartphone, or a bulky car mount stuck on your iMac.
Be compact. When you're not using your phone as a webcam, you probably don't want a hulking great piece of plastic cluttering up your desktop.
끔찍한 눈빛처럼 보이지 않습니다. 괜찮다면 보너스 포인트.
화상 통화를 개선하고 싶으십니까? 웹캠 에서 최고의 모습을 볼 수 있도록 도움말로 가득 찬 기사를 모았 습니다 .
이 기준을 염두에두고 iPhone을 웹캠으로 전환하는 데 사용할 수있는 다양한 유형의 마운트를 살펴 보겠습니다.
삼각대
테스트 대상 제품 : EVERESTA 42 인치 360 플렉서블 스마트 폰 삼각대 영국 £ 19.54, 유사 US $ 25.49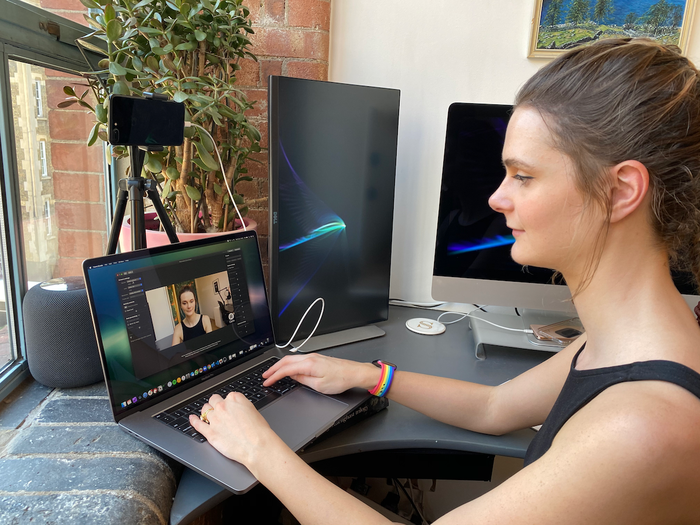 삼각대는 내가 테스트하기로 결정한 첫 번째 스탠드 중 하나였습니다. 그들은 큰 가변성을 가지고 있습니다. 랩톱과 데스크톱이있는 경우 높이를 조정하고 삼각대를 다른 컴퓨터로 쉽게 옮길 수 있으며 하루 종일 다른 장소에서 전화를받는 경우 다른 지역으로 쉽게 이동할 수 있습니다. 예를 들어 카페에서 일하는 경우 삼각대를 사용하는 것이 쉽고 빠르기 때문에 삼각대를 사용하는 것이 좋습니다. 평평한 표면 만 있으면됩니다. 컴퓨터가 조명을 향하지 않아도 웹캠에서 조명이 밝게 켜지도록 삼각대를 컴퓨터와 독립적으로 이동할 수도 있습니다.
On the subject of light, you can purchase tripods that come with built in ring lights if your desk is not already well lit, but I've found that these are generally low-quality tripods attached to low-quality light rings, so you might be better off getting a regular, stable tripod and using a standard lamp, the flash from your phone (which you can control using Camo), or simply the natural light from a window (or the sun, if you're outside), to improve light levels.
With that said, tripods are generally quite big and bulky. If desk space is tight, you might not be able to sacrifice the space for a tripod. In addition, while you can move your tripod to be in the best light, it's a little trickier to get it close to your display than when using some other mounts, which can give the impression that you're looking off to the side on your calls. Most tripods use a grip claw, which, depending on the strength of the grip, can be fiddly when putting your phone in or removing it.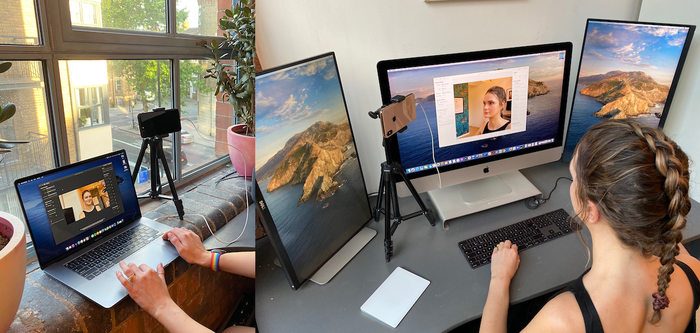 삼각대는 하나의 마운트 만 원하지만 다른 컴퓨터와 랩톱 또는 다른 작업 공간으로 자주 전환하는 사람들에게 적합합니다. 좋은 삼각대를 위해 약 25 달러에, 그들은 가장 저렴한 옵션은 아니지만 너무 비싸지 않습니다.
유연한 팔
테스트한 제품: Jumkeet Gooseneck 폰 홀더, 영국 $18.99
플렉서블 암에는 삼각대와 자동차 마운트가 모두 있습니다. 화면, 책상 또는 고정 될 수있는 다른 물체 (모니터 스탠드 또는 화분 등)에 부착 할 수 있습니다. 삼각대와 달리 책상 공간을 차지하지 않으며 랩톱이나 모니터 뒤에 부착하면 책상을 깔끔하게 유지할 수 있습니다. 플렉서블 암은 스크린 마운트보다 약간 더 유연하며 팔을 위아래로 움직여 완벽한 위치를 찾을 수 있습니다. 필요한 경우 팔을 구석에 구부릴 수도 있습니다.

Flexible arms generally attach using two claws, so there are no permanent stickers, and I found the grip claws of the flexible arm I tested to be easier to take my phone in and out of than the desktop mounts and car mounts.
The flexible arm was very stable: the picture didn't judder as I typed, and it was also pretty affordable. For me, this was by far the best mount to use for all laptops, and if you don't want to use a magnetic sticker, it was the best option for desktops, too. The only requirement for these flexible arms is that you have something to clamp the arm to, so if you have a built-in desk, this type of mount might not work for you. You can see how I clamped the arm to the side of a desk when using it with a laptop, above. Here's how I attached it to a couple of desktop computers: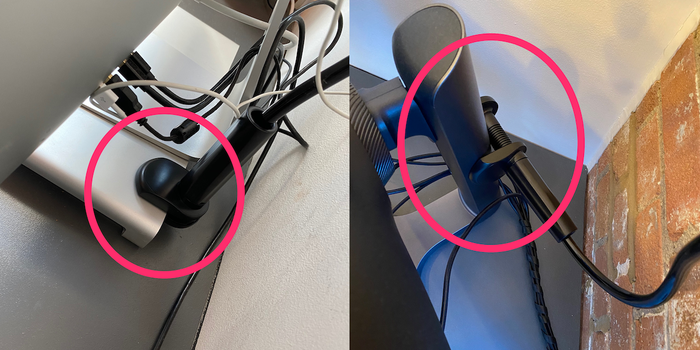 흡입 컵
테스트 대상 제품 : MPOW Dashboard Car Phone Mount, 영국 £ 8.99, 유사한 미국 제품 $ 10.99
가까운 창이나 컴퓨터 화면에 붙이지 않으면 작동하지 않습니다 (실제로 그렇게하지 마십시오). 아마존의 일부 리스팅은 다른 표면에 고정 될 것임을 암시하십시오. 그들은하지 않습니다!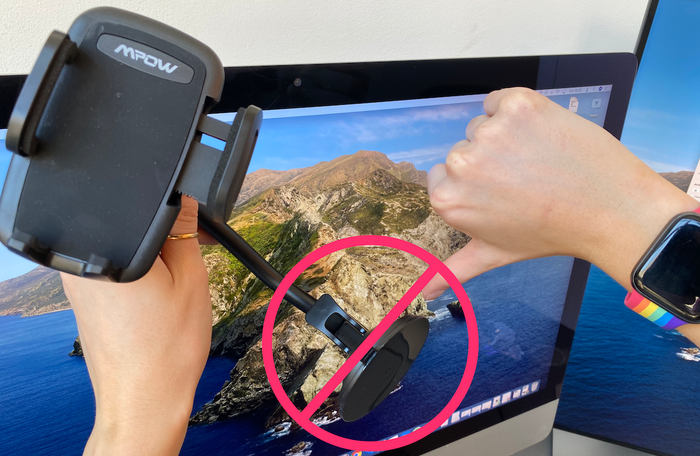 스티커 마운트
테스트 제품 : FLOVEME Magnetic Car Mount US $ 13.99, 영국 £ 12.16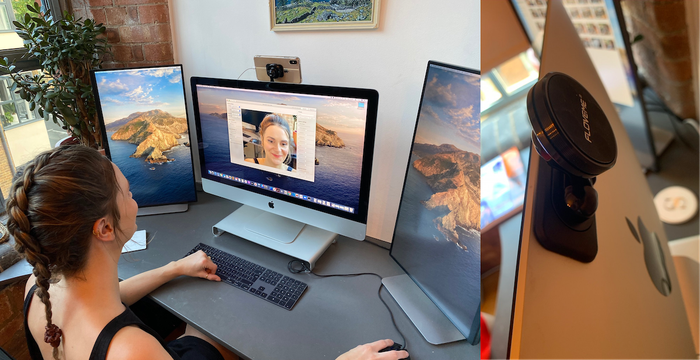 Any mount that attaches directly to your monitor will let you get your phone webcam close to where the built in webcam is, providing a good angle for your calls. The main variable with these types of mounts is how they attach to your computer and your phone. Of the direct mounts I tried, the best option for desktop users was the sticker/magnet mount pictured above. You stick it to the back of your computer and can add the magnet to the back of a cheap phone case to quickly attach and remove your phone for calls. (Keep reading to see why you don't want to stick it directly to your phone.)
이것들은 삼각대보다 부피가 훨씬 적지 만, 마운트는 컴퓨터에 부착되어 있어야하며 랩톱이 케이스에 들어 가지 못하게하기 때문에 이동하려는 경우 랩톱에 적합하지 않을 수 있습니다. 웹캠을 사용할 때마다 마운트를 풀거나 다시 붙일 수는 있지만, 이로 인해 끈적임이 줄어들고 iPhone 및 마운트가 떨어져서 손상 될 위험이 있습니다.
Magnetic & MagSafe mounts
테스트 된 제품 :
Magnets, how do they work? However they do, they make it really easy to attach and remove your iPhone from its webcam mount. Some mounts were so simple they consisted of two magnets; one for the back of your iPhone, the other for the back of your monitor or laptop. You just stick your iPhone to your computer, and grab it off when your call ends. And while the Belkin mount reviewed here does not attach to a laptop with magnets, it uses Apple's MagSafe functionality to make attaching your iPhone quick and easy. A drawback for all of these, however, is that their angle is restricted to the angle of your screen.
Useful only for iPhone and MacBook users, Belkin's MagSafe mount debuted alongside the release of macOS Ventura's Continuity Camera feature. While there is of course plenty to say about how Continuity stacks up against Camo, I've also been looking forward to putting this mount through its paces to see how it compares to the other solutions explored in this guide. One thing that already puts it ahead of the other mounts in this category is not having to attach magnets like silver leeches to my laptop.
As expected, the Belkin connected firmly to the circular MagSafe zone in the middle of both the iPhone 13 and iPhone 13 Pro Max that I used for this test. I liked that it could easily be oriented in either landscape or portrait orientations, though changing from one to the other required removing the setup from the laptop screen and either twisting the mount firmly or removing entirely to reorient it. Rotating the phone while it was mounted - as the video on the Belkin site shows - could not be replicated without knocking the whole arrangement from its perch. And though the MagSafe connection is strong, it doesn't snap to any particular axis. Sometimes when it looked like the mount was attached exactly parallel to the orientation of the phone, I found when mounting it on the screen that it was off kilter, and had to readjust. Not a huge deal, apart from the illusory Belkin visuals.
Placing the mount on top of the screen is fairly straightforward, with a small plastic foot that folds out and hooks onto the top of your laptop. I tested the mount on both a 14-inch MacBook Pro and a 13-inch MacBook Air, and found - unsurprisingly - that it fit more snugly on the thicker frame of the Pro. That said, it did not feel especially precarious on the narrower Air.
On both laptops, it was simple to line up the camera lens with the centre of the screen, a big advantage over the side-mounting solutions for maintaining a good eyeline. Still, since it works only on MacBooks, it would be impossible for all but the shortest users to avoid capturing video from an unattractive low angle (this was slightly better when the phone is mounted in portrait, since the camera lens was higher).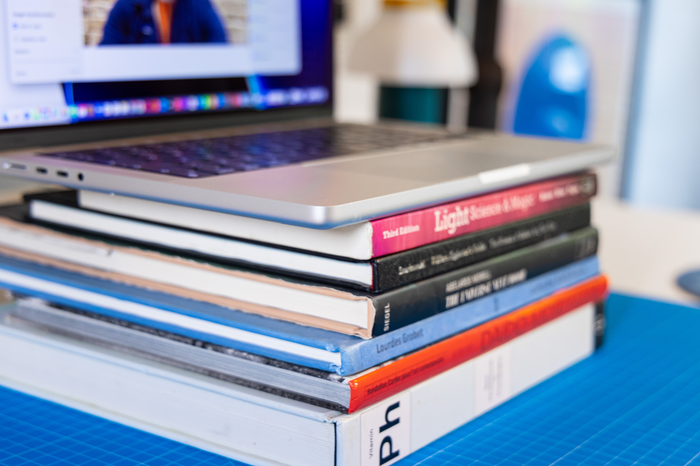 Raising your laptop as shown above is also about practicality - it keeps the screen of your laptop as close to vertical as possible, something I found to be fairly important when using all of the mounts in this category. As you'd expect from hanging something as substantial as an iPhone to the top or side of your MacBook screen, the centre of gravity shifts quite dramatically as the screen moves away from perpendicular.
In the spirit of science, I attempted to measure the precise angles at which the screens of both laptops began to collapse backward with either of the two iPhones mounted. Using a goniometer, I found that for the combination of MacBook Pro/iPhone 13 Max, the widest angle at which it remained steady for me was about 113°. With the iPhone 13, that expanded just a bit to 119°.
Knowing these angles has two upshots. First, if you tend to work with your laptop literally in your lap, with the screen leaning back fairly far (unflattering angle be damned), the mount and phone combination will yank the screen all the way back, with the laptop possibly headed for the floor. Second, even when working with your laptop situated firmly on a desk in front of you, it is important to remember the physics at play. Twice in one morning I pulled the screen slightly forward to reach something behind the laptop, only to have it slam loudly shut like a bear trap, with my phone (mount firmly attached) rocketed into my lap. No harm done to the laptop, though I don't like the idea of subjecting it to such violence on a regular basis.
In conclusion, I appreciated the convenient size and quality build of the Belkin mount, and if I conducted mostly informal video calls on my MacBook, I could see myself just keeping it attached to my iPhone for easy transport and quick deployment (the integrated ring/kickstand is also a nice touch, though it doesn't really factor into how I carry and use my phone on a daily basis). But what keeps this mount from being a solid recommend across the board is the fact that it required extra care to keep my laptop from slamming open or shut, as well as its specificity to iPhones (and only the later MagSafe generations) and MacBooks. Just as Camo works across platforms and devices, our ideal mount would be useful for both desktops and laptops, and both new and older iPhones and Android devices.
The other mounts in this category also score points for ease of use and compactness, but they leave little room for variability - once you've stuck the magnets in place, that's where you need to keep your webcam. And though these magnets held pretty well, there was a very small amount of wobbling when typing on a laptop (realistically, no more that you'd get when using the built-in webcam). Like the Belkin, they're best used with the screen as close to vertical as possible; however, for these you'll also need to keep magnets stuck to your phone (or phone case) and computer. If this idea fills you with horror then you'll want to look for a different type of attachment.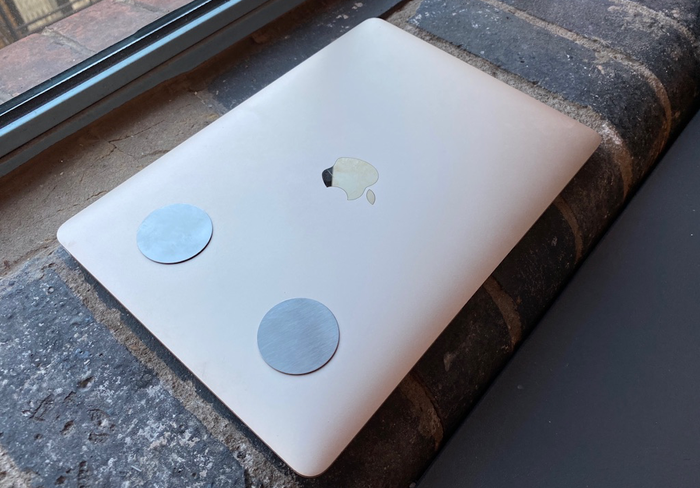 I stuck the magnet to a silicone case for my iPhone, rather than directly to the phone or to a leather case (because stickers will probably damage the leather, and I didn't want to risk marking my phone), and here's what happened when I removed the magnet: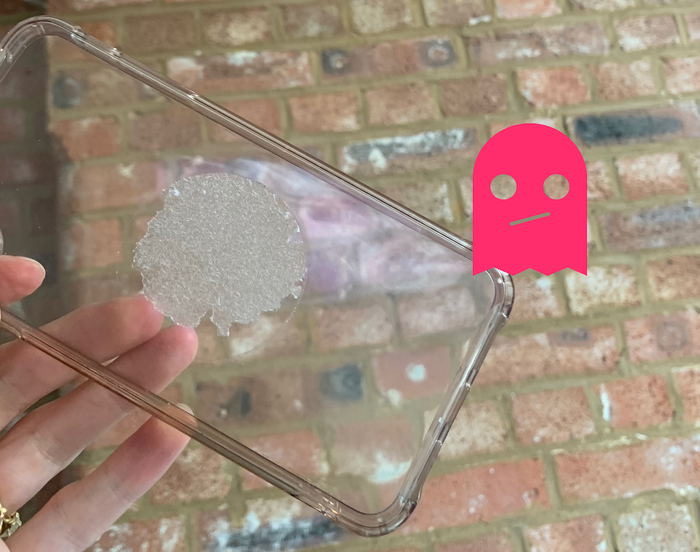 이 자석 홀더를 iMac과 함께 사용할 수있었습니다. 이 마운트의 한 가지 큰 단점은 iPhone을 뒤로 연결할 수 없기 때문에이 홀더가있는 셀카 카메라 만 사용할 수 있다는 것입니다. 또한이 마운트를 사용할 때 iPhone의 각도를 조정할 수 없으므로 사진의 한쪽이 약간 벗어납니다.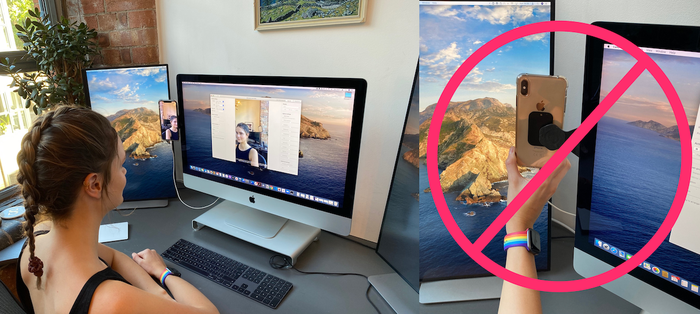 The second magnetic mount I tried was much more flexible. The IMstick phone mount was made up of one magnet attached to a wire, and a metal disk to stick to the back of your phone.
휴대 전화 나 컴퓨터에서 작동하려면 적어도 하나의 자석을 꽂아야하지만 다른 자석은 유선으로 고정시킬 수 있습니다. 아래의 와이어를 사용하여 마운트를 컴퓨터에 어떻게 부착했는지 확인할 수 있습니다.

유연성을 원하거나 까다로운 장착 상황이있는 경우 매우 유용한 옵션입니다. 많은 공간을 차지하지 않으며 마운트를 설정하기가 약간 어려우므로 일단 휴대 전화를 가져 오거나 꺼내기가 쉽습니다.
내 전화가 안전하다고 생각했지만 스티커와 자석을 모두 사용하는 마운트보다 조금 더 흔들리는 것을 알았으므로 웹캠을 조금 움직이고 싶다면 FLOVEME 마운트를 선호했습니다. 이 것을 선호 할 수 있습니다.
슬롯 홀더
테스트 대상 제품 : YUYITEK 휴대폰 홀더, 영국 £ 14.99, US $ 14.99
These let you rest your phone in place, rather than holding it securely. As such, they're easy to get your phone in and out of, but they will wobble when you type. I found it was more difficult to get a good angle when using this slotted holder than with any other mount, as the phone couldn't be adjusted as easily with these mounts, and would often fall into a different position, anyway.

슬롯 홀더는 매우 견고한 클립으로 컴퓨터에 부착됩니다. 이 파일을 iMac에 연결할 수 있었지만 컴퓨터 뒷면이 구부러져 오랫동안 컴퓨터를 방치하면 예상치 못한 핑 현상이 발생할 수 있습니다. 클립 부착물이 너무 꽉 조여서 화면을 손상시킬 수 있다고 느꼈기 때문에 랩톱에서이 클립을 사용하고 싶지 않았습니다.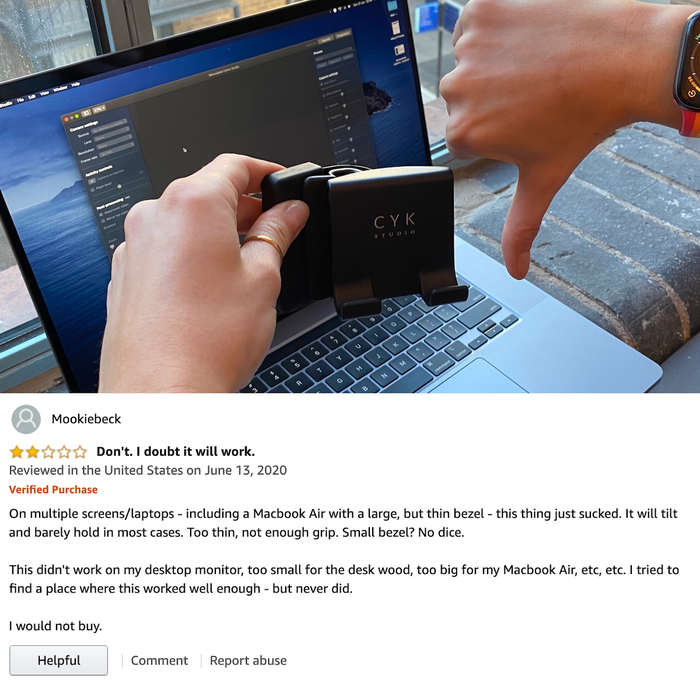 짐발
테스트 대상 제품 : Zhiyun Smooth 4 3 축 핸드 헬드 짐벌 스태빌라이저, 영국 £ 89.00, US $ 99.00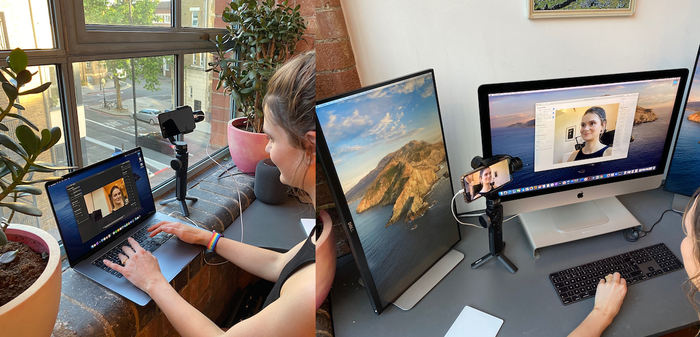 I tried using a gimbal as a webcam, but it was a pretty impractical choice. The height of the gimbal isn't adjustable, so you'll either end up with your camera too high, or too low for your screen (as the image above shows, this works a little better with a laptop than a desktop, but neither is ideal). Yes, your gimbal will keep your phone stabilised while it's being held, but, provided you're not moving your webcam around while you're talking, there really isn't any benefit to this feature for webcam purposes. Additionally, the gimbal I used periodically turned itself off, causing the phone to drop down, and inserting an iPhone XS Max into the gimbal kept triggering SOS calls. You'd also need to keep your gimbal charged in advance of your calls.
이미 짐벌을 가지고 있고 아직 다른 기술 액세서리를 원하지 않는다고 단언한다면, 반드시 시도해보십시오. 그러나 중요한 회의가 아닌 캐주얼 한 전화로 시작하고 싶을 수도 있습니다 .
iPhone 도크 및 스마트 키보드
테스트 된 제품 :
iPhone 용 도킹 스테이션이 있다면 사용하거나 스탠드로 작동하는 케이스가있는 경우 iPad를 사용할 수 있습니다. 어느 쪽도 당신에게 아주 좋은 각도를 줄 수는 없지만 둘 다 잘 작동합니다. 기기를 헤드 레벨로 올리는 방법을 찾지 못하면이 두 가지 옵션 모두에 셀카 카메라를 사용해야합니다.

임시 변통 / DIY
당신이 웹캠을 필요로하는 경우 지금 무엇을 서서 당신은 위의 모든 없어요? 우리는 약간의 실험을 해본 결과 가장 좋은 임시 변통 스탠드는 책 더미와 커피 컵 / 골판지 상자와 함께 자갈로 묶을 수 있음을 발견했습니다.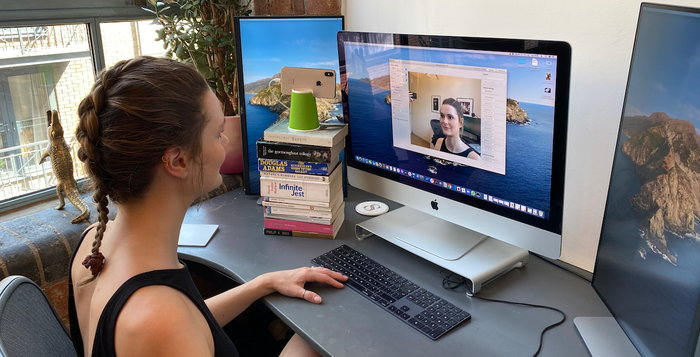 It's bulky, it doesn't look great, and your phone might wobble around a bit if you're doing a lot of typing, but it's a quick and easy solution to start using your phone as a webcam today.
더 나은 임시 변통이 있습니까? 더 나은 마운트를 찾았습니까? 아래 의견에 알려주십시오.