How to mount a phone webcam: which mount is best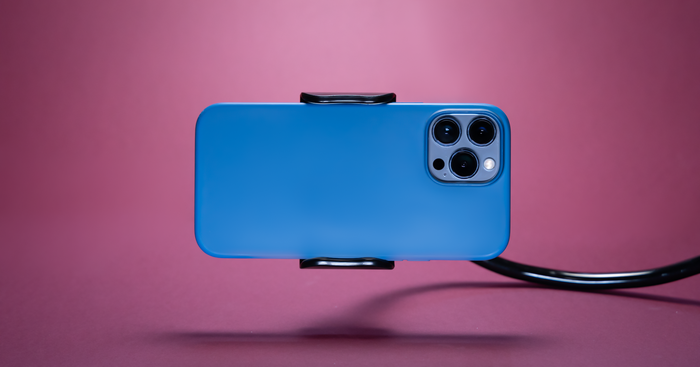 Então, você está pensando em usar seu telefone ou tablet como webcam. Você provavelmente tem um cabo. Esperamos que você tenha Camo . E talvez você precise de uma montaria ou um suporte. Comprei praticamente todos os tipos de estandes do mercado e até tentei construir alguns improvisados com as coisas que eu tinha em casa. Neste guia, mostrarei quais podem funcionar para você e por quê.
Se você não tem tempo para examinar essas opções em detalhes, pegue esta aqui:
What makes a good phone webcam mount?
Before starting to look into the various phone mounts, I had a think about what I was really looking for. In order of importance, a good mount should:
Have good stability. You need to be able to type, click, and use your computer as you normally would on calls without your phone jiggling around or even falling out of its mount.
Make you look good. Step one here is to use Camo, which lets you use the incredible camera built into the phone as your webcam. In terms of your mount, you want it to be positioned near your computer screen. It's disconcerting to talk to someone who doesn't seem to be looking at you. You also want to be able to get your mount so that it's roughly parallel to your face; too low and everyone else on the call will be gazing up your nostrils; too high and it will be pointed at your body.
Make it easy for you to mount and remove your phone. Unless you're using a dedicated phone with Camo, you'll also want to use your phone for other purposes, so being able to set it up and take it down easily is important.
Not result in anything too permanent. You might not want to keep a magnetic disk stuck to your smartphone, or a bulky car mount stuck on your iMac.
Be compact. When you're not using your phone as a webcam, you probably don't want a hulking great piece of plastic cluttering up your desktop.
Não parece uma fera horrenda. Pontos de bônus se parecer bom.
Deseja ter uma aparência melhor em suas vídeo chamadas? Reunimos um artigo cheio de dicas para ajudar você a ter a melhor aparência na sua webcam aqui .
Com esse critério em mente, vamos dar uma olhada nos vários tipos de suportes que você pode usar para transformar um iPhone em uma webcam.
Tripés
Produto testado: EVERESTA Tripé flexível para smartphone de 42 polegadas 360 UK £ 19,54, produto similar US $ 25,49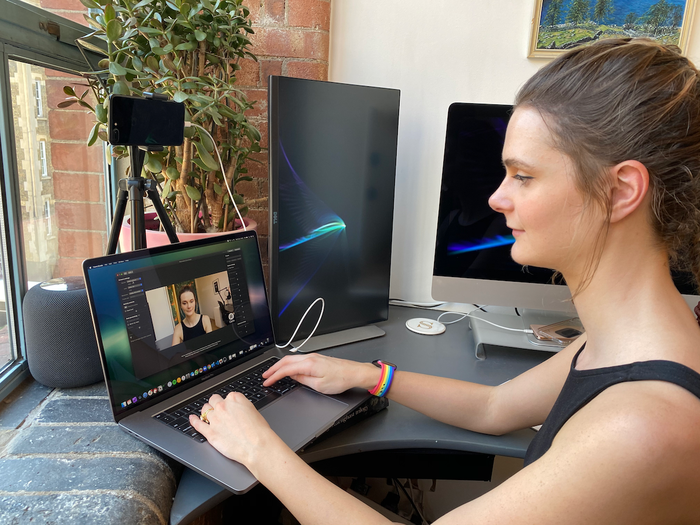 Um tripé foi um dos primeiros suportes que decidi testar. Eles têm grande variabilidade; você pode ajustar a altura e mover facilmente um tripé para computadores diferentes, se tiver um laptop e uma área de trabalho, ou áreas diferentes, se você atender chamadas em locais diferentes ao longo do dia. Se você trabalha em cafés, por exemplo, um tripé é uma boa opção, porque é rápido e fácil de configurar: tudo o que você precisa é de uma superfície plana. Você também pode mover seu tripé independentemente do seu computador para garantir que esteja bem iluminado na webcam, mesmo que o computador não esteja voltado para a luz.
On the subject of light, you can purchase tripods that come with built in ring lights if your desk is not already well lit, but I've found that these are generally low-quality tripods attached to low-quality light rings, so you might be better off getting a regular, stable tripod and using a standard lamp, the flash from your phone (which you can control using Camo), or simply the natural light from a window (or the sun, if you're outside), to improve light levels.
With that said, tripods are generally quite big and bulky. If desk space is tight, you might not be able to sacrifice the space for a tripod. In addition, while you can move your tripod to be in the best light, it's a little trickier to get it close to your display than when using some other mounts, which can give the impression that you're looking off to the side on your calls. Most tripods use a grip claw, which, depending on the strength of the grip, can be fiddly when putting your phone in or removing it.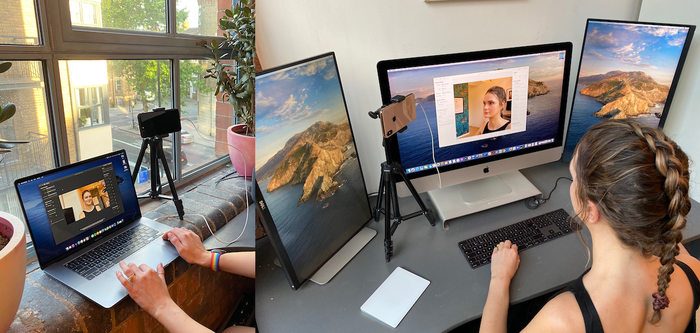 Os tripés funcionam bem para pessoas que desejam apenas uma montagem, mas que alternam para diferentes computadores e laptops ou diferentes locais de trabalho com frequência. Por cerca de US $ 25 para um bom tripé, eles não são a opção mais barata, mas também não são muito caros.
Braços flexíveis
Produto testado: Suporte para telefone Jumkeet Gooseneck, Reino Unido $ 18,99
Um braço flexível possui aspectos de um tripé e de um suporte para carro. Você pode anexá-lo à sua tela, à sua mesa ou a qualquer outro objeto que possa ser preso (como um suporte para monitor ou vaso). Não ocupa espaço na mesa, ao contrário de um tripé, e pode manter sua mesa livre de desordem, se conectada atrás do laptop ou monitor. Os braços flexíveis também oferecem um pouco mais de flexibilidade do que uma montagem na tela, pois você pode mover o braço para cima e para baixo, lado a lado, para encontrar a posição perfeita. Você pode até dobrar o braço em uma esquina, se precisar.

Flexible arms generally attach using two claws, so there are no permanent stickers, and I found the grip claws of the flexible arm I tested to be easier to take my phone in and out of than the desktop mounts and car mounts.
The flexible arm was very stable: the picture didn't judder as I typed, and it was also pretty affordable. For me, this was by far the best mount to use for all laptops, and if you don't want to use a magnetic sticker, it was the best option for desktops, too. The only requirement for these flexible arms is that you have something to clamp the arm to, so if you have a built-in desk, this type of mount might not work for you. You can see how I clamped the arm to the side of a desk when using it with a laptop, above. Here's how I attached it to a couple of desktop computers: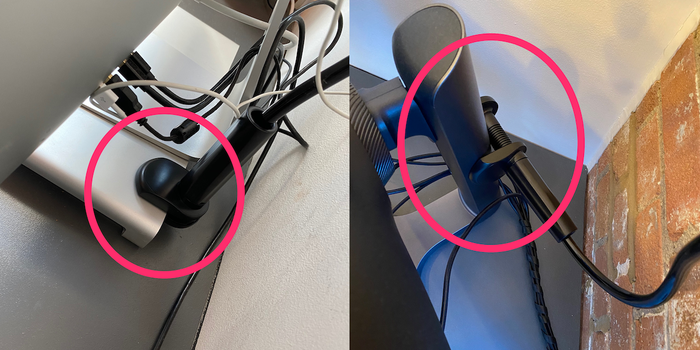 Ventosas
Produto testado: MPOW Dashboard Car Phone Mount, UK £ 8,99, produto similar nos EUA US $ 10,99
Eles simplesmente não funcionam, a menos que você os cole em uma janela próxima ou na tela do seu computador (não, realmente, não faça isso). Lembre-se de que algumas listagens na Amazon sugerem que elas irão aderir a outras superfícies. Eles não vão!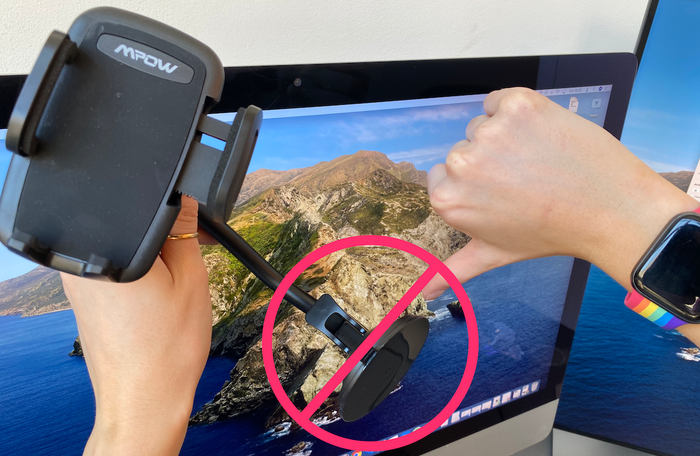 Montagem de adesivos
Produto testado: Suporte Magnético para Carro FLOVEME US $ 13,99, UK £ 12,16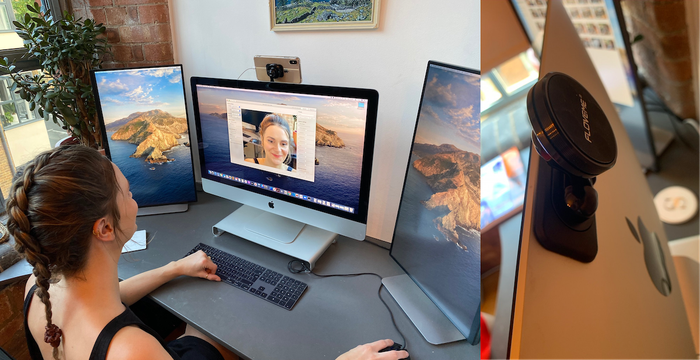 Any mount that attaches directly to your monitor will let you get your phone webcam close to where the built in webcam is, providing a good angle for your calls. The main variable with these types of mounts is how they attach to your computer and your phone. Of the direct mounts I tried, the best option for desktop users was the sticker/magnet mount pictured above. You stick it to the back of your computer and can add the magnet to the back of a cheap phone case to quickly attach and remove your phone for calls. (Keep reading to see why you don't want to stick it directly to your phone.)
Eles são muito menos volumosos do que os tripés, mas provavelmente não são adequados para laptops se você estiver planejando se deslocar, pois o suporte deve permanecer conectado ao computador e impedirá que o laptop se encaixe em um estojo. Você pode tentar desmarcar e reinstalar sua montagem sempre que usar sua webcam, mas isso reduzirá a viscosidade e o risco de que o iPhone e a montagem caiam e sejam danificados.
Magnetic & MagSafe mounts
Produtos testados:
Magnets, how do they work? However they do, they make it really easy to attach and remove your iPhone from its webcam mount. Some mounts were so simple they consisted of two magnets; one for the back of your iPhone, the other for the back of your monitor or laptop. You just stick your iPhone to your computer, and grab it off when your call ends. And while the Belkin mount reviewed here does not attach to a laptop with magnets, it uses Apple's MagSafe functionality to make attaching your iPhone quick and easy. A drawback for all of these, however, is that their angle is restricted to the angle of your screen.
Useful only for iPhone and MacBook users, Belkin's MagSafe mount debuted alongside the release of macOS Ventura's Continuity Camera feature. While there is of course plenty to say about how Continuity stacks up against Camo, I've also been looking forward to putting this mount through its paces to see how it compares to the other solutions explored in this guide. One thing that already puts it ahead of the other mounts in this category is not having to attach magnets like silver leeches to my laptop.
As expected, the Belkin connected firmly to the circular MagSafe zone in the middle of both the iPhone 13 and iPhone 13 Pro Max that I used for this test. I liked that it could easily be oriented in either landscape or portrait orientations, though changing from one to the other required removing the setup from the laptop screen and either twisting the mount firmly or removing entirely to reorient it. Rotating the phone while it was mounted - as the video on the Belkin site shows - could not be replicated without knocking the whole arrangement from its perch. And though the MagSafe connection is strong, it doesn't snap to any particular axis. Sometimes when it looked like the mount was attached exactly parallel to the orientation of the phone, I found when mounting it on the screen that it was off kilter, and had to readjust. Not a huge deal, apart from the illusory Belkin visuals.
Placing the mount on top of the screen is fairly straightforward, with a small plastic foot that folds out and hooks onto the top of your laptop. I tested the mount on both a 14-inch MacBook Pro and a 13-inch MacBook Air, and found - unsurprisingly - that it fit more snugly on the thicker frame of the Pro. That said, it did not feel especially precarious on the narrower Air.
On both laptops, it was simple to line up the camera lens with the centre of the screen, a big advantage over the side-mounting solutions for maintaining a good eyeline. Still, since it works only on MacBooks, it would be impossible for all but the shortest users to avoid capturing video from an unattractive low angle (this was slightly better when the phone is mounted in portrait, since the camera lens was higher).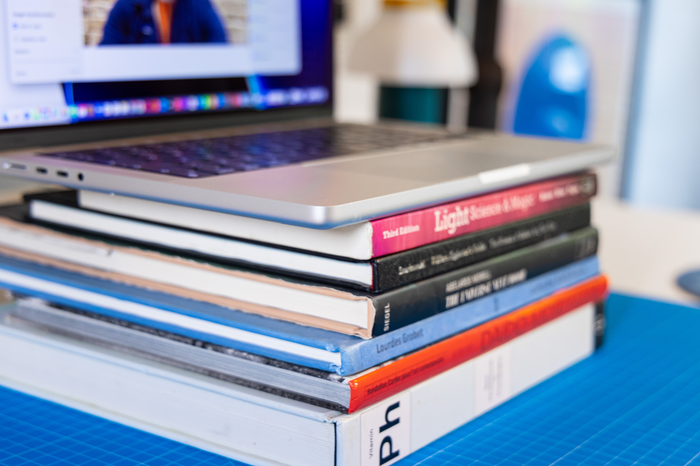 Raising your laptop as shown above is also about practicality - it keeps the screen of your laptop as close to vertical as possible, something I found to be fairly important when using all of the mounts in this category. As you'd expect from hanging something as substantial as an iPhone to the top or side of your MacBook screen, the centre of gravity shifts quite dramatically as the screen moves away from perpendicular.
In the spirit of science, I attempted to measure the precise angles at which the screens of both laptops began to collapse backward with either of the two iPhones mounted. Using a goniometer, I found that for the combination of MacBook Pro/iPhone 13 Max, the widest angle at which it remained steady for me was about 113°. With the iPhone 13, that expanded just a bit to 119°.
Knowing these angles has two upshots. First, if you tend to work with your laptop literally in your lap, with the screen leaning back fairly far (unflattering angle be damned), the mount and phone combination will yank the screen all the way back, with the laptop possibly headed for the floor. Second, even when working with your laptop situated firmly on a desk in front of you, it is important to remember the physics at play. Twice in one morning I pulled the screen slightly forward to reach something behind the laptop, only to have it slam loudly shut like a bear trap, with my phone (mount firmly attached) rocketed into my lap. No harm done to the laptop, though I don't like the idea of subjecting it to such violence on a regular basis.
In conclusion, I appreciated the convenient size and quality build of the Belkin mount, and if I conducted mostly informal video calls on my MacBook, I could see myself just keeping it attached to my iPhone for easy transport and quick deployment (the integrated ring/kickstand is also a nice touch, though it doesn't really factor into how I carry and use my phone on a daily basis). But what keeps this mount from being a solid recommend across the board is the fact that it required extra care to keep my laptop from slamming open or shut, as well as its specificity to iPhones (and only the later MagSafe generations) and MacBooks. Just as Camo works across platforms and devices, our ideal mount would be useful for both desktops and laptops, and both new and older iPhones and Android devices.
The other mounts in this category also score points for ease of use and compactness, but they leave little room for variability - once you've stuck the magnets in place, that's where you need to keep your webcam. And though these magnets held pretty well, there was a very small amount of wobbling when typing on a laptop (realistically, no more that you'd get when using the built-in webcam). Like the Belkin, they're best used with the screen as close to vertical as possible; however, for these you'll also need to keep magnets stuck to your phone (or phone case) and computer. If this idea fills you with horror then you'll want to look for a different type of attachment.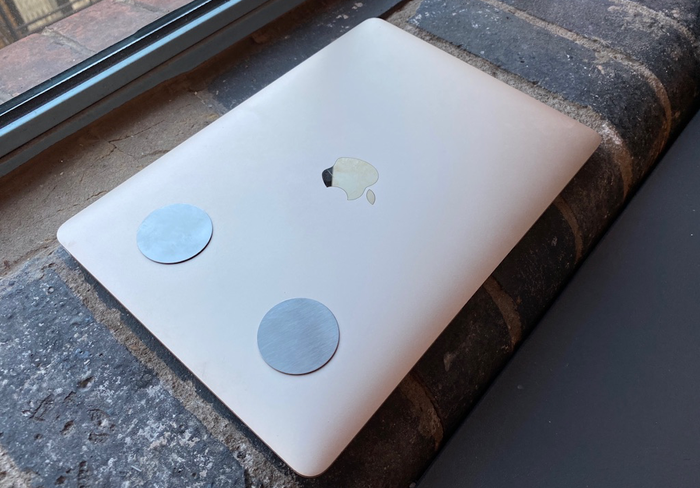 I stuck the magnet to a silicone case for my iPhone, rather than directly to the phone or to a leather case (because stickers will probably damage the leather, and I didn't want to risk marking my phone), and here's what happened when I removed the magnet: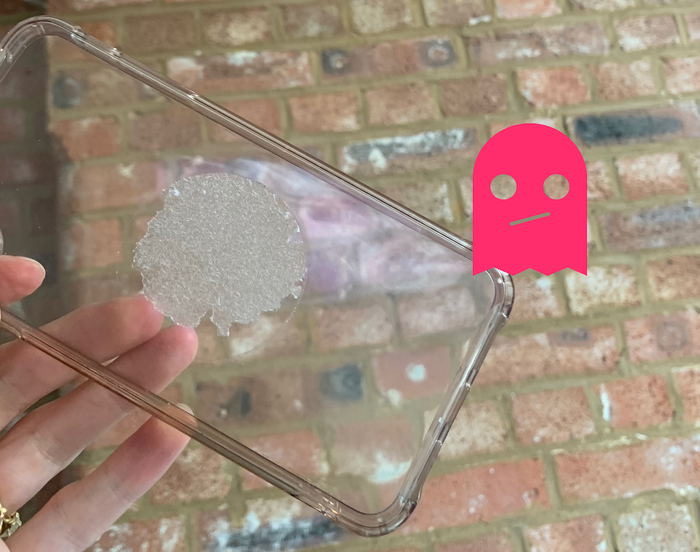 Consegui fazer esse suporte magnético funcionar com um iMac. Uma grande desvantagem desta montagem foi que não era possível conectar o iPhone ao contrário, então você só pode usar a câmera selfie com esse suporte. Você também não pode ajustar o ângulo do iPhone ao usar esta montagem, de modo que a imagem fique ligeiramente inclinada para um lado.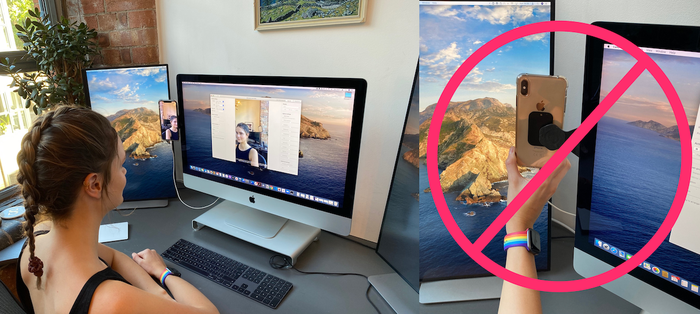 The second magnetic mount I tried was much more flexible. The IMstick phone mount was made up of one magnet attached to a wire, and a metal disk to stick to the back of your phone.
Você precisa colar pelo menos um ímã para que isso funcione, tanto no telefone quanto no computador, mas o outro pode ser mantido no lugar pelo fio. Você pode ver como eu instalei o suporte no meu computador usando o fio abaixo.

Essa é uma opção muito boa se você deseja flexibilidade ou tem uma situação de montagem complicada. Não ocupa muito espaço e, embora seja um pouco complicado configurar a montagem, uma vez feito isso, é fácil colocar e retirar o telefone.
Eu senti que meu telefone estava seguro, mas notei que ele oscilava um pouco mais do que a montagem que usava adesivos e um ímã, então eu preferi a montagem FLOVEME a esta, mas se você quiser mover sua webcam um pouco , você pode preferir este.
Suportes com fenda
Produto testado: Suporte para celular YUYITEK, Reino Unido £ 14,99, US $ 14,99
These let you rest your phone in place, rather than holding it securely. As such, they're easy to get your phone in and out of, but they will wobble when you type. I found it was more difficult to get a good angle when using this slotted holder than with any other mount, as the phone couldn't be adjusted as easily with these mounts, and would often fall into a different position, anyway.

O suporte com fenda é conectado ao computador com um clipe muito resistente. Consegui anexar isso ao meu iMac, mas, devido à parte traseira curvada do computador, deixá-lo lá por um longo período de tempo pode fazer com que ele repita inesperadamente. Eu nem queria tentar usar esse clipe com o meu laptop, pois o anexo é tão apertado que parecia danificar a tela.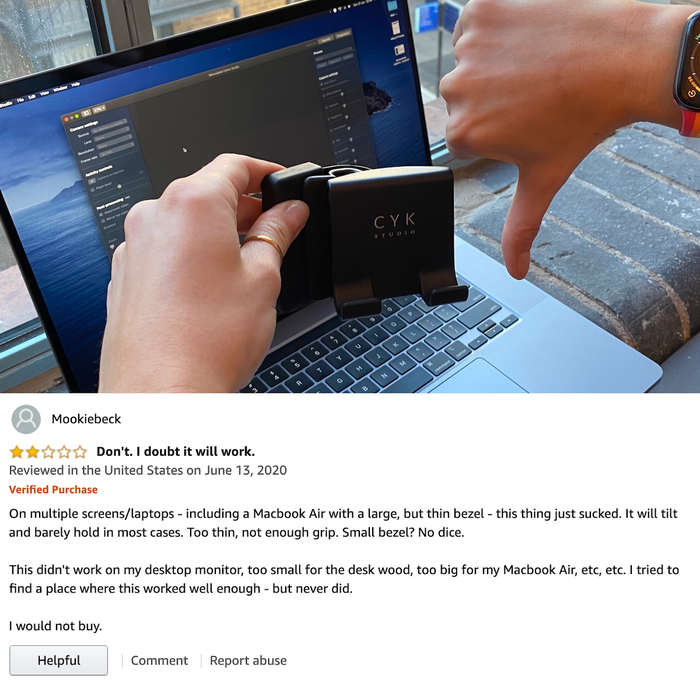 Gimbals
Produto testado: Zhiyun Smooth 4 Estabilizador de Cardan de Mão de 3 Eixos, Reino Unido £ 89,00, US $ 99,00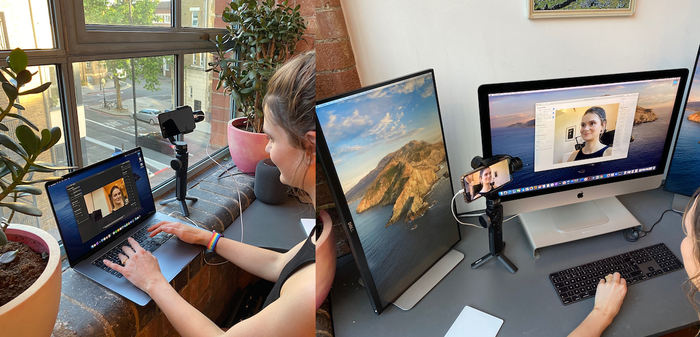 I tried using a gimbal as a webcam, but it was a pretty impractical choice. The height of the gimbal isn't adjustable, so you'll either end up with your camera too high, or too low for your screen (as the image above shows, this works a little better with a laptop than a desktop, but neither is ideal). Yes, your gimbal will keep your phone stabilised while it's being held, but, provided you're not moving your webcam around while you're talking, there really isn't any benefit to this feature for webcam purposes. Additionally, the gimbal I used periodically turned itself off, causing the phone to drop down, and inserting an iPhone XS Max into the gimbal kept triggering SOS calls. You'd also need to keep your gimbal charged in advance of your calls.
Se você já possui um cardan e está convencido de que não deseja mais nenhum acessório técnico, tente fazê-lo, mas tente iniciar com uma ligação casual, em vez de uma reunião importante .
Docas para iPhone e teclados inteligentes
Produtos testados:
Se você possui uma estação de acoplamento para o seu iPhone, pode usá-lo ou pode usar um iPad se tiver um estojo que funcione como um suporte. Nem lhe dará um ângulo muito bom, mas ambos funcionam. Você também precisará usar a câmera selfie para essas duas opções, a menos que encontre uma maneira de elevar o dispositivo ao nível da cabeça.

Improvisado / DIY
E se você precisar de uma webcam agora e não tiver nenhuma das opções acima? Fizemos algumas experiências e descobrimos que talvez o melhor suporte improvisado possa ser pavimentado com uma pilha de livros e uma xícara de café / caixa de papelão: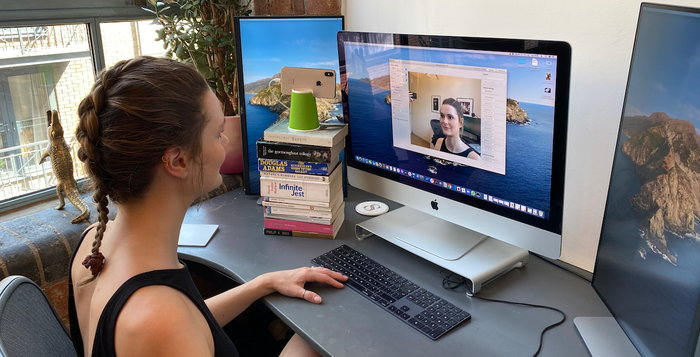 It's bulky, it doesn't look great, and your phone might wobble around a bit if you're doing a lot of typing, but it's a quick and easy solution to start using your phone as a webcam today.
Tem uma posição improvisada melhor? Encontrou uma montaria melhor? Deixe-nos saber nos comentários abaixo.