Erste Schritte mit Camo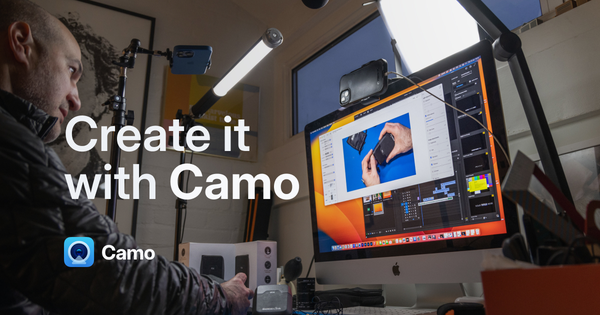 To get started, you'll need to install Camo Studio on your computer and get Camo on your iOS or Android device. We recommend installing the mobile app first.
Get Camo on your mobile device
Camo ist im App Store und im Google Play Store erhältlich . Sie finden es auf beiden, indem Sie nach "camo" suchen.
Camo Studio auf Ihrem Computer installieren
Nachdem Sie die App auf Ihr Mobilgerät heruntergeladen haben, können Sie die Computer-App direkt von Camo aus teilen.
To share from iOS to macOS, AirDrop the desktop app to your Mac by tapping the AirDrop icon on the Getting Started screen.
To share to Windows, tap Send Link from the Getting Started screen on Android or iOS.
Alternatively, you can download and unzip Camo Studio for macOS here and Windows here.
Once you've downloaded Camo Studio, double-click the Camo icon to install it.
On Windows, check the box to accept our license agreement and click Install.
On Mac, grant Camo permission to install. It will move itself to "Applications", and set up a plugin to let video conferencing apps see and use it.
On both Windows and Mac, Camo Studio will also ask if you want it to automatically check for updates. We recommend that you allow these, as we release updates regularly to stay compatible with a wide range of video apps and add new features and improvements.
Camo und Camo Studio koppeln
Camo lets you connect your mobile device to Camo Studio via either Wi-Fi or USB. We recommend pairing over USB for your first session as it offers the best video latency and connection stability.
If you are using an Android device and are looking to connect to a Windows computer, the easiest way to pair is via Wi-Fi as the process to pair through USB is more complex in this case.
Find out more about the trade-offs between Wi-Fi and USB connections.
Pairing Camo over Wi-Fi
Pairing Camo with Camo Studio over Wi-Fi is simple and works the same for iOS and Android devices:
On your computer, open Camo Studio and tap the + button next to the Device dropdown in the left sidebar. This will open a pairing window displaying a QR code.
In Camo on your mobile device, tap the wireless connection button in the top-right and then scan the QR code displayed on your computer.
Your devices should connect automatically and video from your mobile device should start streaming through to Camo Studio.
The minimum requirements for pairing over Wi-Fi on Apple devices is macOS Catalina (10.15, released in 2019) and iOS 13 (released in 2019). All supported versions of Windows and Android are compatible with Wi-Fi pairing.
If you encounter any issues pairing your devices via Wi-Fi, check out our handy troubleshooting tips or try connecting over USB.
Pairing Camo on iOS over USB
Pairing Camo running on iOS is automatic on both macOS and Windows. Plug your device into your computer using a standard Lightning cable and, after a couple seconds, you should see video from your device appear in Camo Studio.
Pairing Camo on Android over USB
The steps for pairing Camo for Android differ depending on whether you're pairing to a Windows PC or a Mac.
Your Android should connect automatically to your Mac over USB. If you previously followed the steps below to connect to Windows, make sure USB debugging is turned off by searching for Developer Options → USB debugging and unticking it.
To pair Android to Windows, you'll need to turn on USB debugging. The instructions to do this vary slightly depending on the Android phone you're using. We've outlined the process below using a Samsung Galaxy S20.
Wenn Sie Hilfe beim Aktivieren des USB-Debugging für Ihr Android-Gerät benötigen, kontaktieren Sie uns bitte und wir führen Sie durch den Vorgang für Ihr spezielles Telefon.
To turn on USB debugging:
Verbinden Sie Ihr Telefon mit Ihrem Computer und öffnen Sie Camo Studio. Sie sollten den folgenden Bildschirm sehen:

Camo Studio zeigt die erforderlichen Schritte zum Herstellen einer Verbindung mit Windows

Befolgen Sie diese Schritte auf Ihrem Android, um Ihr Gerät zu konfigurieren:

Go to Settings, search for Build number and tap it 7 times.

Now search for Developer Options in Settings, scroll down to USB debugging and tick to turn it on.

Selecting Always allow from this computer means you will only need to do this once.

Die Bilder zeigen die Debugging-Schritte auf einem Samsung Galaxy S20
Camo aktivieren
Für die Verwendung von Camo müssen Sie nicht bezahlen, und die kostenlose Version bietet alles, was Sie benötigen, um Ihr iPhone als hochwertige Webcam zu verwenden. Wenn Sie jedoch die gesamte Leistung von Camo freischalten möchten, können Sie ein Upgrade durchführen, indem Sie oben rechts in Camo Studio auf die Schaltfläche "Upgrade" klicken.
Daraufhin wird ein Fenster wie das folgende mit Schaltflächen unten angezeigt, mit denen Sie eine Lizenz kaufen oder eine Lizenz aktivieren können. Wenn Sie auf "Jetzt kaufen" klicken, gelangen Sie zur Kasse von Camo, um eine Lizenz zu kaufen.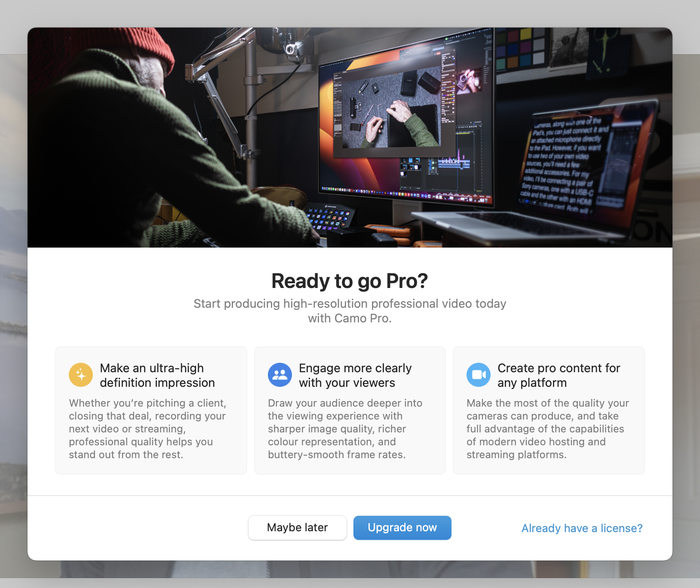 Sobald Sie Camo gekauft haben, erhalten Sie eine E-Mail mit einem Benutzernamen und einem Passwort zum Aktivieren von Camo. Kehren Sie zum Upgrade von Camo Studio zurück und wählen Sie Activate license , um Ihre Anmeldeinformationen einzugeben und Camo Pro zu verwenden.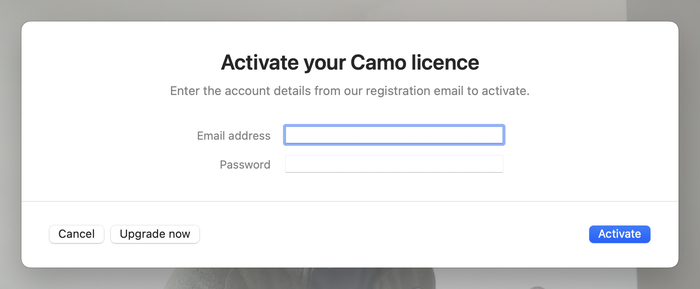 Wenn Sie das Browserfenster geschlossen haben, in dem Sie Camo gekauft haben, und die E-Mail nicht finden können, suchen support@reincubate.com in Ihrem Posteingang nach support@reincubate.com und überprüfen Sie Ihren Spam. Kontaktieren Sie uns, wenn Sie nicht weiterkommen oder Hilfe benötigen!