Comenzando con Camo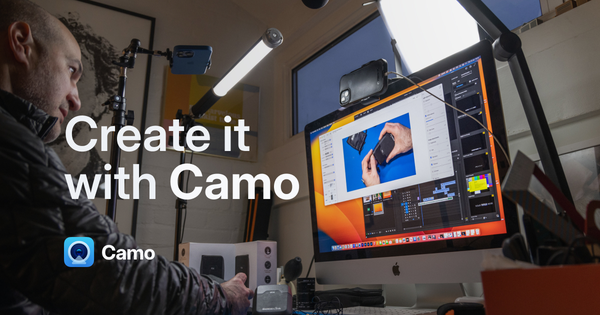 To get started, you'll need to install Camo Studio on your computer and get Camo on your iOS or Android device. We recommend installing the mobile app first.
Get Camo on your mobile device
Camo está disponible en App Store y Google Play Store . Puedes encontrarlo en ambos buscando "camuflaje".
Instalación de Camo Studio en su computadora
Una vez que haya descargado la aplicación en su dispositivo móvil, puede compartir la aplicación de la computadora directamente desde Camo.
To share from iOS to macOS, AirDrop the desktop app to your Mac by tapping the AirDrop icon on the Getting Started screen.
To share to Windows, tap Send Link from the Getting Started screen on Android or iOS.
Alternatively, you can download and unzip Camo Studio for macOS here and Windows here.
Once you've downloaded Camo Studio, double-click the Camo icon to install it.
On Windows, check the box to accept our license agreement and click Install.
On Mac, grant Camo permission to install. It will move itself to "Applications", and set up a plugin to let video conferencing apps see and use it.
On both Windows and Mac, Camo Studio will also ask if you want it to automatically check for updates. We recommend that you allow these, as we release updates regularly to stay compatible with a wide range of video apps and add new features and improvements.
Emparejamiento de Camo y Camo Studio
Camo lets you connect your mobile device to Camo Studio via either Wi-Fi or USB. We recommend pairing over USB for your first session as it offers the best video latency and connection stability.
If you are using an Android device and are looking to connect to a Windows computer, the easiest way to pair is via Wi-Fi as the process to pair through USB is more complex in this case.
Find out more about the trade-offs between Wi-Fi and USB connections.
Pairing Camo over Wi-Fi
Pairing Camo with Camo Studio over Wi-Fi is simple and works the same for iOS and Android devices:
On your computer, open Camo Studio and tap the + button next to the Device dropdown in the left sidebar. This will open a pairing window displaying a QR code.
In Camo on your mobile device, tap the wireless connection button in the top-right and then scan the QR code displayed on your computer.
Your devices should connect automatically and video from your mobile device should start streaming through to Camo Studio.
The minimum requirements for pairing over Wi-Fi on Apple devices is macOS Catalina (10.15, released in 2019) and iOS 13 (released in 2019). All supported versions of Windows and Android are compatible with Wi-Fi pairing.
If you encounter any issues pairing your devices via Wi-Fi, check out our handy troubleshooting tips or try connecting over USB.
Pairing Camo on iOS over USB
Pairing Camo running on iOS is automatic on both macOS and Windows. Plug your device into your computer using a standard Lightning cable and, after a couple seconds, you should see video from your device appear in Camo Studio.
Pairing Camo on Android over USB
The steps for pairing Camo for Android differ depending on whether you're pairing to a Windows PC or a Mac.
Your Android should connect automatically to your Mac over USB. If you previously followed the steps below to connect to Windows, make sure USB debugging is turned off by searching for Developer Options → USB debugging and unticking it.
To pair Android to Windows, you'll need to turn on USB debugging. The instructions to do this vary slightly depending on the Android phone you're using. We've outlined the process below using a Samsung Galaxy S20.
Si necesita ayuda para activar la depuración USB para su dispositivo Android, comuníquese con nosotros y lo guiaremos a través del proceso para su teléfono específico.
To turn on USB debugging:
Conecte su teléfono a su computadora y abra Camo Studio. Debería ver la siguiente pantalla:

Camo Studio muestra los pasos necesarios para conectarse a Windows

Siga estos pasos en su Android para configurar su dispositivo:

Go to Settings, search for Build number and tap it 7 times.

Now search for Developer Options in Settings, scroll down to USB debugging and tick to turn it on.

Selecting Always allow from this computer means you will only need to do this once.

Las imágenes muestran los pasos de depuración en un Samsung Galaxy S20
Activando Camo
No es necesario pagar para usar Camo, y la edición gratuita ofrece todo lo que necesita para usar su iPhone como una cámara web de alta calidad. Sin embargo, si desea desbloquear todo el poder de Camo, puede actualizar haciendo clic en el botón "Actualizar" en la parte superior derecha de Camo Studio.
Eso mostrará una ventana como la siguiente, con botones en la parte inferior para comprar una licencia o activar una licencia. Al hacer clic en "Comprar ahora", irá a la caja de Camo para comprar una licencia.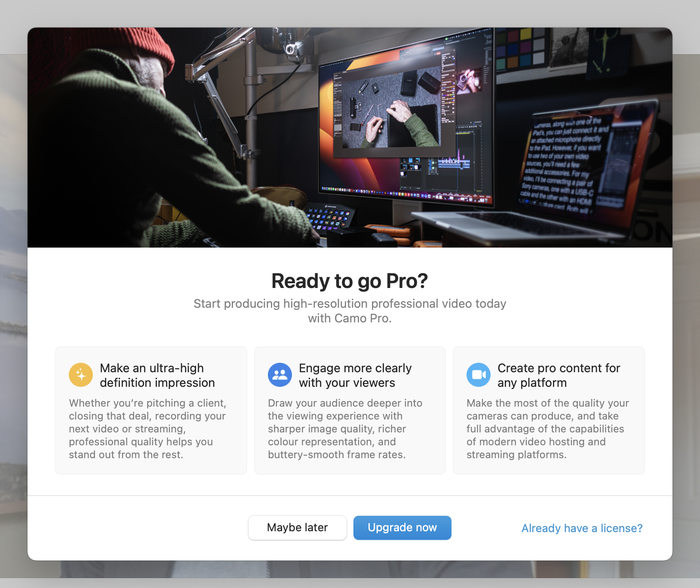 Una vez que haya comprado Camo, recibirá un correo electrónico con un nombre de usuario y contraseña para activar Camo. Regrese a la Upgrade Camo Studio y seleccione Activate license para ingresar sus credenciales y comenzar a usar Camo Pro.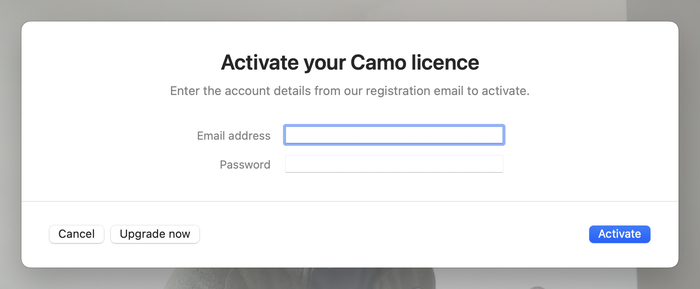 Si ha cerrado la ventana del navegador que utilizó para comprar Camo y no puede encontrar el correo electrónico, busque support@reincubate.com en su bandeja de entrada y verifique su correo no deseado. ¡Contáctanos si te quedas atascado o necesitas ayuda!