Iniziare con Camo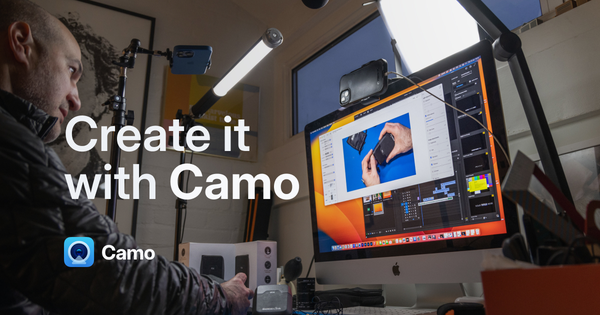 To get started, you'll need to install Camo Studio on your computer and get Camo on your iOS or Android device. We recommend installing the mobile app first.
Get Camo on your mobile device
Camo è disponibile su App Store e Google Play Store . Puoi trovarlo su entrambi cercando "camo".
Installazione di Camo Studio sul tuo computer
Dopo aver scaricato l'app sul tuo dispositivo mobile, puoi condividere l'app per computer direttamente da Camo.
To share from iOS to macOS, AirDrop the desktop app to your Mac by tapping the AirDrop icon on the Getting Started screen.
To share to Windows, tap Send Link from the Getting Started screen on Android or iOS.
Alternatively, you can download and unzip Camo Studio for macOS here and Windows here.
Once you've downloaded Camo Studio, double-click the Camo icon to install it.
On Windows, check the box to accept our license agreement and click Install.
On Mac, grant Camo permission to install. It will move itself to "Applications", and set up a plugin to let video conferencing apps see and use it.
On both Windows and Mac, Camo Studio will also ask if you want it to automatically check for updates. We recommend that you allow these, as we release updates regularly to stay compatible with a wide range of video apps and add new features and improvements.
Abbinamento Camo e Camo Studio
Camo lets you connect your mobile device to Camo Studio via either Wi-Fi or USB. We recommend pairing over USB for your first session as it offers the best video latency and connection stability.
If you are using an Android device and are looking to connect to a Windows computer, the easiest way to pair is via Wi-Fi as the process to pair through USB is more complex in this case.
Find out more about the trade-offs between Wi-Fi and USB connections.
Pairing Camo over Wi-Fi
Pairing Camo with Camo Studio over Wi-Fi is simple and works the same for iOS and Android devices:
On your computer, open Camo Studio and tap the + button next to the Device dropdown in the left sidebar. This will open a pairing window displaying a QR code.
In Camo on your mobile device, tap the wireless connection button in the top-right and then scan the QR code displayed on your computer.
Your devices should connect automatically and video from your mobile device should start streaming through to Camo Studio.
The minimum requirements for pairing over Wi-Fi on Apple devices is macOS Catalina (10.15, released in 2019) and iOS 13 (released in 2019). All supported versions of Windows and Android are compatible with Wi-Fi pairing.
If you encounter any issues pairing your devices via Wi-Fi, check out our handy troubleshooting tips or try connecting over USB.
Pairing Camo on iOS over USB
Pairing Camo running on iOS is automatic on both macOS and Windows. Plug your device into your computer using a standard Lightning cable and, after a couple seconds, you should see video from your device appear in Camo Studio.
Pairing Camo on Android over USB
The steps for pairing Camo for Android differ depending on whether you're pairing to a Windows PC or a Mac.
Your Android should connect automatically to your Mac over USB. If you previously followed the steps below to connect to Windows, make sure USB debugging is turned off by searching for Developer Options → USB debugging and unticking it.
To pair Android to Windows, you'll need to turn on USB debugging. The instructions to do this vary slightly depending on the Android phone you're using. We've outlined the process below using a Samsung Galaxy S20.
Se hai bisogno di aiuto per attivare il debug USB per il tuo dispositivo Android, contattaci e ti guideremo attraverso il processo per il tuo telefono specifico.
To turn on USB debugging:
Collega il telefono al computer e apri Camo Studio. Dovresti vedere la seguente schermata:

Camo Studio mostra i passaggi necessari per connettersi a Windows

Segui questi passaggi sul tuo Android per configurare il tuo dispositivo:

Go to Settings, search for Build number and tap it 7 times.

Now search for Developer Options in Settings, scroll down to USB debugging and tick to turn it on.

Selecting Always allow from this computer means you will only need to do this once.

Le immagini mostrano i passaggi di debug su un Samsung Galaxy S20
Attivazione di Camo
Non è necessario pagare per utilizzare Camo e l'edizione gratuita fornisce tutto ciò di cui hai bisogno per utilizzare il tuo iPhone come webcam di alta qualità. Tuttavia, se desideri sbloccare tutta la potenza di Camo, puoi eseguire l'upgrade facendo clic sul pulsante "Aggiorna" in alto a destra di Camo Studio.
Questo mostrerà una finestra come la seguente, con i pulsanti in basso per acquistare una licenza o attivare una licenza. Fare clic su "Acquista ora" ti porterà alla cassa di Camo per acquistare una licenza.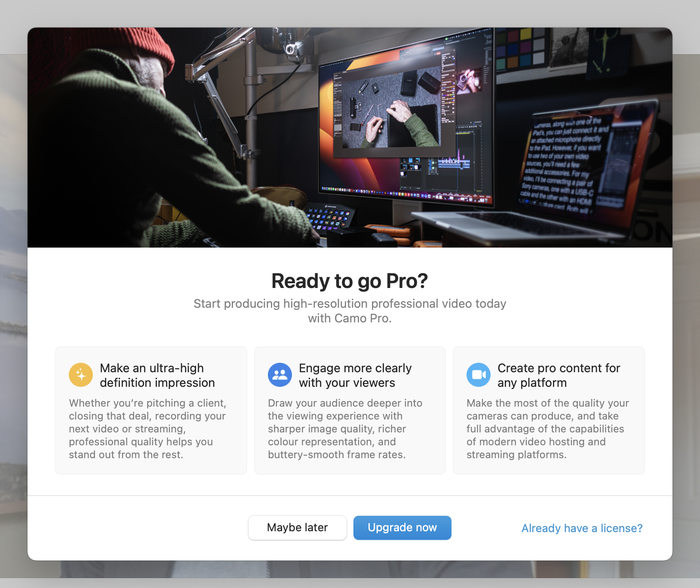 Dopo aver acquistato Camo, riceverai un'e-mail con un nome utente e una password per l'attivazione di Camo. Torna di Camo Studio Upgrade e selezionare Activate license di immettere le credenziali e iniziare a utilizzare Camo Pro.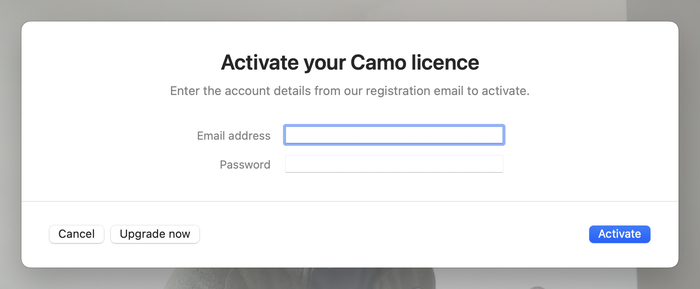 Se hai chiuso la finestra del browser che utilizzavi per acquistare Camo e non riesci a trovare l'email, cerca support@reincubate.com nella tua casella di posta e controlla lo spam. Contattaci se rimani bloccato o hai bisogno di aiuto!