迷彩入门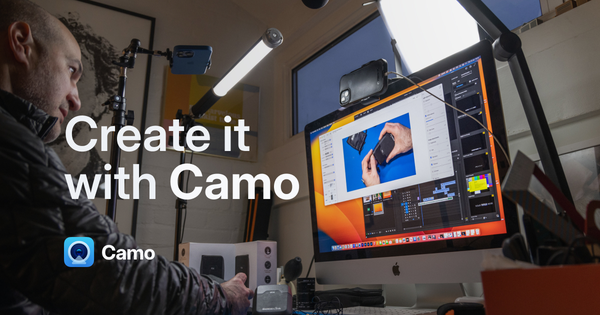 To get started, you'll need to install Camo Studio on your computer and get Camo on your iOS or Android device. We recommend installing the mobile app first.
Get Camo on your mobile device
迷彩可在App Store和Google Play Store 上获得。您可以通过搜索"camo"在两者上找到它。
在您的计算机上安装 Camo Studio
将应用程序下载到移动设备后,您可以直接从 Camo 共享计算机应用程序。
To share from iOS to macOS, AirDrop the desktop app to your Mac by tapping the AirDrop icon on the Getting Started screen.
To share to Windows, tap Send Link from the Getting Started screen on Android or iOS.
Alternatively, you can download and unzip Camo Studio for macOS here and Windows here.
Once you've downloaded Camo Studio, double-click the Camo icon to install it.
On Windows, check the box to accept our license agreement and click Install.
On Mac, grant Camo permission to install. It will move itself to "Applications", and set up a plugin to let video conferencing apps see and use it.
On both Windows and Mac, Camo Studio will also ask if you want it to automatically check for updates. We recommend that you allow these, as we release updates regularly to stay compatible with a wide range of video apps and add new features and improvements.
配对迷彩和迷彩工作室
Camo lets you connect your mobile device to Camo Studio via either Wi-Fi or USB. We recommend pairing over USB for your first session as it offers the best video latency and connection stability.
If you are using an Android device and are looking to connect to a Windows computer, the easiest way to pair is via Wi-Fi as the process to pair through USB is more complex in this case.
Find out more about the trade-offs between Wi-Fi and USB connections.
Pairing Camo over Wi-Fi
Pairing Camo with Camo Studio over Wi-Fi is simple and works the same for iOS and Android devices:
On your computer, open Camo Studio and tap the + button next to the Device dropdown in the left sidebar. This will open a pairing window displaying a QR code.
In Camo on your mobile device, tap the wireless connection button in the top-right and then scan the QR code displayed on your computer.
Your devices should connect automatically and video from your mobile device should start streaming through to Camo Studio.
The minimum requirements for pairing over Wi-Fi on Apple devices is macOS Catalina (10.15, released in 2019) and iOS 13 (released in 2019). All supported versions of Windows and Android are compatible with Wi-Fi pairing.
If you encounter any issues pairing your devices via Wi-Fi, check out our handy troubleshooting tips or try connecting over USB.
Pairing Camo on iOS over USB
Pairing Camo running on iOS is automatic on both macOS and Windows. Plug your device into your computer using a standard Lightning cable and, after a couple seconds, you should see video from your device appear in Camo Studio.
Pairing Camo on Android over USB
The steps for pairing Camo for Android differ depending on whether you're pairing to a Windows PC or a Mac.
Your Android should connect automatically to your Mac over USB. If you previously followed the steps below to connect to Windows, make sure USB debugging is turned off by searching for Developer Options → USB debugging and unticking it.
To pair Android to Windows, you'll need to turn on USB debugging. The instructions to do this vary slightly depending on the Android phone you're using. We've outlined the process below using a Samsung Galaxy S20.
如果您需要帮助为您的 Android 设备打开 USB 调试,请联系我们,我们将指导您完成特定手机的流程。
To turn on USB debugging:
将手机连接到计算机并打开 Camo Studio。您应该看到以下屏幕:

Camo Studio 显示连接到 Windows 所需的步骤

在您的 Android 设备上按照以下步骤配置您的设备:

Go to Settings, search for Build number and tap it 7 times.

Now search for Developer Options in Settings, scroll down to USB debugging and tick to turn it on.

Selecting Always allow from this computer means you will only need to do this once.

图像显示了三星 Galaxy S20 上的调试步骤
激活迷彩
无需支付使用Camo的费用,免费版可提供将iPhone用作高质量网络摄像头所需的一切。但是,如果您想释放Camo的全部功能,则可以通过单击Camo Studio右上方的"升级"按钮进行升级。
这将显示如下窗口,底部带有按钮,用于购买许可证或激活许可证。单击"立即购买"将带您到Camo的结帐处购买许可证。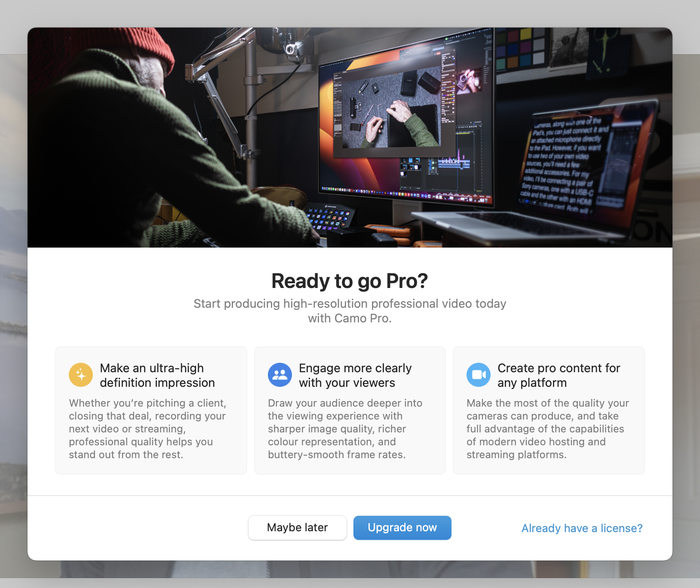 购买迷彩后,您会收到一封电子邮件,其中包含用于激活迷彩的用户名和密码。返回Camo Studio的" Upgrade然后选择" Activate license以输入您的凭据并开始使用Camo Pro。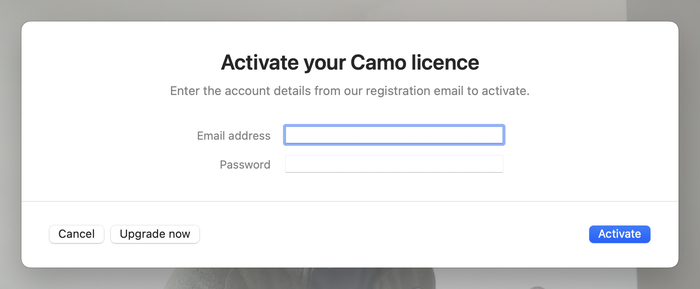 如果您关闭了用于购买Camo的浏览器窗口,但找不到电子邮件,请在收件箱中搜索support@reincubate.com并检查您的垃圾邮件。如果您遇到困难或需要帮助,请与我们联系 !