Introducing Camo 1.2: Breaking the sound barrier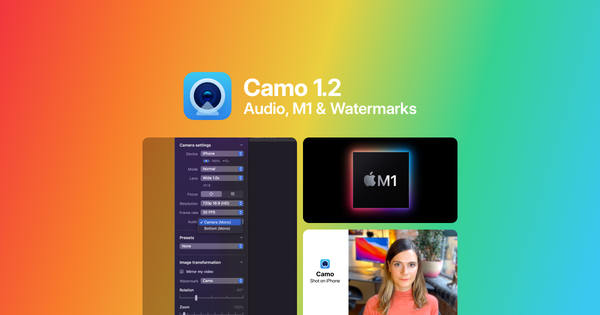 When we shipped Camo this summer we made it easy for anyone to get broadcast-quality video without needing to buy more hardware, and we built on that with last month's Camo 1.1 update.
Today we're launching Camo 1.2 and breaking into audio by adding support for your phone's built-in array of microphones, creating a more cohesive experience and opening up new possibilities for users struggling with missing or low-quality mics. Why just look great? You should sound great, too.
Camo users on computers with Mac Minis and some Windows PC have been asking us for this since Camo launched. Those devices, which lack dedicated cameras and audio devices can now be used to join calls and stream without needing to buy any new kit, with Camo providing the sound and audio from your iPhone or iPad.
When you connect your device to Camo Studio in 1.2, you'll see your microphone options appear in the Audio Settings section of the Camo Studio interface. Some devices will have more than one microphone option. If you're using the back camera of your iPhone with Camo, we recommend the "Camera" option as that mic is located next to the rear lens cluster on your device.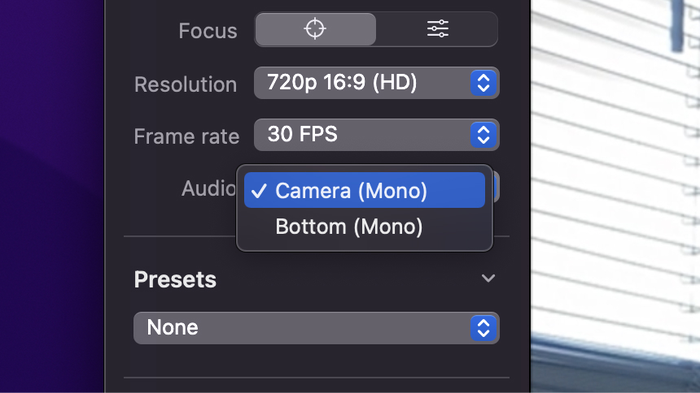 Of course, you can still use a separate external microphone with Camo. To change your microphone on calls, select the audio dropdown in the settings menu of your calling or streaming software, as usual.
Not only but also: M1 support and custom watermarks
Typically, we'll put big new bits of functionality in milestone releases like 1.2, but in the last weeks we shipped two other features in our 1.1.3 that we've not shouted about:
First, Camo Studio now has full M1 ("Apple Silicon") support, so that it runs natively on Apple's new M1 MacBook Pros. We're committed to taking advantage of the incredible new hardware that Apple provides us with, both for macOS and iOS.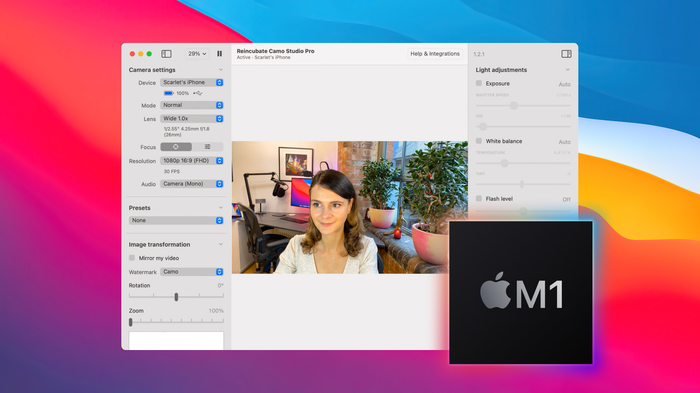 Secondly, we added support for custom watermarks. Watermarks provide a neat way to users to add overlays or lower thirds to their video. Users can use watermarks to personalise their video, and signal important information to viewers and others on calls and streams, such as one's name, job title, or company, or to add handy logos, images or slides.
Creating your own custom watermarks is straightforward, and Camo includes a link to a template you can use, along with some examples.
We're excited to hear what users think of these new features – we hope you love them. In the meantime, we're continuing to chip away at the Camo roadmap; we've got lots more to come!