With over a decade's experience helping with iPhone and iPad backups, we've rounded up some of our top tips.
Should I use local iTunes backups instead of iCloud backups?
You can copy and save the data on your iPhone or iPad by backing up in iCloud or iTunes, and we explore the differences between iTunes and iCloud backups in more detail in our knowledge-base. Check it out, as we also talk about how to back up your iOS device.
Here's how to recover your iTunes iOS backup data without iTunes -- or the iOS device itself.
Where are iTunes backups stored?
The default iTunes backup location depends on whether you're using a PC or Mac. iTunes backups can be found in the following directories:
On Windows 10 and recent versions of Windows, backups are stored in: \Users\(username)\AppData\Roaming\Apple Computer\MobileSync\Backup\

On Macs, backups are stored in: \Users\(username)\Library\Application Support\MobileSync\Backup\
There are a few special cases. For instance, the Windows Store version of iTunes uses a different location, and so does iTunes on Windows XP. We maintain the latest default iTunes backup locations here, and have instructions on how to change the default iTunes backup folder.
When I look in my iTunes backup folder I just see random files, which is which? What are those files in my iTunes backup folder?
iTunes backup folders contain files named according to hex-encoded SHA-1 hashes. Their filenames can differ based on the type of data and the version of iOS that created the backup.
We maintain an up-to-the-minute summary of these iTunes backup files here but have included a short summary below for recent versions of iOS:
| Contents | Real filename | Backup filename |
| --- | --- | --- |
| SMS | sms.db | 3d0d7e5fb2ce288813306e4d4636395e047a3d28 |
| Contacts | AddressBook.sqlitedb | 31bb7ba8914766d4ba40d6dfb6113c8b614be442 |
| Calendar | Calendar.sqlitedb | 2041457d5fe04d39d0ab481178355df6781e6858 |
| Notes | NoteStore.sqlite | 4f98687d8ab0d6d1a371110e6b7300f6e465bef2 |
| Call history | call_history.db | 2b2b0084a1bc3a5ac8c27afdf14afb42c61a19ca |
iTunes won't restore my iPhone backup
If iTunes won't restore your iPhone backup, it probably means its corrupt.
We publish a list of steps for diagnosing problems restoring iTunes backups. If that doesn't resolve the problem, see the next question.
Can I recover a corrupt iTunes backup?
Yes. We've got a comprehensive guide on how to repair corrupt backups and recover your data. If you're still stuck, reach out to our support team as we can probably help further. There's a lot of fiddly stuff we can help you with.
How can I recover lost files after a failed iOS update
One of the most common causes for iPhone data loss is a failed iOS update. The steps in the first part of this guide will take you through pulling files from your iTunes backup.
Depending on where the process went wrong, you may need to restore your phone from a backup before starting the update process again. Good luck -- and don't forget to reach out to our support team if you get stuck.
What's in an iOS backup?
The contents of an iOS backup vary, depending on whether it is encrypted, made locally (with iTunes or macOS) or stored in iCloud.
In most cases, contacts, notes, photos, calendar, texts, and so on, are backed up. We've got a concise summary of just what is and isn't in an iTunes backup.
How can I speed up a slow iTunes backup process?
We once had a user write in after his backup had taken more than 36 hours. That's crazy — and it led us to publish an article on how to speed up a slow iTunes backup.
Can I get data from iPad backups and iPod Touch backups?
Absolutely, yes! You'll see we tend to write about iPhone backups, but the format and functionality is exactly the same for iPad and iPod Touch backups. Anything we describe for iPhone backups will also work for iTunes backups created for the iPad or iPod Touch.
Can I find my phone number, IMEI or serial in an iTunes backup?
You certainly can. These are all shown under the "Info" tab of iPhone Backup Extractor. You can see IMEI, serial, and a range of other fields. You can read about all of that data in our explainer of the "Info" view.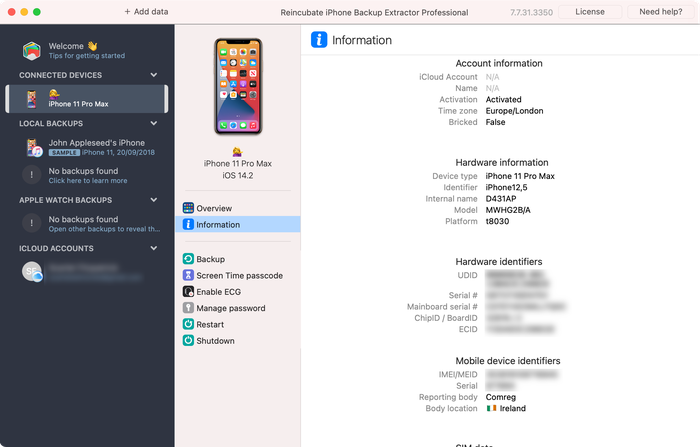 Is it possible to extract data from a very old iOS backup, like iOS 3?
Yes. We painstakingly support backups from every version of iOS. We started back in 2008, after our founder lost his data with an upgrade to iOS 2. Phew! If you get stuck on an older version, get in touch with us.
How can I edit an iTunes backup?
iPhone Backup Extractor lets you edit any iTunes backup: by using "Expert mode", you can edit or replace any file in your backup, or add new ones.
Can I copy a Windows iTunes backup to a Mac, or vice versa? Are iTunes backups portable?
Yes, iTunes backups are created in the same format by Macs and Windows, and can be moved from one to another. You can even put them in Dropbox or on a shared drive.
Can I back up with iTunes wirelessly?
To get backups working with iTunes over Wi-Fi, you need run through these steps:
Connect with USB and open the iPhone section on iTunes.
Tick "Sync with this iPhone over Wi-Fi".
Ensure "This computer" is the backup location, not "iCloud".
Hit "Done" at the bottom of iTunes.
We've got more detailed instructions on how to do this here.
How can I browse iTunes backups?
iPhone Backup Extractor has a free iTunes backup browser built-in. Once you load it (see our guide) it'll automatically show all of your iTunes backups and let you browse them.
Can I restore a backup from one iOS version to another? Can you convert iTunes backup versions?
It depends. You can't restore a backup from a newer version of iOS than a device is running. You can usually restore an older version, but it depends what has changed between versions. In some cases Apple make substantial changes between revisions to iOS, meaning that there's a big difference between iOS 11.3 and 11.4, for instance. If you try that, it'll appear to work, and you'll get most of your data.
We've got a detailed guide on techniques for restoring data like this to your iPhone.