iPhone Backup Extractor overview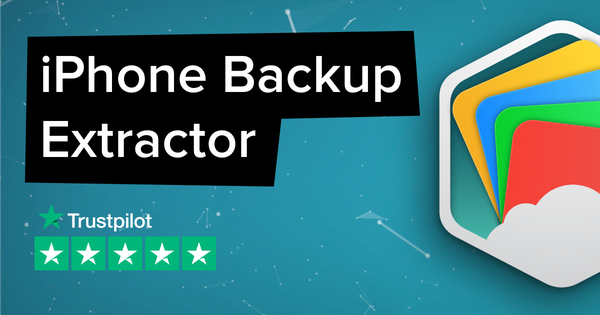 iPhone Backup Extractor can extract files from iPhone backups and iCloud for your iPhone, iPad, or iPod Touch data. It works with all versions of iOS, and any mobile Apple device.
Our product page explains the details, but we've included a summary below to get you started.
Key features of iPhone Backup Extractor
Free edition which lets you fully navigate, preview and extract files from your backups
Easy export of Apple's integrated apps: call history, Safari, notes, contacts, voicemail, recordings, iCloud Photo Library, iCloud PhotoStream
Support for the messaging apps you use: iMessage, SMS, MMS, WhatsApp, Kik, Hike, Line, Viber, WeChat
Support for all sorts of third-party apps -- Tinder, Viber, etc. -- and thousands of others through our industry-leading "App View" and "Expert Mode"
Easy-to-use drag and drop support throughout the app
Exports of forensically sound data in handy formats: VCard, VCF, ICal, and beautiful PDFs
Forensics grade data undeletion (Don't believe us? Try it!)
Support for encrypted iTunes backups and all their data
Support for iCloud data
Support for Apple  Watch data
Backup editing and data restoration
Built in London, England, and recognised by HM Queen Elizabeth Ⅱ. 👑
Proudly supported by a fanatical support team, leading Trustpilot to rate us in the top 10 most loved software companies in the UK 🇬🇧. Why not send us an email or drop us a chat message?
Supported data
Reincubate iPhone Backup Extractor supports data directly from a number of Apple and third-party apps.
Supported Apple data
iPhone backups (from Finder, iTunes, or any other backup)
Notes
Call history
Safari browser history
Voicemail
Recordings
Supported third-party data
Additional third-party data
iPhone Backup Extractor also supports a huge number of additional third-party applications via its "App View" and "Expert Mode" functions, recovering data from both iPhone backups and iCloud.
Compatibility
Windows and macOS
iPhone Backup Extractor runs on any modern Mac (macOS 10.11 or newer) and any modern PC (Windows 7 SP1 or newer).
iOS
iPhone Backup Extractor works will all versions of iOS, and all iOS devices including iPhones, iPads, and the iPod Touch.
iCloud
Status
Notes
✅
Real-time iCloud data OK for all iOS versions, with or without 2FA.
⚠️
iCloud backup data retrieval not possible as of May 2020, following Apple's Q4 2018, Q3 2019 and Q2 2020 changes. There are three alternatives:

Our support team can guide you through creating a temporary iTunes backup as a workaround
Our support team are able to convert iCloud backups to iTunes on request
Using real-time iCloud data, by choosing the account (rather than the backup) from the left-hand navigation in iPhone Backup Extractor

Users may see "This backup cannot currently be accessed" in the meantime.