How to back up an iPhone — three simple ways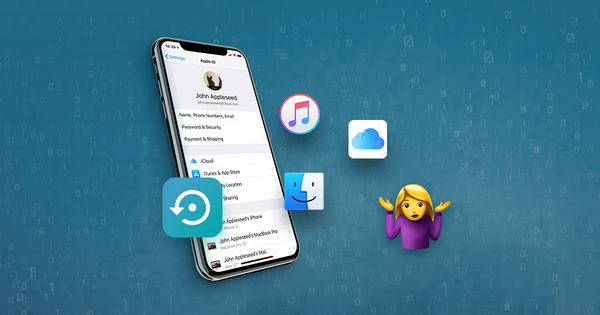 What is a backup?
A backup is a direct copy of all of the important data on your iPhone (read more: What is stored in an iPhone or iCloud backup?). You can use a backup to safeguard your data in the event that you lose or break your iPhone.
Do I really need to backup my iPhone?
If you keep important data on you iPhone, then you need to keep a backup of your data. If you lose or break an iPhone without a backup, you can also lose your photos, contacts and message history. Backing up your phone prevents this data from being permanently lost
Backing up your iPhone is simple, and there are three main ways that you can backup your device. You can use a backup extractor, iCloud, or iTunes (those with macOS 10.15 or later can use Finder instead of iTunes). The functionality is free in all of these applications.
Before we look at each of these methods in more detail, bear in mind that making a new backup overwrites any pre-existing one. So, if you're looking to recover data from your device, you should not rush to create a new backup until you have examined the existing one.
How to backup your iPhone with iPhone Backup Extractor
iPhone Backup Extractor can create backups of your iPhone on Windows or macOS over WiFi or a USB connection -- without the need for you to have iTunes installed. You can also use this method to access the information inside your backup.
To create a backup using iPhone Backup Extractor, follow these steps:
Connect your iPhone or iPad to your computer with a USB cable.
Run iPhone Backup Extractor.
Select your device from the left-hand menu.

Choose Utilities or click Backup.

The "Backup" button in iPhone Backup Extractor

Click Start. iPhone Backup Extractor will prompt you to set a password on your backup in order to keep your data safe and secure.

iPhone Backup Extractor's backup creation wizard
Summary: Using iPhone Backup Extractor to backup your iPhone is fast and free, and allows you to access the data within your backup, but you'll need to have access to a Mac or PC.
How to backup your iPhone with iCloud
Many people choose to use iCloud, Apple's default option, to backup their iPhone data, because data can be backed up directly from your phone.
Here's how to trigger creation of a backup using iCloud:
On your iPhone, go into Settings
Select [your name] (at the very top of the screen)
Select iCloud
Choose iCloud Backup. You can also manage your iCloud storage from the same menu.
Unfortunately, iCloud only provides 5 GB of free storage space, so you'll need to pay a monthly fee if you need to backup more data.
Wondering how much space you'll need? Apple's latest iPhones provide up to 512 GB of storage, or 100 times more storage space than iCloud will backup for free. The amount of storage you need for a backup will depend on your device and how you use it, but the things that tend to take up more space are:
Your iCloud Photo Library. This can grow to be larger than the storage on your phone, as it doesn't all have to be fitted onto the phone at any one time.
All of your app's data, and any files you store on the device. Apps that include a lot of images, videos or sound files (such as Pinterest, Netflix and Spotify) will use large amounts of storage space.
You can find further information on iCloud pricing on Apple's website:
Summary: you can use iCloud to backup your data directly from your phone, but you'll have to pay to protect more than 5 GB of data, and backups tend to be slow.
(iCloud iPhone backup failed? Find out how to fix it)
How to backup your iPhone with iTunes or Finder
You'll need to use a computer to backup your phone to iTunes or Finder, but you can use as much storage space as you have free on your computer.
To get backups working with iTunes or Finder, you need run through these steps:
Download and install the latest version of iTunes from Apple.

If you use a Mac, iTunes will already be installed.

Connect your iPhone or iPad to the computer with a USB and open the iPhone section on iTunes or Finder.

Ensure This computer is the backup location, not "iCloud".

If you want to encrypt your data, select the encryption checkbox and choose a password for the backup. We recommend doing this, as it provides better protection for your information, and when it's checked iTunes will include more information in the backup.

It is strongly recommended to set a password when backing up your iOS device. This means your backup will be an "encrypted backup". Without this password, anyone who has access to your computer can access any information stored in your iPhone backup.

As an added bonus, if your backups are encrypted, Apple will include even more data in them than they otherwise would: such as Health information and the saved passwords in your Keychain.

Click the "Back Up Now" button in iTunes or Finder, and a backup should be taken over Wi-Fi.

Creating a fresh backup in iTunes

Wait until the backup is finished, and don't disconnect the USB cable until then. The first time a backup is taken it can take quite a while, particularly for iPhones with a lot of data on them. Subsequent backups will be faster, as only the newer files need to be added to the backup each time.
If you leave your phone on power overnight, and leave your Mac or PC on, a backup should automatically be taken each night.
Summary: Using iTunes to backup your iPhone might provide you with more free storage space than iCloud, but running iTunes can slow down your computer.
(Find out how to speed up a slow iPhone backup)
How to enable wireless iPhone backups
To configure your iPhone or iPad to back up wirelessly, you should run through the following steps:
Connect your iPhone or iPad to the computer with a USB and open the iPhone section on iTunes or Finder.
Tick Sync with this iPhone over Wi-Fi

iTunes' backup options for Wi-Fi backups

Hit Done at the bottom of the window.
Disconnect the USB cable from the phone.
Ensure your iPhone is on the same Wi-Fi network as the computer. If so, the iPhone pane should still be available in iTunes or Finder.
Click the "Back Up Now" button in iTunes or Finder, and a backup should be taken over Wi-Fi.

Creating a fresh backup in iTunes
Which backup method should I choose?
Unfortunately, you can't choose to backup to both iTunes and iCloud at the same time, but you can switch between the two without older backups being deleted.
Here are some of the things to weigh up when choosing between iTunes and iCloud backups:
| Feature | iTunes backups | iCloud backups |
| --- | --- | --- |
| Storage space | As large as the hard disk on your computer. | Limited to 5 GB without paid storage upgrade. |
| Storage required | No larger than the capacity of your iOS device. | The size of your iCloud Photo Library, with additional content potentially close to the size of your device. As backup snapshots are stored with potentially duplicate data, it is possible for a device backup to consume more space than the total capacity of the device. |
| Security | Robust, so long as a secure backup password is chosen. | Robust, so long as a secure iCloud account password is chosen. |
| Speed | Very rapid as no cloud access is required. Extremely fast when accessed over USB 3. | Speed varies according to the performance of your Wi-Fi, your Internet connection, and the performance of the iCloud servers at the time. |
Given the advantage that iTunes backups have in speed of access, we recommend taking an iTunes backup to your local computer before any iOS upgrade. You don't want to end up waiting hours for an iCloud backup restore!
How to get automatic iPhone backups
Your iPhone is able to back up automatically each night to the iCloud or iTunes if you satisfy the criteria for automatic backups. These are:
The device must be locked
The device must be powered
The device must be connected to a Wi-Fi network
If your phone is set to back up to iTunes over Wi-Fi, then your PC or Mac must be left powered on and connected to the same Wi-Fi network.