How to recover data from a water damaged iPhone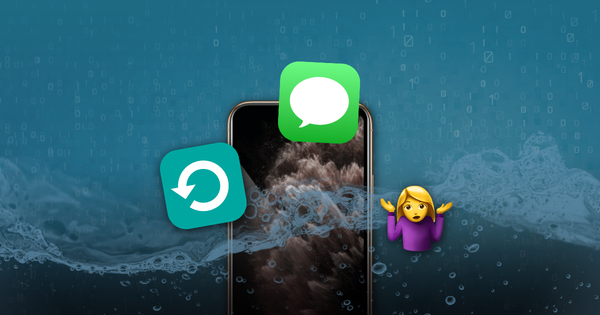 Is there life after death by water damage? Although the iPhone should be water and dust resistant since the release of the iPhone 7, some Apple users still report dead home buttons, data loss, and camera damage when their device comes in contact with liquid.
Older generations of iPhone aren't protected against water damage. If you're still using an iPhone 6s or older, you could lose years of photos, files, contacts and chats if your iPhone comes in contact with water.
Killed the home button and got water inside the 7 Plus camera after 30 seconds in a bowl of water. 💀 pic.twitter.com/amXTg8H72C

— Austin Evans (@austinnotduncan) September 24, 2016
Here's your ultimate guide to iPhone data recovery for water damaged devices. It covers the following:
First steps to salvage the phone

How to check if iPhone is damaged by water or not

What to avoid doing

How to recover data from a water damaged iPhone
1. First steps to salvage a wet iPhone
Remove the iOS device from water as soon as possible

Power down by pressing and holding the Power button (recovery chances can increase if you turn it off rapidly)

Remove any case that is on the phone

Remove the SIM card and tray from iPhone

Use a dry, absorbent cloth to get the moisture out of the phone
2. Sure signs of water damage if you drop your iPhone in water
2.1 Unofficial indicators
Power and start-up problems: failure to turn on device, restarts immediately after turning on, or you see the iPhone stuck with a white screen of death; hardware failure: the speaker or microphone is not working, or your iOS device is overheating

Warning messages: when using your iOS device you may get one or more error messages like "This accessory is not made to work with iPhone" or "Charging is not supported with this accessory."; application problems: Safari browser, email or other apps opening and closing without reason.

A water-damaged iPhone... yeesh.
2.2 Official water damage indicators from Apple
Apple has a series of diagrams showing the liquid contact indicator (LCI) locations to check if your iOS data is in danger. When you see a red dot then it means that your device has been exposed to water. If the red dot doesn't appear, then the device is OK. Or -- at least -- the indicator didn't get wet. Every generation of iPhone has a liquid contact indicator.
Liquid contact indicator iPhone X location

Liquid contact indicator iPhone 8, 8 Plus, 7, 7 Plus location
Liquid contact indicator iPhone 6, 6 Plus, 6S, 6S Plus location

Liquid contact indicator iPhone 5S, iPhone 5C, iPhone 5, iPhone SE location

Liquid contact indicator iPhone 4, 4s location

3. What to avoid doing when your iPhone is damaged by water
If you think liquid contact is the worst thing that can happen to your device, think again. Things can get worse if you try to save it using crazy methods circulated online.
When panic takes over, many people would do anything without thinking twice about the long-term effects of trying to fix a water damaged iPhone themselves.
Don't cause even more damage, and refrain from doing the following:
Don't press any buttons

By pressing its buttons, you may push the water further inside.

If the Phone is still on, you may short circuit button contacts.

Don't try to switch your phone on

If water gets in contact with the phone's electrical connections you could short-circuit electrical components inside.

Don't shake your phone

Shaking could also force water inside the device and close to the circuits, so it's best to avoid this.

Don't use a hairdryer to dry your phone

The heat from the dryer could cause additional damage or affect glue used in the phone.

Drying tools, electric ovens or hot air guns are also a no-no!

Don't put your iPhone in uncooked rice or cat litter.

By using these methods, tiny particles could enter the iPhone's body and increase the damage. Rice particles could soak up moisture and expand up to 4 times their size, potentially causing more damage.

#ProTip. A month in fancy rice did not save my iPhone after putting it through the washing machine spin cycle. #ScrubbedPhone #DadJoke pic.twitter.com/j9MpcplveQ

— Michelle Shephard (@shephardm) July 10, 2017
Don't try to perform surgery on the device

Jessica Smith wrote a neat article on why improvised methods of saving water damaged iPhones tend not to work. It's best to avoid performing any "surgery" on your device: admitting defeat and focusing on recovering your data is a better use of your time and energy.
4. How to recover data from a water damaged iPhone
Even if the device is total dead there's still hope. If you tried everything and you think that your iPhone is beyond repair, it's not too late to recover iPhone data. You can still try to recover your data from existing iTunes or iCloud backups.
iTunes is limited when it comes to restoring backups, as you could risk overwriting all your data on a newer iPhone -- and besides, you may not have another iPhone to recover to. What if you don't, and you just want to recover your data?
Water-damaged iPhone: the data recovery process
Follow the steps below to recover water-damaged iPhone data. You can follow the same steps if you want to recover deleted data, even if you lost your iPhone. This applies also if you want to recover data from a broken iPhone.
Please get in touch with us at any point if we can help you recover your data. We're here to help!