Suspending disbelief: how Theo uses Camo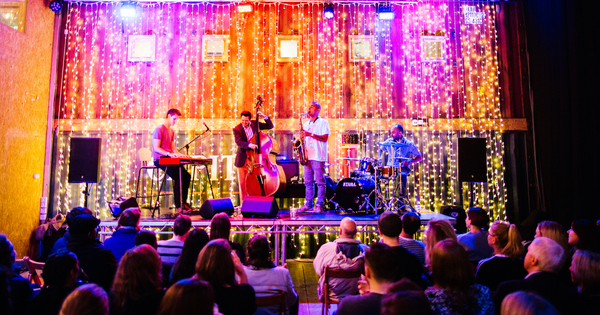 Theo and his wife, Jannine, launched Hidden Jazz Club in 2017. We talked to Theo about how they use Camo to keep performing during lockdown.
My wife and I founded the Hidden Jazz Club as a way to play music for small groups of people in remote locations around the world. Before the pandemic hit, we'd lined up a big range of shows for the year; in the UK, New York, Paris. Obviously, given the current climate they haven't been able to happen, so this year we've had to change our approach.
We started live streaming jazz nights instead of our in-person shows. We've tried to keep the intimate atmosphere we'd created with the Hidden Jazz Club, so we limit the live streams to 20 people, and we try to personally connect to everyone throughout the show, just as we did when we were all in the same room.
After about a month and a half of doing these online shows, I'd invested in good audio equipment, but I couldn't get hold of a webcam for love nor money. People were buying tickets for the show一we weren't doing them for free一so I felt like we should be giving them better video quality in return, but I just couldn't find anything that looked reasonable online.
I first learned about Camo through my wife, she showed me an article talking about this new app that had been released. Reading the review, it sounded like it might be a bit raw, but I was surprised when I came to use it that it was very polished. It was pretty much 'plugin and go' it took no time to set up. I appreciate a quick setup and try to limit the time I spend on things like that as much as possible, otherwise, it eats into my time with my family. With Camo, I just use the auto settings every time, I don't need to alter anything.
Since using Camo, I've found it's been easier for us to make connections with the people that tune in, having clearer visuals on both sides is what makes that possible. It's like a suspension of disbelief, when the picture quality is super clear, it's almost as though we're together again, in the same room. It's difficult to feel like that with a really grainy picture.
So far, since using Camo, the feedback we get from the shows has definitely been more positive, and I know it's down to the improvement in video quality.
Initially, the transition to online shows felt a bit stinted. Oddly, we've since found that it's become easier to connect with the audience directly online than it would have been in a seated audience. On a video call, I can see everyone's faces clearly, I can hear them better than I might have been able to if they'd been sitting at the back of the room.
I don't know when things will come back to normal, and I don't know how people will react to things like music gigs when we get back to that anyway; having this facility is definitely placating some of that worry. I feel lucky that I'm still able to be doing what I love, in spite of the current climate. As musicians, performing is such a big part of our lives.
Since we talked to Theo, Hidden Jazz Club has begun to book live shows once more. You can buy tickets for their live and online shows here.