How to use your Android as a webcam
Want to use your Android as a webcam? The good news is it's quick, easy, and free to do just that. In this article, we're outlining the two best ways to start using your Android phone as a webcam today.
Let's look at how to use your Android with Camo first.
Use your Android as a webcam using Camo
Camo lets you connect your Android phone to a computer over USB to access your phone's camera as a webcam or recording device from your computer.
Here's how to set Camo up:
Sign up to our Android beta list.

Once you've been added you to our beta list, you'll be able to download the app by searching for 'Camo webcam' on the Google Play Store.

Camo for Android is currently in private beta, so you'll need to sign up before you can access the app.

Open the app on your phone and grant camera access.

Download the Windows or MacOS app. You can do so directly from your computer, or from your phone by tapping Send Link.

Grant camera access to use Camo, and install the desktop app by sharing directly from your phone to your computer.

From there, click through the steps to download to your computer, then launch Camo Studio.

Camo will appear like this on your computer and phone before connecting

If your Android doesn't connect to Camo Studio automatically, click Devices in the top left of Camo Studio and select your device to connect.

You should now see your Android's camera feed in Camo Studio.

Camo Studio will show your camera feed when connected

Now, just open your video client and select Camo as your webcam.
Camo is compatible with a bunch of different video platforms. You don't need to do anything to use Camo with most apps, other than restarting your app and selecting Camo as the video source.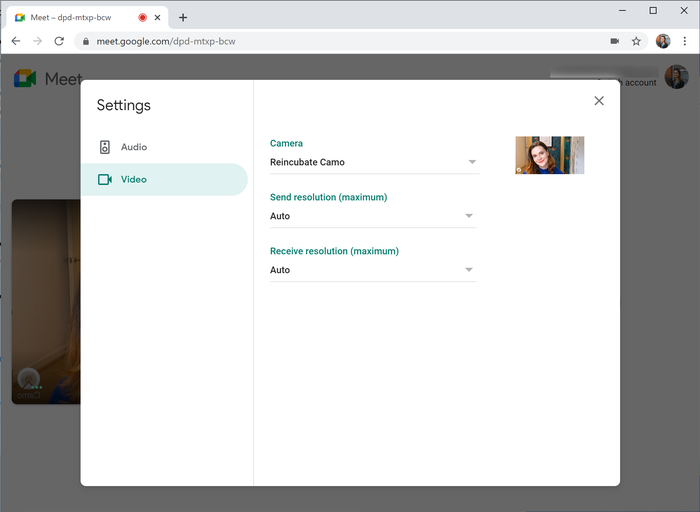 So, there you have it, that's the quick and easy way to get going with Camo. If you want to go deeper, we have additional guides and articles that cover:
Use your Android as a webcam directly from your phone
If you don't want to download a new app, you can use your Android as a webcam directly from your phone. Here's how to do it with Google Meet:
Download the Google Meet app from the Google Play Store

Log in

Join the call, or start a new one

Joining calls directly from your Android is quick, but video calls taken from your phone frustrating.
It's a simple, quick way to join a video call from your phone, but there are some drawbacks:
You'll be using your phone screen for the call, rather than your computer screen, which makes it harder to see others on the call.

It's more difficult to see the image you're presenting to others.

You're limited to the selfie camera, which isn't as crisp as the back cameras on your phone.