How to recover deleted photos from an iPhone or iPad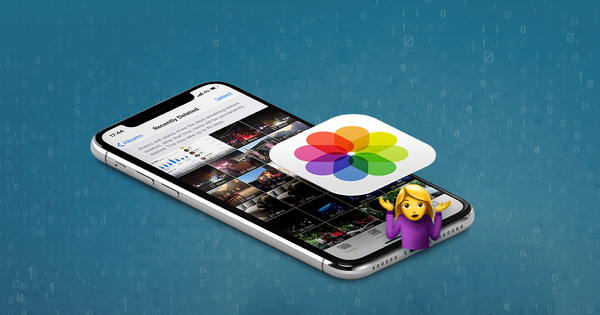 Difficulty: easy
Steps: up to 6
Time needed: 5 - 20 minutes
What will this guide help you achieve?
This guide will help you undelete or recover photos or videos that have been deleted from an iOS device, such as an iPhone or iPad.
We've started with the sharing simplest and easiest approaches, and with luck you'll be able to rescue your data in the first few steps. It's not hard, but it pays to be careful in each step to maximise your chances of recovering data from iOS. Read on, but don't forget: if you're a customer you can always reach out to our support team to guide you through the process!
Of course, you don't have to be a customer to make use of this guide, and the free edition of the iPhone Backup Extractor can be used to assess whether your data is present, and in many cases to recover it. If this guide helps you or you want to go deeper, please buy a license. It costs about the same as 6 lattes. ☕️
You'll need
Windows PC or Mac
iCloud account and credentials
Or an iTunes backup
Our top techniques for recovering photos from iOS
Fortunately, Apple devices synchronise their data in a number of different ways, and there are six methods we can use to find the missing content. We'll start with the easiest first.
Technique 1. Unsynchronised deletions, or unpurged photos in "Deleted items"
If the photo or video was deleted on an iPhone, and there are other iCloud-connected devices on the account, there's a reasonable chance of being able to recover it from the other devices. Other types of device that may have the data include:
iPhones, iPads, iPod Touch devices
macOS devices, such as a MacBook, MacBook Pro or iMac
Windows computers with iTunes and the iCloud component installed and signed in
This first step will only work for users of iCloud Photo Library. If you don't know whether you use it, it's likely that you do as the setup process on a new iPhone prompts you to enable it. Devices can use iCloud Photo Library in two modes: "Download and Keep Originals", or "Optimise iPhone Storage". The former mode is most helpful to us here, and devices in this state provide the most potential for recovery.
When photos are deleted on iOS, they are placed into the "Recently Deleted" album that is shown in the "Photos" app for around 30 days. If you navigate to that album on your iOS device, or on macOS, Windows or icloud.com, you'll see you have the option to choose "Recover" for a given file. If your file is here, then congratulations: hit "Recover" and we're done. If not, read on.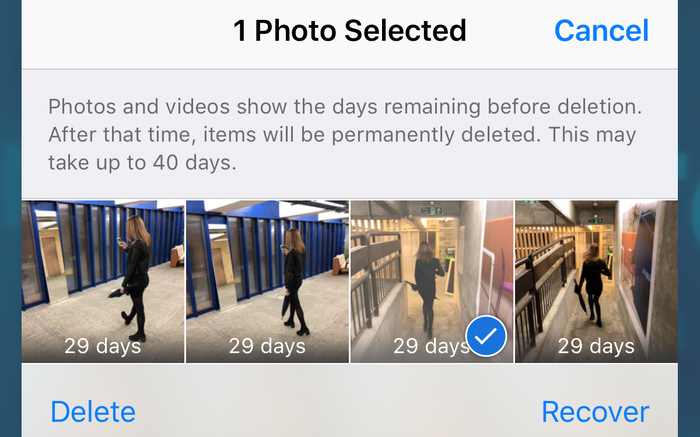 If the photos were deleted on an iPad or iPhone without a data connection, or in Airplane mode, the other devices won't be aware of the deletion. Leave the device without its connection and recover the content from another device on the account.
Alternately, if the photo was deleted on an iPhone with a data connection (as is most likely), but other devices associated with that iCloud account are offline or powered off, they won't have completed the deletion. For instance, if you delete a photo so that it enters "Recently Deleted" for 30 days, the content won't be deleted from that device so long as it stays offline. If you have a powered off device that may not have had the photo's deletion synchronised to it, you'll need to turn it on without it going online. Most commonly, an iOS device will go online when you power it on. So how to prevent this?
There are a few tricks to stop an iOS device from going online when powered on. If your device has a SIM card, ensure that it is removed. If your device will connect to a wireless network when powered on, ensure that you are out of range or the access point is powered off. Take these precautions, then power on and check.
Technique 2. Recovering photos from an iTunes backup of the iPhone, iPad or iPod Touch
If the first approach hasn't worked, don't worry. Things are still pretty easy. If you use Apple's iTunes software, it automatically creates backups of the contents of your device when you synchronise it by plugging it in, or if you chose to synchronise it via wifi. If you use macOS, you'll have iTunes installed by default, and you probably use it. If you run Windows, iTunes comes as an optional extra.
The best way to tell whether you have an iTunes backup which may have is to download Reincubate iPhone Backup Extractor for your PC or Mac. Don't worry, we're not trying to hustle you into anything. We love it when people buy our software, but our free edition doesn't have ads or crappy bundled software with it, and it has everything you need to examine your backups without needing to spend a dime.
For privacy reasons, Reincubate iPhone Backup Extractor will only show backups that have been created by the computer's currently logged in user. If another user on the PC or Mac may have synchronised iTunes with the iPhone or iPad, ask them to log in and install our software.
If you're interested in the technical reason why some apps must store your data in their backups, we've published an article on the decisions and trade-offs that app authors must make. 👩‍🏫
Once you've got it downloaded and installed (using the link above, or in the panel to the left), run it and it'll bring up a screen listing all of the iTunes backups available on your computer. That'll look something like this: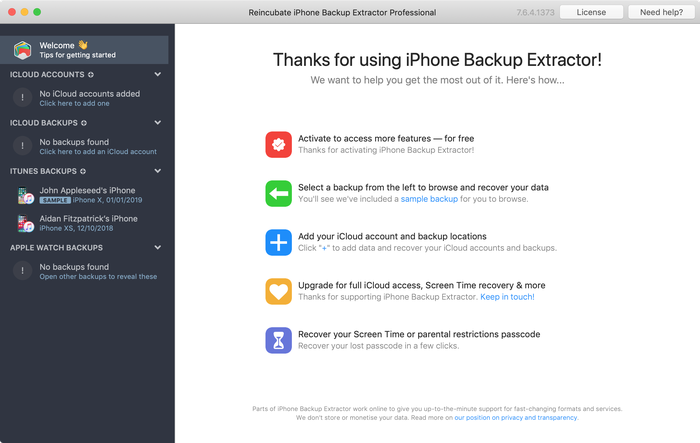 The left side of the iPhone Backup Extractor window will automatically update to list all of the available backups on your computer, and it'll show the date that the backup was made.
Each backup shown on the left-hand side of the screen can be examined by clicking on it. That will lead to a summary of data in the backup being shown, including counts of each type of data available. You'll see that that includes an icon for photos, and a count of the number of photos available. In the example below, you can see there are 364 photos that can be recovered from the backup shown. The free version of the iPhone Backup Extractor will extract these files for you -- up to four at a time -- whilst the registered edition will let you extract them all instantly.
What if you don't have a local iTunes backup available, and no backups are shown? That's where the iCloud comes in, and we cover that in the next section.
Technique 3. Recovering photos from an iCloud backup
If you've chosen to use iCloud for backups you can access all of that data easily using the iPhone Backup Extractor. Activating the free edition of the iPhone Backup Extractor doesn't cost anything, and it'll enable you to log into your iCloud account to get a handle on the devices and data available in your iCloud backups.
If the iOS device in question is shown to have a backup available on the iCloud, iPhone Backup Extractor Pro will let you download all of the photos stored within it.
Once you've downloaded the backup, you can follow the steps in technique 2 to recover your photos and videos.
Technique 4. Downloading photos from Apple's Photo Stream or iCloud Photo Library
It is possible to recover deleted photos from the iCloud even if they are not present in iCloud or iTunes backups. The next place to look is in Apple's PhotoStream data for your account, and in the iCloud Photo Library. Despite their names, PhotoStream and Photo Library, they can both still contain photos. The iPhone Backup Extractor provides an easy way to download pictures from each. Once signed into your iCloud account, the left-hand side of the application window will highlight your PhotoStream and iCloud Photo Library accounts towards the top. If you select them before choosing "Download" in the main window, your photos will be downloaded to your PC or Mac for your examination.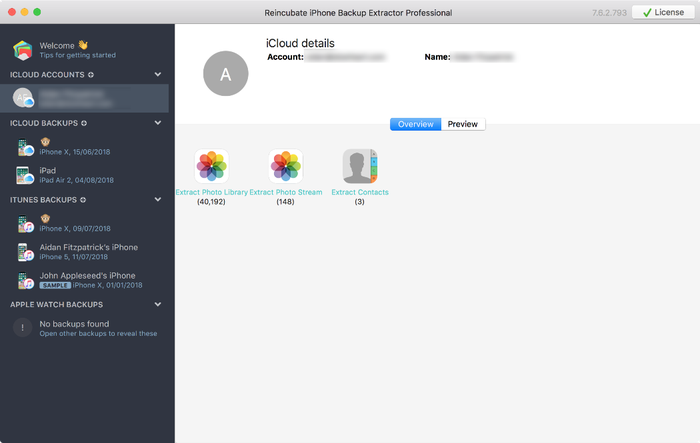 Technique 5. Recover photo attachments from iMessages, SMS and WhatsApp messages
If we've not been able to find the attachments in the regular places for your backups, or in the iCloud, there's another approach we can try. Might you have sent or received the content through an app, perhaps through an iMessage or WhatsApp? In that case, we may be able to recover the picture through the app's collection or cache of data.
Depending on the depth of the search needed, the best way to search for message attachments from Messages or third-party apps is to use iPhone Backup Extractor. You can use this either on your local iTunes backup, or with the iCloud backup that you downloaded in technique 3. There are three useful modes here. The first, and simplest, is the Preview mode. After loading iPhone Backup Extractor, select a backup on the left-hand navigation and click "Preview" to activate the preview tab. You can then choose from a list of the most popular apps to examine what content they have.
If the app you may have used doesn't feature in the Preview list, the right approach is to use the "App View". This will list every app installed at the time the backup was taken, and provides a way to extract just that app's backed up files. Click on the "App View" tab, and then select the app or apps in question, and you'll be able to extract their data by choosing "Extract all".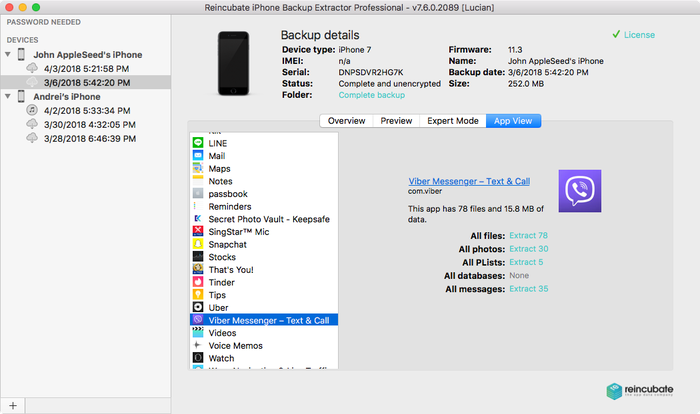 Finally, if neither the Preview nor App View lead you to the photos, the last approach is to try "Expert Mode". This can be activated by selecting the "Expert Mode" tab. Expert mode provides a listing of all of the files contained in the backup, divided into a number of folders to represent the structure of the iPhone. Most commonly, apps store their data under the "Applications" and "Application Groups" folders.
You'll find that once you've browsed your app's folder in expert mode, you're able to drag the files you want to recover out of the iPhone Backup Extractor window and onto your desktop or a folder of your choice.
Technique 6. Forensic recovery of photos by Reincubate's support team
If the earlier techniques haven't led you to your file, then not all is lost. Reincubate's iPhone Backup Extractor is built around a piece of technology which we call the Cloud Data API. This lets us do some pretty advanced things which are unique to Reincubate. In some cases, we can use it recover photos from the iCloud Photo Library even after they have been purged from the Photos app after 30 days, or to pull the photo in question from a "partial snapshot" which has older data than your iCloud backup. If your data was stored on an unencrypted disk, it may be that a disk recovery has potential.
We don't share too much detail about the magic we use here, but we have a number of tricks we can harness for you. 🧙‍♂️ Reach out to the support team with the email address at the bottom of this page, and let them know what you've tried and how you've got on.