Starting and managing streams
Camo Studio for iPad comes loaded with features that help you get started with streaming and tools to manage your streams once you're ready to go live. When you've got your devices set up and your scenes prepared, starting a stream is as simple as connecting the app to your streaming platform of choice and tapping "Start". Let's run through the process in a bit more detail.
Streaming destinations
Before you can start streaming to a particular streaming platform or over RTMP, you need to configure a connection in the app. To do this, tap on the streaming icon at the top of Camo Studio and select the type of destination you are looking to set up. Camo Studio for iPad supports the following streaming destinations:
Twitch
YouTube
Trovo
Custom (RTMP)
When you select a destination type that corresponds to a streaming platform, you'll be directed through a flow to sign in using your account on that platform before getting redirected back to the app. If the connection was made successfully, you'll now have a streaming destination ready for use.
You can set up more destinations at any time by hitting the + in the top right corner of the streaming popover. And, streaming destinations can also be managed through the in-app settings.
Stream panels
There's a lot more to streaming than just creating engaging content and having the tools and skills to capture it on video. Audience members not only expect to be engaged directly by the streamer, but also want to engage with the streamer and other viewers through chat and in-stream events. This introduces a whole new set of challenges for streamers; which is where stream panels come in.
Stream panels are essentially small widgets, specific to a particular streaming platform, that let you keep an eye on chat, coordinate with moderators, monitor stream health, and more – straight from the Camo Studio interface.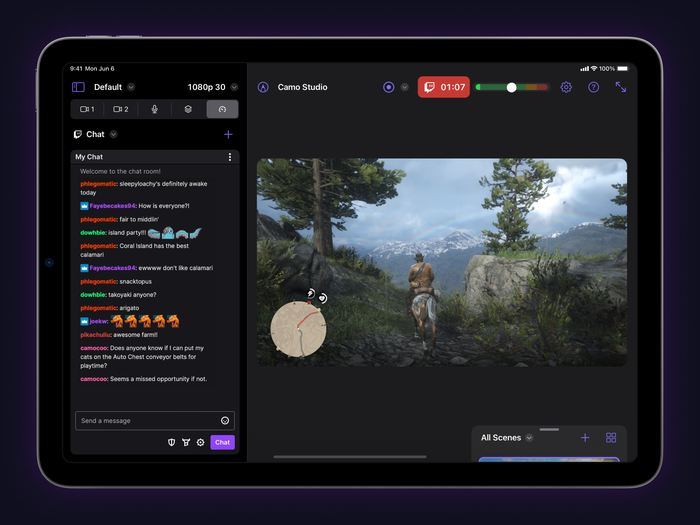 To get started with stream panels, you'll first need to have set up a stream destination and selected it in the streams popover at the top of the app's interface. Then, you can add a stream panel from a selection of panels available for that service by pressing the + button in the top right corner of the stream panels pane.
You can add as many panels as you need – some platforms will have more available options than others – and switch between them using the buttons on the left side of the stream panels pane. We hope this makes running your next streaming session a little bit easier!