How to download iCloud photos, messages and backups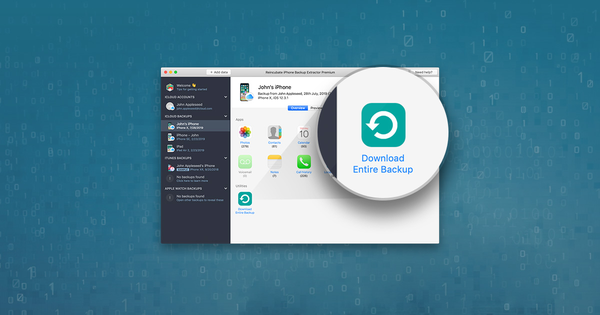 Difficulty: easy
Steps: up to 3
Time needed: 5 - 10 minutes
iCloud data recovery quickstart
Apple launched iCloud in 2011, alongside iOS 5. Since then, an increasing amount of iPhone data has made its way there, and nearly a billion users have signed up to iCloud. Whilst most people may have heard of iCloud Photo Library, and have an idea that their phone might create iCloud backups, there's a lot more to iCloud -- and to the data it stores.
This guide lays out simple steps to recover your data from iCloud, whether you've lost or deleted it, or need to pull it out so that you can store it safely elsewhere. If you read on, this guide will make you an expert on iCloud and its associated services.
It's possible to get just about every sort of data from iCloud:
iMessages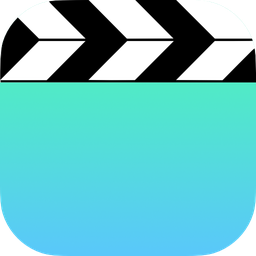 Videos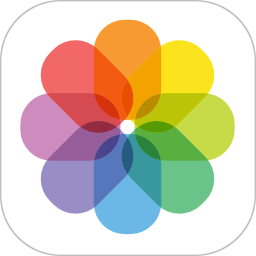 Photos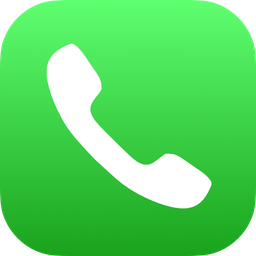 Call logs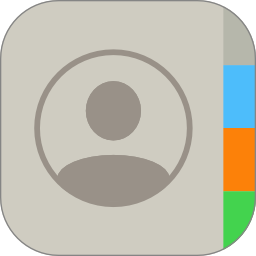 Contacts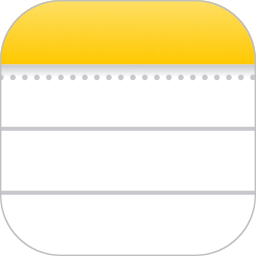 Notes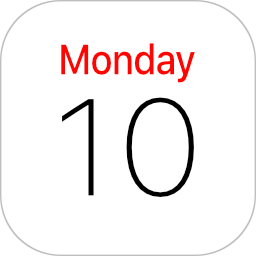 Calendar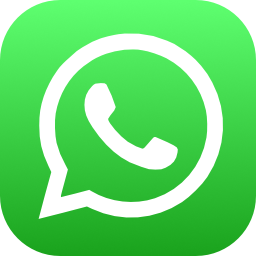 WhatsApp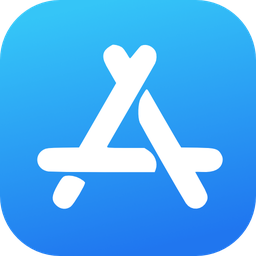 App Data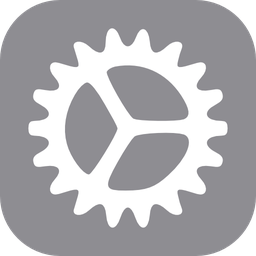 Everything else
Working with iCloud data
Have you failed an iOS upgrade or lost your iOS device? Do you need to get your photos, documents or contacts from your iCloud backup? Unlike iTunes backups, it's not easy to directly access many of the files stored on iCloud.
That's where iPhone Backup Extractor comes in: we'll show you how to save all your data stored in your iCloud backup, directly on your computer. iPhone Backup Extractor gets back data from iCloud and iCloud backups, and can download your texts, WhatsApp messages, photos, videos, calendar data, texts, recordings, voicemails, notes, application data and more. It offers a safe, easy and comprehensive way for retrieving iCloud or iTunes data on your PC or Mac.
Recovering your data is as simple as these three steps:
Browse your iCloud data: including backups, Photo Library, Photo Stream, contacts -- and more
We're going to go further than that, though, and have included information to help you go even deeper:
To do this, you'll need the following: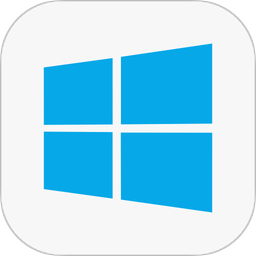 A PC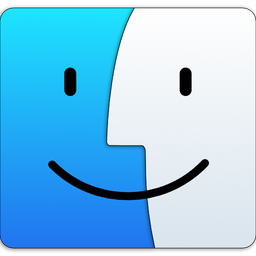 or a Mac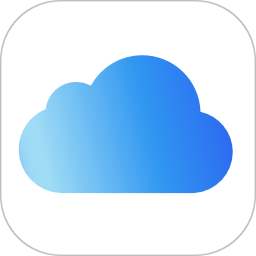 An iCloud account and credentials
Connect iPhone Backup Extractor to iCloud to recover videos, photos, text messages and more
When we created iPhone Backup Extractor, we wanted to make it accessible to everyone, no matter whether they had the technical know-how or not. Downloading your iCloud backup or other data is as easy as 1, 2, 3.
If you need to recover your photos, contacts, Screen Time restrictions passcode, text messages or WhatsApp messages you'll find we've got dedicated guides for them. Otherwise, please use the following steps:
Sign in to iCloud. Open iPhone Backup Extractor and click "Click here to add an iCloud account", or the + icon. That'll bring up a window which will let you add your iCloud account.

Signing in to iCloud with iPhone Backup Extractor

You'll need your iCloud username and password. If your account is protected with two-factor authentication (2FA), you'll be prompted to enter your 2FA code. (If you tick the "Remember my password" box, your credentials will be temporarily saved on your computer. Other than that, iPhone Backup Extractor doesn't store any Apple account or personal data.)

iPhone Backup Extractor won't alter your backups stored on iCloud, and does not risk harming them.

Whilst the free edition of iPhone Backup Extractor includes most of its functionality for free for iTunes backups, you'll need to upgrade to unlock full iCloud functionality.

Explore your iCloud data. With iPhone Backup Extractor securely connected to your iCloud account, you'll be able to browse your iCloud backups, iCloud Photo Library, Photo Stream, and other account data.
Where does Apple store your iCloud data?
Depending on how you've got your phone set up, your data could be stored in different parts of iCloud. You may need to look in different places using iPhone Backup Extractor, and we'll show you how. iCloud is actually several different services behind the scenes. Let's take a look at that next, in order to guide you to look in the right places.
| Data type | iCloud backups | iCloud real-time |
| --- | --- | --- |
| Texts (SMS, iMessage) | ✅ If "Messages in iCloud" isn't enabled | ✅ If "Messages in iCloud" is enabled |
| Call history | Not since iOS 9.3 | ✅ After iOS 9.3 |
| Contacts | ✅ Always | ✅ If "Contacts" are synced with iCloud |
| Calendar | ✅ Always | ✅ If "Calendar" is synced with iCloud |
| Photos | ✅ If "iCloud Photo Library" is not enabled | ✅ All if "iCloud Photo Library" is enabled. Some if Photo Stream is enabled. |
Depending on what you're looking to do, you may need to do the following:
How to download an iCloud backup
With iPhone Backup Extractor connected to your iCloud account, it's easy to download iCloud backup data.
Select your iCloud backup. Once iPhone Backup Extractor has been connected to your iCloud account, it'll automatically show a list of your iCloud accounts and backups on the left-hand side of its window. Your iCloud backups will be listed under the heading "iCloud backups", and you can select the one you'd like to explore by clicking on it. That will load its details in the main part of the app's window.

Don't have a backup yet? Don't worry, it's easy (and free) to make one. Check out our guide on how to create an iCloud backup.

Explore your iCloud backup. Once your backup has been selected, iPhone Backup Extractor will summarise the information available in it, showing the most important apps along with a count of the amount of data available for each. iPhone Backup Extractor lets you work with iCloud backups exactly as if they were iTunes backups: there's no need to download the backup in full in order to work with it -- although you can if you want!

Recovering data from an iCloud backup

As when working with iTunes backups, you've got the choice of four modes in iPhone Backup Extractor to recover your data:

Overview. Click on any of the app icons get your data back in a single click. Easy!

For example, if you need to recover all of the photos stored in your iCloud backup, click the Photos icon and they'll be automatically downloaded to your computer.

Preview mode. See all of your messages and photos, and selectively choose to download them.

iPhone Backup Extractor used in Preview mode

App view. Browse your iCloud backup by app-by-app, and download all files belonging to a particular app, or all photos from a particular app.

iPhone Backup Extractor in App view mode

Expert mode. Browse individual files in your iCloud backup, and select or drag out the ones you'd like to download.

iPhone Backup Extractor's "Expert mode" on iCloud

Download your iCloud backup data. If you'd like to download the full iCloud backup and convert it to an iTunes backup, so that you can modify it or restore it locally, that's easy, too: there's a button labelled "Download this iCloud backup". If you click that, the entire iCloud backup will be downloaded to your PC or Mac. The downloading may take a while, depending on the size of your backup and how fast your internet connection is; clearly, it can be faster to get just the data you want to use the process above.

iPhone Backup Extractor downloading iCloud data

After the iCloud download is complete, iPhone Backup Extractor will present the downloaded iCloud backup in its "Downloaded iCloud backups" section, and will automatically load it for you. You can work with that backup exactly as you'd work with an iTunes backup.
Recovering deleted data from your iCloud account
Believe it or not, it's possible to recover iCloud data that was deleted before your last backup was made.
iPhone Backup Extractor uses exactly the same approach for iCloud that it uses for recovery of deleted iTunes data. The best bit is that recovery of deleted data is automatic for all users. Just ensure that the menu item under Utilities → Show deleted data is enabled.
We've published a benchmark showing how effective our recovery of iCloud data is. Check it out, as you can use this technique to recover deleted or lost texts from iCloud.
How to recover iCloud data
If you're looking to recover more data from iCloud, there's a good amount stored in your iCloud account outside of the iCloud backups.
Select and view your iCloud account. With your iCloud account added to iPhone Backup Extractor, it'll show your iCloud accounts on the left-hand side of the app, under the "iCloud accounts" section. Click on your iCloud account, and the app will update to show summary information about your account.

iPhone Backup Extractor showing iCloud account details

Choose the iCloud data you'd like to recover. Once your iCloud account has been selected, iPhone Backup Extractor will present you with its overview mode, allowing you to download from your iCloud Photo Library, Photo Stream, or Contacts. These are sources of data which are all additional to the data in your iCloud backup.

You can click any of these data types whilst in overview mode to automatically download them to your computer.

Alternately, you can select "Preview mode" to be able to browse the contacts currently stored on iCloud, and to selectively view, extract and recover them.
Other approaches for accessing iCloud data
If you log in to iCloud.com you'll notice you don't have access to all your files stored in iCloud. For example, even though you've selected to backup your pictures, they aren't visible there. The reason is that most of the files stored in an iCloud backup can be accessed only by restoring your backup to your iOS device, or by extracting them with iPhone Backup Extractor.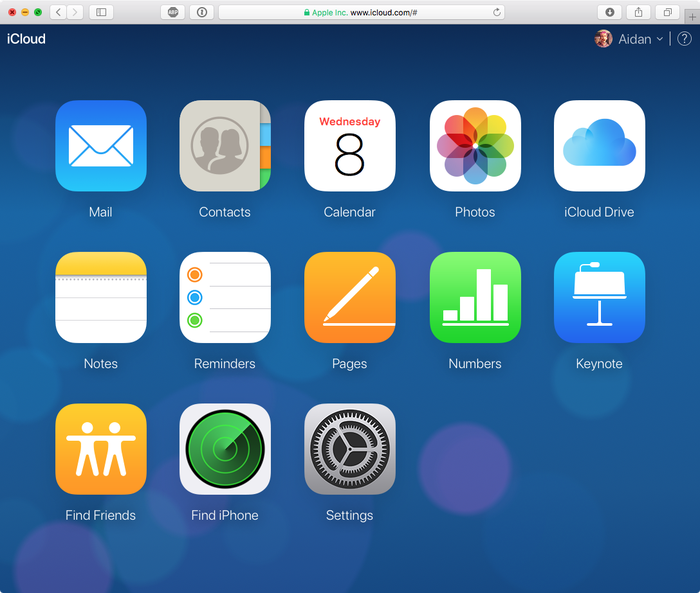 Only a few types of data can be easily viewed or restored from iCloud.com: iCloud Drive files, contacts, calendar & reminders and bookmarks. Nevertheless, it's a handy system, and whilst it doesn't give you a lot of control, it is free.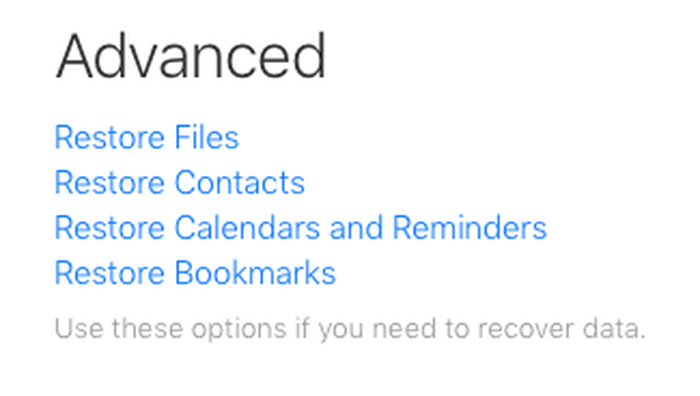 Thus Apple's approaches for recovering or accessing your iCloud data are twofold:
Restore your iCloud backup wholesale to your phone, overwriting everything on it -- and see if the data you need is there. We tend not to recommend doing this, as it's not feasible for many users who have had a device lost or stolen. It will also erase all of the data you currently have on the device, you may lose messages you've received prior to making the last backup. Ouch!

Use iCloud.com's restore option to restore your contacts, calendar & reminders, bookmarks or iCloud Drive files. This is an "all or nothing" option, and will overwrite the data you already have in your account. Their options look like this:

Restoring files from iCloud Drive

iCloud Drive file recovery on iCloud.com

iCloud calendar recovery, Apple's way

Recovering bookmarks via iCloud.com

Reverting to an earlier contacts library
It's also possible to attempt photo recovery by going into the "Photos" app on iCloud.com. However, if you have a large iCloud Photo Library, it might time out on the site, saying:
⚠️ Network unavailable or slow. Photos is taking longer to load than expected.
Either way, there are better ways to recover photos. Check out our guide to iOS photo recovery.