How to recover Kik messages from an iPhone
Raise your hand if you've ever deleted, lost or couldn't access Kik messages from your iPhone. Kik conversations are important, and in case something happens with your data, you'll want to make sure you can recover it.
There's good news: if you have an iPhone backup or iCloud backup, you should be able to get your messages back. Even if that backup was created after the moment you deleted or lost your Kik information.
Below you'll find a few easy steps to recover your Kik data from iPhone, whether you have a iTunes backup or iCloud.
Get your Kik conversations back
Kik doesn't store conversations on their servers, so it's not possible to restore messages directly from the application. However, using your backups you can get your info back.
If you only want to retrieve your Kik data, you might not want to restore a full backup to your iPhone, as this would lead you to lose any data you created subsequent to that backup being made.
Depending on your backup, there are the 2 options to retrieve Kik messages: iCloud and iTunes.
Follow these steps to get your Kik messages back:
Step 1. Download and install iPhone Backup Extractor. It runs on Windows PCs and Macs, and always supports the latest version of iOS.
Step 2. If your iTunes backup is located in the default folder, iPhone Backup Extractor will automatically read it. If not, you need to add the folder by clicking on the + button, or on "Click here to add an iTunes backup".
If you have more than one backups in this folder, chose the one you want to recover Kik messages from, using the dropdown left menu. For encrypted iTunes backups, you'll need to provide your backup password.
If you're recovering data from an iCloud backup, you'll need to click the + button or "Click here to add an iCloud backup", and then enter your iCloud credentials. Your backups will be shown on the left of the app.
Step 3. Click on the "Preview" tab, and scroll down to select "Kik". If you only want to recover a few messages, select them and click "Extract".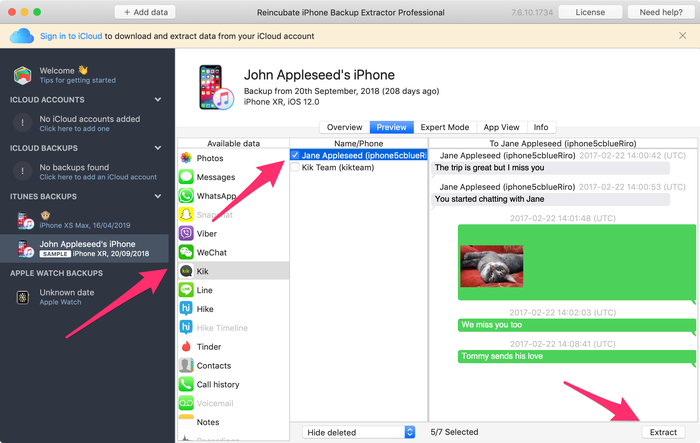 You'll need to choose between CSV (text) and HTML (which includes images and attachments). We'd recommend you extract your data in HTML format, as it is easiest to read. Choose the location you'd like to save them at, and that's it!
If you want to retrieve more than a few messages, go to "App View" tab, select Kik and you'll see the total number of messages found on the backup. Select a location to export them and then enjoy browsing your Kik messages!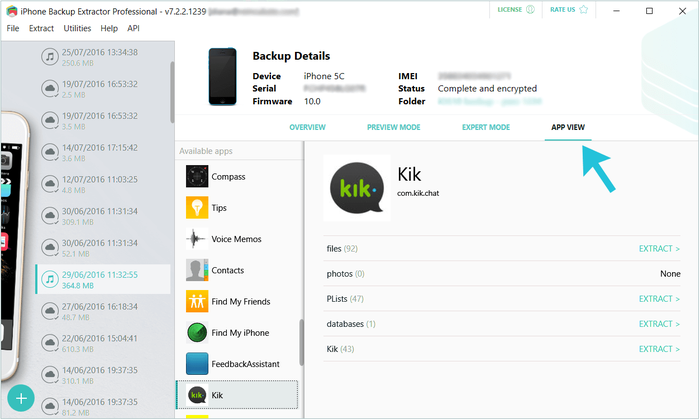 Aside from Kik messages, we support data recovery from WhatsApp, Snapchat, Viber, Line and WeChat. At Reincubate, we're committed to helping you recover your app data, wherever it may be.
Bonus: how to extract the Kik database manually
For users who would like to extract Kik's internal SQLite database, go to "Expert Mode" to recover the backup file directly. Depending on your Kik version, they can be found in one of two paths:
Application Domains → com.kik.chat → Documents → kik.sqlite. The hash for the database is 8e281be6657d4523710d96341b6f86ba89b56df
Application Domains → group.com.kik.chat → cores → private → [hash] → kik.sqlite (where [hash] will be different for different devices)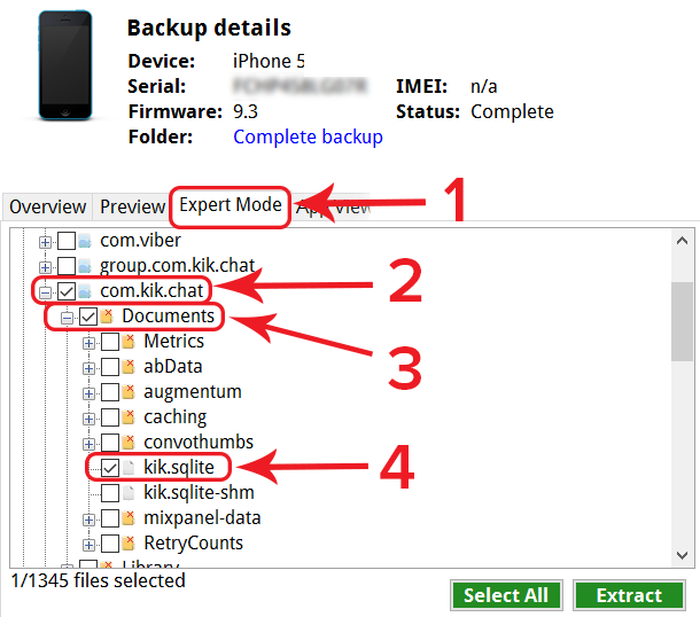 How did this guide work for you? Do you have an experience that is worth sharing? We'd love to hear from you!