How to read IPD & BBB BlackBerry backups
Ever find yourself needing to recover emails, contacts, texts, or other data stored in your BlackBerry's IPD backup file?
BlackBerry Backup Extractor can extract all types of BlackBerry backups. Here's a guide on how to extract the information stored in BlacbBerry BBB or IPD backup files, using BlackBerry Backup Extractor in four simple steps.
How to extract data from a BlackBerry backup
BlackBerry Backup Extractor shows you a preview of what's in your backup and lets you select the type of data you'd like to recover. Those categories include the following:
Contacts
Calls
SMS messages
MMS
BBM messages
Emails
Calendars
Tasks
Memos
Bookmarks
Photos
Videos
Ringtones
App data
Storage files (things like backups of your BBM chats)
Let's get started.
Download BlackBerry Backup Extractor and open your BlackBerry backup.

BlackBerry Backup Extractor's overview

Choose what type of data you wish to extract. In this example, we've chosen email.

BlackBerry Backup Extractor extracting emails

Choose the output folder, press Extract and recover your emails: these will be saved to your Desktop as eml files

BlackBerry Backup Extractor after extracting emails
How to extract all data from a BlackBerry backup
First, download the free version of Reincubate BlackBerry Backup Extractor and run it.

BlackBerry Backup Extractor's overview

Select your BlackBerry backup file

Click the "Open backup..." button to load your IPD backup file into the software. You'll see that the BlackBerry Backup Extractor automatically knows where to look for your files, so you should see any backup files presented straightaway. You don't need to have BlackBerry Desktop Software installed for this to work.

BlackBerry Backup Extractor browsing for IPD and BBB backups

You don't need to have a copy of BlackBerry Desktop Manager to use BlackBerry Backup Extractor: it's possible to open a backup from a USB stick, email attachment, or even another computer.

Click to extract all data stored in the backup

Once the backup has been opened, you'll see BlackBerry Backup Extractor reports on how much of the backup it has read, and how many databases of information it has found.

Select a location to extract the backup data and files into and that's it! Backup data such as contacts, emails, memos, calendar events, media files (phone storage only), SMS & MMS message and BBM conversations will be recovered and saved in the folder you chose.

BlackBerry Backup Extractor selecting output folder
Now, let's take a look at the data you've recovered.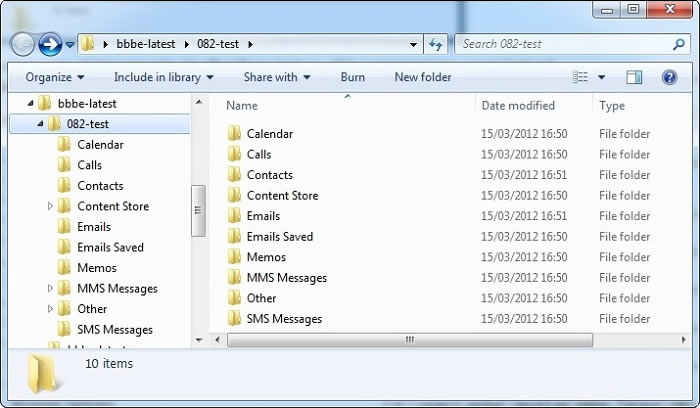 You should see the following types of extracted file available:
BlackBerry Messenger conversation and backup files
BBM data will be extracted into these folders:
\BBM Conversations\conversations.csv
\Content Store\home\user\im\BlackBerry Messenger\322E5CD6\backup\
Photos, pictures and music
Your photos, music and camera roll will be extracted here:
\Content Store\home\user\camera\
\Content Store\home\user\pictures\
\Content Store\home\user\music\
App data and files
These will be extracted here:
Sent and received emails, and saved email drafts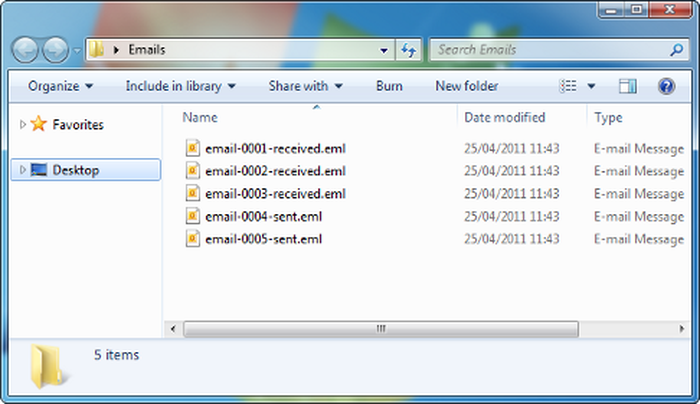 Your BlackBerry's emails will be extracted in eml format, which can be easily read by Microsoft Outlook and a number of other email clients. Note that BlackBerry Desktop Manager rarely saves email attachments in its backups. This means the extractor will rarely recover them.
Contacts and address book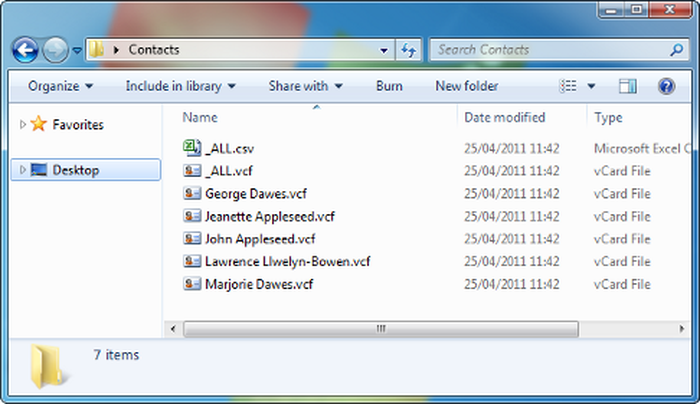 The contacts and address book in the BlackBerry IPD file are extracted in a variety of formats: simple CSV for easy use, and as a big VCF file for import into a variety of webmail platforms. In addition, each individual contact is exported to a VCF file for easy import into Microsoft Outlook or the Windows Address Book.
Phone call history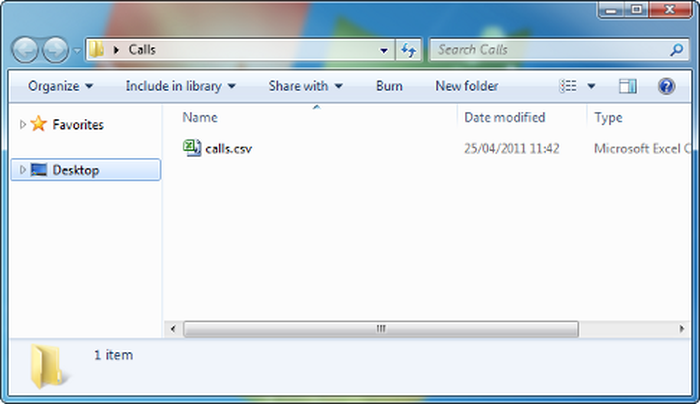 The backup's phone call history will be exported into an easy to read CSV file.
SMS and text messages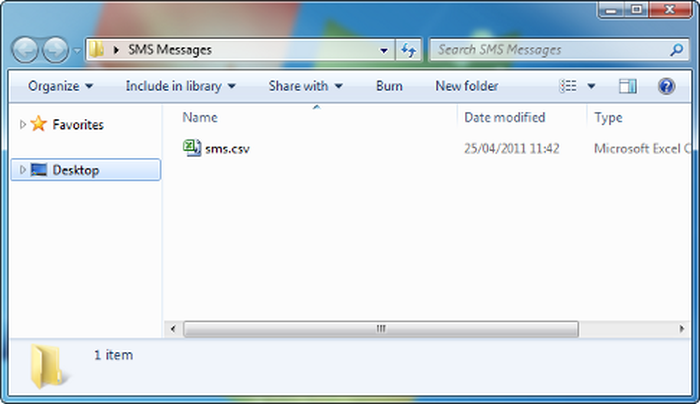 SMS and text messages from the BlackBerry backup file will be saved into a nice, simple CSV file.
MMS data will be extracted into these folders:
\MMS Messages\
\MMS Messages\images\
\MMS Messages\vcards\
Calendar appointments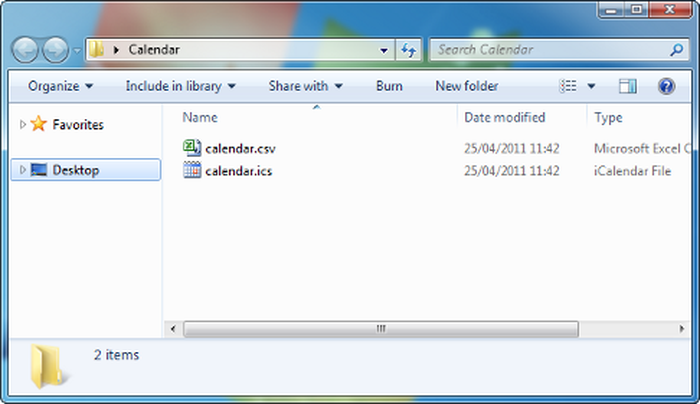 All calendar appointments included in the IPD file will be exported into a simple CSV, and also into an ICS/ICal file for easy import into your email or calendar client.
Tasks and memos (notes)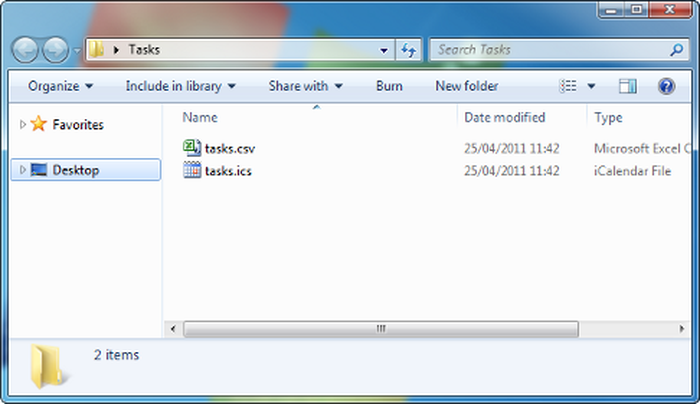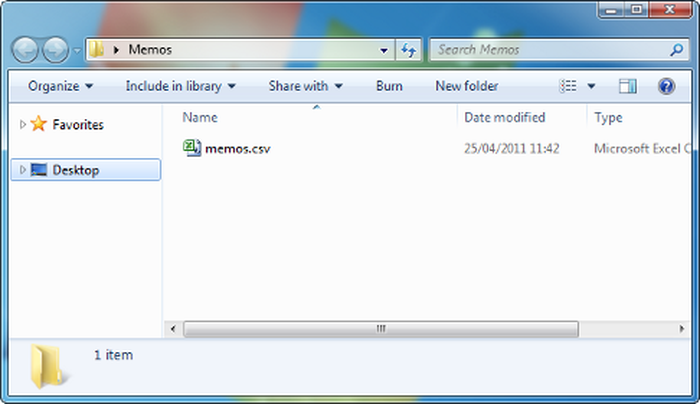 The tasks and memos (notes) are extracted into CSV files, and tasks are also extracted into a handy ICS/ICal format for import into most email or calendar software.
What format does BlackBerry use for backups?
Historically, BlackBerry Desktop Manager has saved BlackBerry Backup files in IPD format on Windows, and BBB for on macOS. IPD format backups have been part of the BlackBerry Desktop Manager's backup genetics since before we can remember. The Mac's files were a compressed version of the Windows format. IPD stood for "Inter@ctive Pager Backup", which BlackBerry possibly deemed to be an archaic description, worthy of replacement.
BlackBerry Desktop Software 7 was released in February 2012, shortly after the release of PlayBook OS 2. This new version of BDS introduced a new format 2 for BBB backup files for both Windows and macOS. The new format has other differences, and now contains a compressed set of DAT files. Each DAT file contains a relevant subset of data such as contacts or calendar.
| Extension | OS | Version | Notes |
| --- | --- | --- | --- |
| IPD | Windows | BDM 1 - 6 | Classic "Inter@ctive Pager Backup" format |
| IPD 2 | Windows & macOS | BDS 6.1 | Used by BlackBerry PlayBook only |
| BBB | macOS | BDM 1 - 6 | Zipped IPD |
| BBB 2 | Windows & macOS | From BDS 7+ | New format from 2012 |
Good luck recovering your data -- and please reach out to us if you need support.